FOOD TALK
A twist in the cake
Pushpesh Pant
Michael is a young Indophile from Israel currently resident in Delhi and dividing her time between guiding tours, studying ayurved and researching love life of young Indians. She cooks regularly to keep her vegetarian body and curious mind well nourished and to entertain guests who keep dropping in unannounced. She very thoughtfully had preserved the left-overs of a turmeric-laced and sesame seeds topped cake for us when she baked it. Well, it wasn't the usual sponge, or a light, fruity gateaux but left us in no doubt that it could hold its own very well against brownies, ginger pudding, mud pies, cup cakes and, the rest. The health benefits of turmeric are well known and packing a thick slice of haldi-til ka cake in the school tiffin box or for the lunch time bite at the office seems a very good idea.
Haldi-til ka cake
Ingredients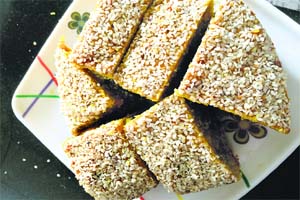 Whole meal (wheat) flour 3 cups
Brown sugar 1 cup
Anise (saunf) 2 spoon
Turmeric 2 teaspoon
Green cardamom powder 2 spoon
Baking powder 1 teaspoon
Chopped walnuts 1 cup
Raisins ¼ cup
Milk 2 cups
Sunflower oil ½ cup
Sesame seeds ¾ cup
Method
Preheat oven to 180º C. Blend all ingredients except sesame seeds well and put in a baking tin lined with butter paper. Sprinkle the sesame seeds liberally all over the top. Bake for 45 minutes. Cool over the rack and slice into thick brownie like pieces.