An eco-treasure trove
The Unesco World Heritage Site status to the Great Himalayan National Park has generated massive interest in it from around the globe — suggesting a potential boost in ecotourism
Puneetinder Sidhu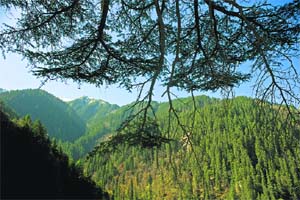 The Great Himalayan National Park (GHNP), covering an area of more than 750 square km, is located in Kullu, Himachal Pradesh, and is naturally hemmed in and shielded by snow-covered ridges on three sides. It is contiguous with the Rupi Bhaba Wildlife sanctuary to its south-east, Pin Valley National Park to the north-east and Kanawar Wildlife Sanctuary in the north. Together, these areas constitute the Great Himalayan National Park Conservation Area - not just India's youngest National Park, but also the nation's most recent Unesco-inscribed World Heritage Site (WHS).
---
'ART & SOUL
Ancient tales of the lord
A superbly produced portfolio of five large paintings graphically and tersely depicts the early events in the life of Krishna
B.N. Goswamy
The title sounds a bit heavy but the weight lifts when we realise that it is an exact translation of the words Bhagavata Purana, that most revered of texts among the devotees of Vishnu: 'Ancient Tales' standing for Purana, and 'the Lord' standing for 'Bhagavata'. In any case, this is the name that a superbly produced portfolio of uncommonly large paintings, newly published from Mumbai, bears.
---
FITNESS
good health
Growth concerns among children
Some problems in infants, kids, or teens may prevent them from meeting realistic growth expectations. However, a healthy, balanced diet, proper sleep and regular exercise can check some of these troubles
Dr Anjali Mukerjee
Are you worried that your child's classmates are getting taller and developing into young adults, but your child's growth seems to be lagging behind? Does the thought that whether something is wrong with your child's growth pattern constantly nags you?
Hair to stay
A variety of home remedies can be easily found in our kitchens which can prevent hair fall
Dr Sonal Shah
Everyone wants beautiful and healthy hair. Losing your hair can be disturbing, especially if you are young. The sight of hair coming out in clumps, clogging bathroom sinks, leaving endless trail on the floor, pillow and hair accessories becomes worrying.
---
SOCIETY
An immigrant's progress
Many Punjabi youths take refuge in illegal immigration to move away from prevalent social problems at home
Peeyush Agnihotri
In 2006, when I moved from India to a mofussil town in the US, I came across this spunky youth from Ludhiana, who had managed to sneak into Uncle Sam's territory as an undocumented immigrant. Let's call him 'Rummy' to honour his favourite drink and to keep his identity a secret.
---
TRAVEL
The city of hearts
Medieval towers, cathedral spires, besides open-air markets, give an old-world charm to the lively city of Zagreb
Tanushree Podder
zagreb is young at heart. It is also one of the youngest countries, having attained independence in 1991. The vibrant city set along the Sava river is one of the most beautiful places in Eastern Europe. The city that began as Gothic settlements perched on two hills by the side of the Sava became an important trading centre as it lay on the route that connected Central Europe with the Adriatic Sea.
---
ENTERTAINMENT
Courting drama
Most films based on the court of law offer entertainment and social awareness, earn big bucks and win acclaim
Shoma A. Chatterji
Courtroom dramas have cerebral storylines where much of the drama takes place within a courtroom. Courtroom dramas do not offer space for songs, item numbers, action scenes, etc. But a courtroom drama can become boring if the narrative is not tight and exciting enough to sustain the suspense.
School spools
Teacher-student films have been many: some average, others good while a few have been outstanding
Ervell E. Menezes
Running through my spiral notebooks again brought me to the French gem The Class, which won the Golden Palm in 2008. Teacher-student films have been many, some quite average, others good but this one is outstanding. What's more, it has a cast of amateurs and the director Francois Begaudeau is also the hero and author of the novel Between the Walls, an incisive and heart-rending account of his experiences in a Paris suburban school.
---