SOCIETY
An immigrantís progress
Many Punjabi youths take refuge in illegal immigration to move away from prevalent social problems at home
Peeyush Agnihotri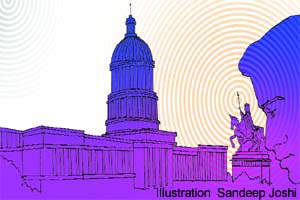 In 2006, when I moved from India to a mofussil town in the US, I came across this spunky youth from Ludhiana, who had managed to sneak into Uncle Sam's territory as an undocumented immigrant. Let's call him 'Rummy' to honour his favourite drink and to keep his identity a secret.
In that southern belt of the US, where being from India was synonymous to being a Patel, Rummy and I soon became friends, not only because we spoke the same language but also because we gradually started relying heavily on each other.
A rather symbiotic kind of relationship had developed in the form of being a social support for each other. I would depend upon his local resource guidance and many of those do-it-yourself tasks while he relied on me for car rides and the 'literacy skills' regarding the paperwork that could make his residency status in the US legal. Furthermore, we both found a sympathetic listener in each other.
It was then that I started to know Rummy better. He was a rural school dropout, could barely comprehend English and was without any mode of conveyance because he had no documents to get a driver's licence. He existed physically but not on the federal roster.
Rummy's life-story was adventurous. In 2004, leaving behind his parents, wife and three kids, he reached a Latin American country, genuinely served by an unscrupulous travel agent, only to sneak into the US through the Mexican border later.
"What else could I do? I had a family to support but the atmosphere was not positive. Drugs ruled village streets and the earnings from farm were so meagre that we could barely afford two square meals. Vela baithaa mein vee nashe-pattey wal vadh rehaa si. Jatt di joon buri. (Sitting idle, even I was getting sucked in by the 'blow'. It's a curse to be born a farmer). I then borrowed money and managed to wriggle out," he confided.
The Gujarati owner of the fast food franchisee, where Rummy slogged an illegal 14-hour shift, was a demon angel. Though he made him overwork yet he also gave Rummy a small apartment to stay and a free hand at the nibbles. The owner had exploitatively and unfairly pegged Rummy's wages at less-than-the market-rate yet he was very fair in paying it out in cash every week. The employer-employee relationship didn't exist in black and white yet Rummy was the pivot of his shop.
Thanks to free boarding and lodging and almost nil overheads, Rummy money transferred his monthly savings with religious dedication to his folks back home. In India, his kids studied at a good private school and the family managed a comfortable lifestyle, courtesy the conversion rate.
When tired, Rummy would sit on an empty cardboard container at the shop. "India vich kinne hi iss seat nu tarsdey ne (So many people are vying to trade their places with mine), he would say with a snarky chuckle while trying to mask the grief of family separation.
He always carried the picture of his beautiful family in his wallet and very animatedly discussed his two wonderful twin daughters' kindergarten performance. He also shared how his four-year-old son loved to talk on phone and how his wife and parents badly missed him. His wife was a pillar of strength, who had kept the whole family threaded together. For his folks, he now was just an overseas voice, who could only be heard but not touched. Reassuring, nevertheless! 'rum-induced' tears would, sometimes, betray his otherwise placid exterior.
Trapped in a foreign land, family separation always rankled him. "Vilayaat ikk mitthii jail hai" (Foreign land is a sweet prison), Rummy would often remark and add that perhaps as a husband, a son and a father, he had failed in his duties. To compensate, he burnt like a lamp wick, to provide enough monetary shine and warmth to his family in Punjab. For me, Rummy was an abridged and twisted version of Kabulliwallah.
Moving on, I relocated to Canada in 2009 but remained in telephonic contact with Rummy. Last week, I got a call from him informing that his file had being processed and that he had got his work permit. He now 'existed' legally. "Now what?" I asked him. "I may now get a legal residency status, within the next couple of years, and then I'll visit India and meet my family and children. It's been 10 years already and it's a priority," Rummy said in a choked voice.
In a decade, he strode a major procedural step closer towards family reunion ó a ray of hope. I felt so happy for him. Also, he made me think hard about the plethora of problems back home. Who landed Punjab in such a mess? The government is now busting drug cartels with alacrity. Was it simply ignorant or schematically complicit in having let the 'weed' grow under its feet?
This was one Rummy, I knew, who decided to fight the social problems off with his own illegal immigration. There are so many like him, who live anonymously and undocumented, get exploited and remain separated from their families in alien lands. Just to keep the hearth in their country homes burning. Unless social issues, like farmer suicides, rampant drug problem and unemployment are addressed, youth would keep taking risks, families would remain separated and illegal immigration would keep happening. And so would the Malta and Iraq tragedies.