Black for the bride?
When it is about celebrating the couture segment of fashion, it has to be more than just presenting collections on the ramp. Some drama has to follow and it did ensue-- in terms of sets, live singing as models strutted the ramp and a lot of Page 3 socialites marking their presence on the front row during the first two days of the BMW India Bridal Fashion Week.

L-R: An outfit from Tarun Tahiliani's The Modern Mughals collection; Gauri and Nainika's take on modern bride; a creation from Ashima Leena's Jashn collection; a model wears a Raghavendra Rathore outfit.
The connecting thread

Endless squabbles over things, sharing treats, long summer afternoons spent inventing games or ganging up against the parents when things went out of hand, a brother and a sister share a bond that's one of its kind. Now, if it happens to be an elder brother, add more to it…a protective figure most likely than not checking every move you make!

Blood line: (L-R) Malvika and Sonu Sood; Harshdeep and Jonita Doda; Preet Kamal and Rana Sidhu

Spoilt for choice
August is august for a reason. We don't know about the awkward positions of the stars, but we do know it's the one month when women are bestowed with a legitimate channel to rake in some much-awaited moolah. And there's that emotional bond, of course! Cashing in on the same love, and rightly so, is the lifestyle exhibition Trends, brought to Chandigarh by The Rising Company, over the next two days.


Fair trade: Accessory bags, formal Indian apparels and interesting offerings from Pakistan await you at the exhibition Photos: S Chandan
PUNJABI TADKA
Meaning in words
If he had a choice, which he exercises one time too many, he would stay in the real world. A world not flanked by flashy cars, two or three hi-end smart phones and pseudo fans. Punjabi singer Prabh Gill accepts everything with humility, be it fame, adulation or star status.
The foodies
Let the taste get to you…
There's a lot of hyperbole surrounding the concept of soul and this or that experience moving it or touching it or satiating it! But, how do you know, in that quaint moment of silence, that you have been moved; that something inside has been enlightened; that your perspective towards life is going to be a tad different here on?
Master Chef
Aam baat!
The time has come when we prepare to say goodbye to the 'King of Fruits'. At this point, I'm inclined to go into hog-mode, tucking into mangoes like there was no tomorrow! This is also the time when I freeze puree and make chutney and pickle. I often do a batch of homemade 'Aam papad' too.
Leather touch
Ex-Femina Miss India Natasa Suri, Priyanka Shah and Himangini Singh unveiled Da Milano's autumn-winter collection 2014 at the Da Milano's Botique at Elante Mall, Chandigarh, on Saturday.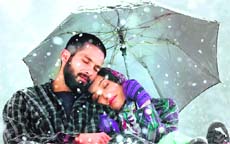 Bollywood loves Kashmir
Kashmir was the staple destination for Bollywood movies before the unrest happened in the 1990s. But crews have begun shooting over there for a while now and we take a look at some prominent movies that have been shot there recently




Rang Rasiya finally gets rolling
Riding high on the success of his latest film Kick, Randeep Hooda is all set to return to the box-office with his upcoming release, Rang Rasiya. Directed by Ketan Mehta (also, known as the director of Mangal Pandey: The Rising) and produced by Jayantilal Gada of PEN India.


Past magic: Randeep Hooda & Nandana Sen
Poshter perfect
Following the success of Shreyas Talpade's latest venture, Poshter Boyz, the actor-turned-producer is planning to make his Marathi venture Poshter Boyz in Hindi to reach out pan-India. The film has struck gold at the box office; receiving rave reviews both from critics and audiences alike.
A new gym for Hrithik
Post-separation from his wife Sussanne, Hrithik Roshan will be moving out from his parents' house and shifting to a sea facing third floor apartment in Prime Beach, Juhu. Another Bollywood superstar Akshay Kumar lives in the same building. However, he is yet to enter his new home.