Stocks & Shares

Give your career abullrun
Usha Albuquerque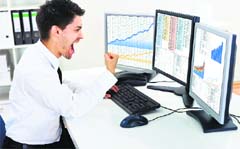 Activities in the stock market today are wide and varied. On any given day, share prices climb up and down dramatically — sometimes several times a day — and this is what stock brokers handle, and monitor. Until a couple of decades ago, Mumbai was India's only stock exchange and only a few industries were listed in the share market. Today, there is a stock exchange in every metropolitan city, where business worth crores of rupees takes place every day.

Radio Imaging Technology
Rising job prospects
A Diploma in Radio Imaging Technology is the best way to secure one's future in the health sector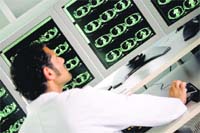 Radiography or Medical Imaging Technology has seen unparalleled growth in the past three decades due to the introduction of cross-sectional imaging. With the rapid developments in diagnostic science and flourishing of health sector, need for radio imaging experts has increased manifold in the past few years. Radio imaging is not just restricted to X-ray, in the recent era radio imagining technicians also operate CT scans and MRI machines and they help in the treatment and care of patients suffering from chronic diseases like cancer and tumour with radiotherapy and chemotherapy, besides diagnosing the diseases.
Roadmap for success
Aspirations that have ruled the choice of college and courses made by the youngsters reveal not only a paradigm shift, but also a sure-footedness and planned approach towards life and career
Gauri Chhabra
With the new batch of freshers entering colleges, the air in these institutions is rife not with just the youthful energy, but it is also suffused with career consciousness and aspirations and dreams that are on a sound foundation of a planned approach. The selection of a course made after Class XII has a far-reaching impact on one's future in terms of lifestyle, status, income, security and job satisfaction.
courses in tool and die tech
Right tools
Balwinder Singh
Tool and die technology is a specialised branch of mechanical engineering and deals with design of dies, tools, jigs and fixtures. Engineering industries cannot function without proper press tools, moulds, fixtures, casting dies, gauges etc. Training is provided to the students in the production of such tools of industrial use.
study abroad: canada
Policy changes open new vistas for students
Neelu Kang Dhaliwal
For years Canada has been among the strongest leading Western contenders in the calculations of many prospective Indian student applicants wishing to pursue a more secure working life through credentials upgrades, skills training as well as resulting career opportunities.
Drama course
Law courses
MBA in International Business
NLU courses
Career Hotline
Pervin Malhotra email your queries to careers@tribunemail.com...
I want to join Golden Gate Engineering Inc.
HRD Fellowships
Rajiv Gandhi National Fellowships
smart strategy: be on top of your career
Take charge to stay in lead


The onus of career mastery is completely on you — the world does not owe you better opportunities
Jappreet Sethi
You have worked hard at mastering yourself — your habits, your outlook on life, your relationships and your finances. Now is the time to master the course of your career, as well. You achieve career mastery when you can integrate your personal development and growth into your professional growth and development.
How freedom works for bosses
Freedom is a word that has different meanings for different people. Freedom gives free mind space to people to do things without any interference from others; be it personal life or at workplace. Freedom enables people to think, create and innovate in a better way. It allows us to do the things that we want to do, go the places we want to go, believe in what we want to believe, and make our own choices.
cubicle trends
Stress at work may up your risk of diabetes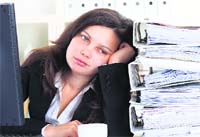 Employees who are under a high level of pressure at work face about 45 per cent higher risk of developing type 2 diabetes than those who are subjected to less stress at their workplace, scientists warn. Scientists from the Institute of Epidemiology II (EPI II) at the Helmholtz Zentrum Munchen (HMGU) in Germany collaborated with the University Hospital of Giessen and Marburg for the study.
Happiness @ work
Gems of ancient wisdom
Need for speed
In a world where the early bird gets the worm, speed is a much-needed asset to remain ahead of the competition. In the 15th century, Qutb-ud-din, Sultan of Gujarat, was making plans to capture Kumbhalgarh from Rana Kumbha