Live border with Pak: Sweets and sounds of gunfire
Ravi Krishnan Khajuria
Tribune News Service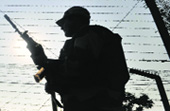 A soldier keeps watch along the Loc. A file photo

Jammu, August 14
For all the serious fireworks going on for some days at the Line of Control, here's something to chew on: On Pakistan's Independence Day, Indian Army officers exchanged sweets and pleasantries with their counterparts at Chakan-da-Bagh and Roshini points in Mendhar, Poonch district. Such bonhomie was absent last year.
At Chakan-da-Bagh, Pak Army Major Imran Khan greeted the Indian side led by Captain S Sambyal around 10.30am, said a senior Army officer. The small ceremony lasted about half an hour at Roshini post too.
But that's only a part of the "live" border. Around 50km away --- as the crow flies in military parlance – Pakistani troops shelled Indian positions in Balakote sector on Thursday evening. This is in addition to yesterday's foiled intrusion in the Mendhar sector. The Pakistan's ceasefire violation figures mounted to 75 this year.
"Last night around 9pm, Pakistani troops carried out unprovoked firing on Indian posts. Our troops gave them an equal response. This evening from 5.30 pm to 6.10 pm they again opened fire and we again responded," said Jammu-based Defence spokesperson Lt Col Manish Mehta. There were no casualties or injuries on our side, he said.
Only late last night Pak troops of 651 Mujahid Regiment opened small arms fire from their Topa Gagrian post on the Indian MS Tekri post in the Balakote sector. "The firing was intense for an hour, but it tapered off in another two hours," said an intelligence source.
However, no such pleasantries were exchanged between the BSF and Pakistan Rangers at the international Border. There could be a reason: Except last night, Rangers had been firing and shelling BSF posts and forward villages in the Arnia area.
"We didn't receive any sweets from Pak Rangers today. But most likely we are going to offer them sweets tomorrow on our Independence Day," said a senior BSF officer.
Contrast it with the Line of Actual Control (LAC): The Army and the China's PLA would exchange sweets at Chushul in eastern Ladakh tomorrow to mark India's I-Day celebrations. "Army officers and their families from both sides will take part in a four-hour cultural programme at Chushul on Friday," said an Army source.