M A I N N E W S
LS Poll debacle

Arrogance , graft did Congress in: Antony panel
Aditi Tandon
Tribune News Service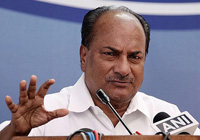 New Delhi, Aug 14
The AK Antony Committee looking into reasons behind Congress' rout in the Lok Sabha elections tonight submitted its report to party president Sonia Gandhi. It blamed the losses on a range of factors from arrogance of ministers and their irresponsible statements to pro-minority talk, corruption and inflation.
Sources indicated that the committee, while saying Sonia and Congress vice-president Rahul Gandhi worked hard during polls, admitted that the election campaign mounted by BJP's candidate and incumbent PM Narendra Modi was too aggressive for the Congress to counter.

Though the panel didn't blame Rahul for his miscalculated poll strategies or for listening too much to his much-criticised "coterie", it is learnt to have said the people involved in the Congress campaign were inexperienced and were no match for Modi's strategy.
Insulating Sonia and Rahul from loss, the panel comprising AICC general secretary Mukul Wasnik and secretaries Avinash Pande and RC Khuntia is said to have blamed the party's debacle on former PM Manmohan Singh-led government's losses and the "arrogance of his ministers".
"Ministers' irresponsible statements caused irreparable losses," the report is learnt to have said. Sources also said the report acknowledges that the people got a misleading message about Congress being only interested in the minorities. It has accordingly suggested inclusive policy to be the mantra for party's resurgence.
Antony had earlier given a statement saying the Congress was being perceived to be anti-majority due to its pro-minority stance.
As part of the solution for future revival, the committee is said to have recommended cadre-based organisation to connect with people. On poll strategy, Antony reiterated one of his past suggestions that paratroopers should not be given party tickets in elections and only insiders should be preferred. Rahul had promised this change at the AICC session on January 17 this year but had failed to roll it out in reality.
The Antony panel is also said to have advised strengthening of inner party democracy in the Congress and recommended elections at every level. The suggestion is critical considering Congress' overall party organisation elections are due in 2015 along with the election of the party president.