Games governments play
Gagan K. Teja
Players from Punjab form a major chunk of many Indian sports teams. What is it that makes them move away from the land, trainers and institutions that nurture them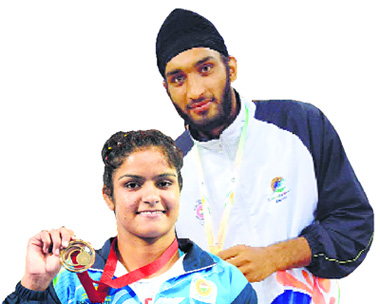 From left

: Despite winning many medals in international tournaments, wrestler Navjot Kaur has been struggling to get a job ; One of the top Indian basketball players, Amritpal Singh who belongs to Punjab, is working with the ONGC. Photo: PTI


Commonwealth bronze winner Gagandeep Kaur sought a job with the Indian Railways after she was ignored by the Punjab Government. Tribune photo: Manas Ranjan Bhui

Punjab, which was once considered to be the mainstay of Indian sports, has fallen prey to the wrong sports policies of the state government. Even as the state continues to produce quality sportspersons in all disciplines, evident from the fact that as many as 15 Punjab players have won medals in the recently concluded Commonwealth Games at Glasgow, most players are slowly drifting away to other states and Central services following non-availability of jobs and lack of financial incentives. On the contrary, the stature of our neighbouring state Haryana is growing by leaps and bounds after the adequate absorption of players in different departments based on their performance and suitable cash incentives.
A quick look at all major sports disciples shows that most of the international players of Punjab are working with the Indian Railways, the Oil and Natural Gas Corporation (ONGC), the Border Security Force (BSF), the Indo-Tibetan Border Police (ITBP) and central banking sector as the Punjab Government didn't offer them jobs. Even if a few of them were offered jobs, these were not at par with their achievements following which these players opted for other departments. Sample this: In basketball, Yadwinder Singh Yadu and Amritpal Singh, one of the top basketball players of India, who have been playing for India since the past almost seven to eight years now, are working with the ONGC. Another India basketball team senior player Amjyot Singh is working with Indian Overseas Bank. Many more are on the verge of joining other departments since the Punjab Police, which is the main recruiting department for Punjab sportspersons, has not made any recruitment in the past almost three years.
Renowned international cyclists Harpreet Singh, Amandeep Singh and Amrit Singh are working with the Railways. Amarjeet Singh and Gurbaaz Singh, who despite competing in over 12 and six international tournaments, respectively, are still hunting for a job. Watching the fate of his seniors, international cyclist Manjot Singh has recently joined Air Force. Triple jumper Arpinder Singh, who won a bronze at Glasgow, is working with the ONGC.
These are just a few examples as the list is endless and the story does not end here. International boxers from Punjab, who are currently in the India's core group, including Amandeep Singh, Kuldeep Singh and Sukhdeep Singh Chakkar, opted to work for the Railways over the Punjab Police as they were offered the jobs of constables, which their coaches believed was not suitable considering their achievements. The Punjab Government has been unable to provide jobs to even those players who have been representing the state for past many years and made them proud. Punjab grappler Navjot Kaur openly expressed her anguish against the Punjab Government after winning a bronze medal at the 2014 Commonwealth Games at Glasgow saying that she will always regret playing from Punjab as she had been struggling for job all these years despite winning multiple medals. She created a record of sorts by becoming three-time junior national champion in a row i.e. in 2007, 2008 and 2009. She later went on to win a bronze medal in the Junior World Wrestling Championship and bronze medal at the Asian Championship before winning the Commonwealth Games bronze.
To add to her problems, she is about to turn 25 soon which will further make it difficult to enter any government job on sports basis. However, the Punjab Government has now said that the medal winners of the recent Commonwealth Games would be suitably rewarded, but what comes her way is still to be seen. Similar is the case of cyclist Gurbaaz Singh who has already crossed the age of 26 years. The scenario is so grim that these players are now ready to take up any job that is offered to them at this stage considering their age.
Earlier in 2010, even as the Punjab Government had boasted about providing jobs to all Punjab players who won medals in the 2010 Commonwealth Games, New Delhi, the lone archer from Punjab Gagandeep Kaur, who did win bronze medal in the New Delhi Games, had to finally seek a job in Diesel Loco-Modernisation Works, Patiala, under the Indian Railways after she was ignored in Punjab. Though the Punjab Government had made few DSP level appointments at that time, including that of Manjit Kaur, Avneet Kaur, Ranjan Sodhi, Palwinder Cheema and Amandeep Kaur, a much larger number of international players have been waiting for many years to get even entry-level jobs. The Punjab Government has provided jobs to many circle kabaddi players who have won medals in the four editions of the "annual" World Kabaddi Cup organized by the Punjab Government. But other players, who despite winning medals at the A-grade games of the country, have been left in the lurch. Former chief coach of the Indian wrestling squad PR Sondhi bluntly blames faulty sports policies for Punjab's downfall. "The Punjab Government, rather than promoting world sports, is indulging in populism politics. Deputy Chief Minister Sukhbir Singh Badal is talking about getting circle kabaddi included in Olympics but one should ask him how he plans to do it when it is not yet recognised at the national level.
Moreover, he always talks about revival of traditional games like mud kabaddi but I want to ask him whether he is working towards making Punjab a better sporting state or ruin it altogether. Our players, just for some easy bucks, are going towards these games and have actually drifted from their goal of making it big at national and international arena," added the coach.
Annoyed with the Punjab Government for the ill treatment of the sportspersons, Teja Singh Dhaliwal, general secretary of the Punjab Basketball Association and vice-president of the Basketball Federation of India, says while the Punjab Government claims to have a sports policy, no one knows what it is and nothing has been implemented till date. "As much as 50 per cent of the Indian basketball team consists of Punjab players, ironically, very few of them have actually been recruited by Punjab. They are working in various other departments. So, why should anyone play for Punjab when there is no economic security? We spend years training them and in the end, they are forced to move out of Punjab due to the faulty recruitment system here.
"Sportsperson is no one's priority in the state and that's what has put us so far behind in the sports arena. While Punjab was number one during the 31st National Games held in 2001, after 10 years i.e. during the 34th National Games in Raanchi in 2011, we have finished on the ninth spot. If the government continues to ignore sportspersons, we might slip down further," he rued. Chief coach of the Indian athletics team Bahadur Singh, too, feels that Punjab should offer good cash incentives and good jobs to retain their talent. "Parents and players will only get involved in sports if they see a better future. Moreover, providing jobs does not mean the jobs of constables. All medal winners of Commonwealth Games, Asian Games and Olympics should be absorbed as DSPs if Punjab actually wants to resolve the problem of falling sports ranking and drug menace," he added.
Government-speak
Apart from 3 per cent reservation in all job categories, the Punjab Government will set aside 125 jobs every year exclusively for nationals and international-level players. This announcement was made by the Punjab Chief Minister Parkash Singh Badal last year on the state-level functioned organised by the Sports Department to bestow Maharaja Ranjit Singh Award on outstanding sportspersons.
Director of the Punjab Sports Department TS Dhaliwal said the Punjab Government was reworking its sports policy and once all modalities were worked out, it would have defined jobs and incentives as per sports achievements for all medal winners of national and international tournaments.
Deputy Director Sohan Lal Lotey said the Punjab Government had honoured the winners of 2010 Asian and Commonwealth Games with cash prizes of Rs 7.54 crore. As far as appointments of Punjab players was concerned, the state had already invited applications after the CM's announcement last year. The department was in the process of finishing their scrutiny as the number of applicants was high and it had to check their credentials.
Haryana Vs Punjab
Haryana Government award list for domestic tournaments
National/ Paralympic Games — Gold, Silver, Bronze : Rs 3 lakh, Rs 2 lakh, Rs 1 lakh
National Championship (Senior/junior): Rs 2 lakh, Rs 1 lakh, Rs 50,000
National School Games: Rs 15,000, Rs 10,000, Rs 7,000
Even though the Punjab Government claims to be giving adequate cash awards, the players who have won multiple medals in the National Games and National Championships in the past over 10 years have not received a single penny till date. The only exception has been the awarding of Maharaja Ranjit Singh Awards which, too, have been presented only twice in the past 10 years. Last time, the awards were presented in 2013 by Punjab Chief Minister Parkash Singh Badal and before these awards, former Chief Minister Captain Amarinder Singh had presented these awards in 2006 after a gap of 10 years. However, the Punjab government had honoured the winners of Asian and Commonwealth Games with cash prizes of ~7.54 crore.