Track record
Music labels have made a sound entry in Punjab and are promoting singers of all shades with a big bang
Jasmine Singh

There is probably one thing that is always weighing on the mind of a singer, apart from of course many other tiring tasks, something like increasing the number of likes on the facebook page, signing up for shows in Canada, sitting over stories of films, and yes of course styling their hair... deciding on the music record label for their single or album. If music is the soul of Punjab, then a music company is the building where this soul is nourished, cleaned and presented well in front of the audience. Recently, Punjab has seen a growth in the number of music labels, directly proportional to the growth of singers. Here we are, with some of the best known music labels of Punjab that have been playing new notes.
Reel to real: Yaar Anmulle Records






Three's company

: Sharry Mann, Amardeep Singh Sidhu and Manpreet Singh Gill

Three friends would often share stories of music companies not treating singers really well. So, they decided to come up with their own label.
Men At work: Manpreet Singh Gill, Amardeep Singh Sidhu and singer actor Sharry Mann started Yaar Anmulle Records in the beginning on year 2014. The company is named after Sharry Mann's hot song Yaar Anmulle, the other two (Manpreet and Amardeep) also featured in the video.
Head office: Mohali. Says Manpreet, "This station offers easy accessibility to all singers."
Record this: The company has launched 14-15 singers in the matter of months. Young and talented Maninder Buttar of Yaari fame is the star singer they launched apart from Shivjot. Sharry's recent track Kala Chand is released under his label.
The USP: We are approached by singers who have no idea how to go about releasing their track. We offer guidance and of course launch them through our label. We promote fresh talent. We are not solely concerned about making money, the idea is to offer these new singers way and give them the much-needed exposure.
Reel to real: Catrack Entertainment Pvt Ltd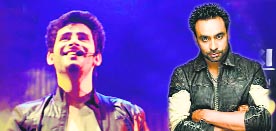 Launch pad: (L-R) Hardik Trehan and Babbu Mann

Their only aim of the company is to offer authentic entertainment. Catrack Entertainment PVt Ltd was formed in 1990 and ever since it has launch the best known singers.
Men at work: Gaurav Trehan is the managing director of the company who makes sure that the company moves in sync with time.
Head office: Mohali
Record this: Their catalogue features artistes like Gurdas Maan, Hans Raj Hans, Sukhwinder Singh, Sonu Nigam, Vinod Rathod, Harbhajan Maan, Suresh Wadkar, Malkit Singh, Raj Brar, Mangal Singh, Harbhajan Shera, Surjit Bindrakhia, Jagtar Jagga, Sardool Sikander, Devinder Khannewala, Amar Noori, Heera Group, Safri Boys. "Our Company launched famous names like Babbu Maan, Manmohan Waris, Dolly Singh, Sukhwinder Panchhi and Gurbawa," shares Gaurav.
USP: Moving with time is the policy of the company. It is the age of youtube and social media so we have become the CMS Partner of YouTube also known as MCN (Multi-Channel Network). Now, we are providing partnership for monetization/full features to YouTube Channels of MH One TV Network, Kumar Films', Mad Arts-Jaspal Bhatti's Official Channel along with its own Channels Catrack Entertainment and Catrack Worldwide. Adds Gaurav Trehan, "Since it was setup in 1990, Catrack has been releasing Indian music albums all over the world, by promoting fresh talent emerging from India and abroad. Over this period of time, we have released more than 300 Punjabi albums. And not to miss our state-of-the art studio providing all the latest technology and equipment."
As quick as it gets: Speed Records



Role model: Dinesh Auluck & Balwinder Singh Kohli along with Jazzy B

Ruling the roost, is the company Speed Records, which has been a favourite with many popular singers who owe their allegiance to company from the year of its inception in 2004.
Men at work: Dinesh Auluck and Balwinder Singh Kohli, owners came in contact with each other through work. Adds Dinesh, "I was providing Punjabi content to music companies like Venus and Tips. Somewhere down the line, things weren't moving great in Punjab, so I along with Balwinder decided to start our own music company. We wanted that our singers shouldn't run to Mumbai for their work, they should have something in Punjab that is approachable. Punjabi singer actor Jazzy B played a major role by offering guidance and support," shares Dinesh.
Head office: Jalandhar and Mumbai. Shares Dinesh, "we are not a corporate company that closes after 5 pm. I am always available for my singers, anytime of the day. Our office is in Punjab so a singer doesn't have to take out time especially to fix a meeting."
Record this: Speed Records has over 5,000-7,000 songs on their music catalogue and almost 4,500 on their video catalogue. The company has launched singers like Satinder Sartaj, Babbal Rai, Prabh Gill. Popular singers like Amrinder Gill have been held their loyalty to this banner.
Speed USP: The company believes in promoting new talent and maintaining long-term relationship with the established singers. Dinesh has always believed that the personality of a singer, performance and passion take them really far. Other than, he also rates a cordial ambience at workplace. "Our office is flooded with singers who don't feel the need to be formal."
Gen Next: Daddy Mohan Records
He has a passion for music and he wanted to do something for his father, Mohan Batra, so he formed a music company, Daddy Mohan Records in October 2012.
Men at Work: Rajan Batra is the owner of the company that has released more than 400 songs till date.
Head office: Jalandhar
Record this: Daddy Mohan Records launched Yuvraj Hans in the industry. Popular singers like Preet Harpal's track Goodbye is released under their banner.
USP: Shares Rajan Batra, "All singers want to reach out to maximum audience, my company ensures this is taken care of. We totally believe in the social media so online promotion is an important area of focus."