Set a date with glamour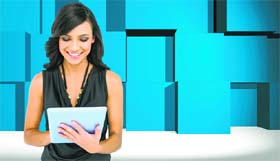 Who hasn't fantasised about how sensational your life would be if you worked as a TV anchor being admired by millions of viewers, or sashaying down a ramp wearing the most expensive designer gown, meeting celebrities, and dashing off to New York/ Paris or Singapore every week? There are some jobs that look so glamorous that they can hardly be thought of as work.
Career Hotline


Getting into IPS


Is role of a TV producer fit for an introvert?


MBA in distance mode
Bolstering careers through skill training
Gap in industry demands and the academic preparation has made employability the main casuality in the job market and as a result the number of "qualified" unemployed youths has been surging in the country. This scenario has shifted the focus on skill training and a number of non-government players have entered the domain of skill training to make the youth more employable.
study abroad: hospitality courses
Platter full of global choice
Are you a people's person? Do you aspire to set up your own restaurant or see yourself as the next Gordon Ramsay? Do you have great managerial skills? Is customer satisfaction a key element for you? If answers to all or even one of these questions is a 'yes' for you, then making a career in the hospitality industry will be ideal for you.


CareerCature
SANDEEP JOSHI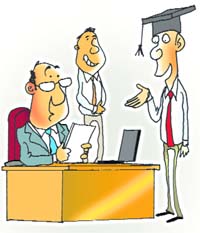 Sir, they gave me the three-year bachelor's degree in one year due to my emotional intelligence.
smart strategy: how women can break the glass celling
Fair growth
We are finally seeing the entry of women in board-level positions at leading multinational companies. However, the numbers are not stacking up as anticipated — many businesses continue to have a less-than-balanced equation in terms of gender diversity in leadership roles.
Pitfalls of performance improvement plans
Performance Improvement Plan (PIP) is a formal process designed to facilitate an employee to improve his performance. It ought to be used by supervisors to help employees improve performance through constructive discussion between the staff member and his/her supervisor, and to clarify that work performance needs improvement.
B-school grads prefer PSUs
Business school graduates are now increasingly preferring to work in public sector undertakings over private entities owing to a plethora of factors including job security and lucrative salaries besides generous perks and special allowances, according a recent survey.
cubicle trends
Natural light in office boosts health
Employees with more light exposure at their workplace have longer sleep duration, better sleep quality, more physical activity and improved quality of life, according to a new study.