Accessories for the perfect click
From polarising filters to devices that help you capture high-resolution images, the market of camera accessories promises to elevate photography to an art form
Subodh Samuel
People who thought that smartphones would overshadow the popularity of point-and-shoot cameras were so wrong. The art of photography is alive and kicking. Global brands are peddling their shutter boxes remorselessly by digitalising the Single Lens Reflex (SLR) camera. Despite the emergence of smartphones, taking pictures with a camera has retained its enduring appeal and still enjoys a fan following. Much like the mobile cameras, the Digital Single Lens Reflex (DSLR) camera captures images electronically and stores these in the memory. The pictures can be previewed on the LCD screen of the camera and can be transferred to a computer or a pen drive and printed with the help of a digital printer. You don't have to bother yourself about storing negatives or film rolls.
Add-ons that matter
There was a time when the only accessories available were tripods, lenses and lens cleaners. Today, the market is inundated with gizmos that aim at enhancing the quality of a picture and turn yesterday's impossibilities into today's photographic realities. From polarising filters that remove unwanted glare from pictures and make colour contrasts sharper to devices that help you capture ultra-high-resolution images, the market of camera accessories promises to elevate casual photography to an art form. The most common accessories in a DSLR camera are the detachable lenses. Usually the kind of photography you are interested in determines the type of lenses you would require. If you are heading for a wildlife safari, you may need a lens which has a 70-300mm telephoto lens. Its pricing begins from Rs 6,500 and goes up to Rs 45,000.
Though a 70-300mm lens is adequate for bird photography, it is better to go in for a 500mm F4 lens, which can cost you more than Rs 50,000. For scenery and people shots, your purpose can be adequately served with a standard 50mm lens, costing between Rs 5,000 and Rs 10,000 and a wide-angle lens that will cost you a minimum of Rs 5,000.
For a clear picture
When you have a variety of lenses for different occasions and photographic needs, you would also need appropriate filters to go with them. Though some people are of the opinion that that in the age of Photoshop, these are not required, a professional will tell you that there is absolutely no substitute for clicking pictures with the help of filters that deal with colour saturation, lighting, glare and can even add special effects to the picture.
The next vital accessory is the tripod. You can buy an image-stabilised lens but that is a very costly proposition. A steady tripod will do the job as well. For landscape photographers, the importance of a lightweight tripod cannot be undermined when it comes to shooting with heavy, long and wide lenses. Since working with a hand-held camera can produce shaky and blurry results, a tripod not just steadies pictures but also makes it easier to clip them together on a computer. The cost of a tripod can vary depending on the quality. While you could get a Wiefeng Mini Tripod for just around Rs 500, a Gitzo 2580TQR tripod would set you back by almost Rs 70,000. However, it would be best to go for brands like Vanguard, Fotopro or a Joby costing between Rs 5,000 and Rs 7,000 that can support a camera and its lens.
The third basic accessory that you need is a camera case. There is an over-abundance to choose from, so you should buy one that caters to your demands. Take your pick from some of the world's leading names like Cannon, Lowpro, ThinkTank, Acme Timbuk2, Tamrac and a host of others. Though camera bags can range between Rs 600 to Rs 25,000, you can get a decent one between Rs 3,000 and Rs 5,000.
Pack and move
However, if you plan to travel long distance then go for a backpack, which not just stores the camera and all the accessories but also balances and distributes the weight comfortably on your back. Most of the leading companies make backpacks that are spacious enough to hold a camera and have plenty of space for smaller lenses as well as pouches for filters. Most also have a quick-clip tripod-attachment system. A good backpack from a known brand like Lowpro will come for Rs 5,000. These are, of course, the bare-minimum accessories required for modern-digital cameras apart from batteries, battery chargers and memory cards. The world of photography is moving at a frenetic pace and is coming up with add-ons that move beyond the basics and add immense value to the art of clicking still pictures and videos. Some models of the Nikon camera, for example, come with their own dedicated GPS units to record the longitude, latitude and other geographical locations from where a picture has been taken. There are special flashes for shadowless pictures; there is a variety of photo-editing software that can go a long way in 'dressing-up' a picture and eliminating the flaws in it. Then there are special stereophonic microphones that can be mounted on a camera — when used in the video mode — to capture sounds, music or conversations perfectly.
Indeed, the market for camera accessories is booming. And even though a majority of youngsters might have taken to 'phoneography', digital cameras still enjoy popularity, owing some of it to the user-friendly add-ons.
Smarphone apps for photofinish
Makers of Samsung, IPhone, Sony and other brands of smartphones are introducing in the market dedicated accessories like zoom and fisheye lenses and ultra-up-close macros. These make the pictures look like the photography results of professional cameras. American online retailer Hammacher Schlemmer has launched an iPhone case that improves the quality of its camera with fisheye, telephoto and wide-angle lenses. The hard plastic case fits the phone and its three-lens dial rotates to cover its inbuilt lens with the desired attachment. A new device called Snapzoom attaches a binocular to the smartphone and uses the high quality optics to maximize the range of the camera. Costing around Rs. 4,000 it guarantees that pictures taken with it will match the quality of those taken by a top-end telephoto lens. Shooting in sunlight has always been a challenge for smartphone camera users as the light reflects off the screen and makes it difficult to view the subject. The daylight viewfinder has solved this problem. It attaches to the phone's screen to become an eyepiece and works like a camera viewfinder. Smartphones also have their own tripods made by companies like iStabilizer and Joby that give these the desired stability to click pictures. Once you have taken the pictures, you can attach your smartphone to a range of palm-sized wireless printers,available in the market, which print high-quality photographs directly.
Ideal for storage
The all-weather Lowepro Flipside is a large-capacity backpack for professional photographers. It delivers an ideal solution in terms of comfort and protection. It keeps expensive photography kit secure and shockproof. It offers professional photographers a mix of features that facilitate carrying all the equipment.

Price: From Rs 4,500 to Rs 7,200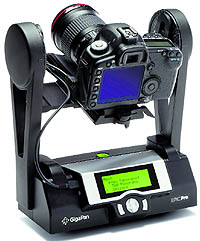 Look at the bigger picture
Gone are the days when pictures were measured in megapixels. This is the era of gigapixels. Gigapan Epic Pro can capture photos for one big stitched-together shot. It is designed to meet the challenging needs of the professional photographers who have to capture ultra-high-resolution images.


Price: Rs 60,000


Bag in the right stuff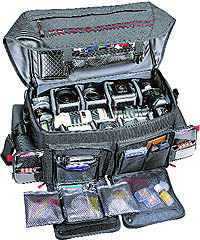 Super Pro 14 by US-based photography equipment manufacturer Tamrac is a shoulder bag equipped to carry multiple SLRs, lenses, and even a laptop. The all-weather shock-proof bag features a double lens-bridge divider system that secures the cameras, lenses and other delicate photography gear.


Price: Rs 31,500


Promising functionality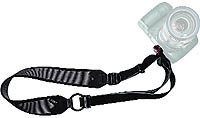 The cleverly designed Joby ultrafit sling strap tucks the camera under or behind the arm when not required and easily extends when you pull it out. It keeps the camera safely by your side and then smoothly glides it up to the eye level. It has a connector with a handle for screwing it to the tripod mount.

Price: Rs 3,000
For a dust-free lens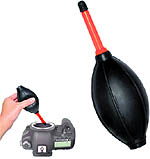 Dust is attracted to lenses and filters like a magnet is to iron and it is important to instantly remove it if you want good pictures. The Giottos Rocket air blower is a great solution. It is durable, powerful and easy to use. Available in small, medium and large sizes, it just requires a blast from it to clean a lens thoroughly.

Price: From Rs 550 to Rs 800
To control the flash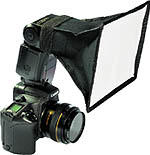 The fotodiox square flash softbox works on the harsh light coming from the external flash of the camera. It diffuses the light while staying out of the way of your lens. It is a very helpful accessory for on-the-go photographers who can control the light of the flash vis-à-vis the external conditions.


Price: Rs 1,100
Promise of a dual benefit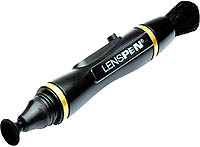 Treat your lenses with utmost care with this Lenspen NLP-2 lens cleaner. It works by using a dry carbon formula on one end of the lens, which cleans away any fingerprints or wet marks. The retractable brush on the other end is used for removing dust.


Price: Rs 800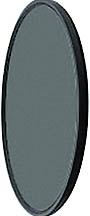 Weather friendly
A polarising filter is a must-have accessory for photographers interested in subjects of landscape and architecture as it reduces glare and reflection from mirrored surfaces. The B+W 77MM Slim Kaesemann Circular Polariser is designed keeping in mind its use under extreme climate conditions.


Price: Rs 12,000
Getting smart with technology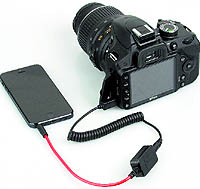 The triggertrap mobile dongle lets you use your smartphone as a remote-shutter release for digital SLR cameras. It also allows you to trigger the shutter release, which comes in handy when paired with its flash adapter for high-speed photography. It is available both for iOS and android phones.


Price: Rs 1,800

Safe, sound & secure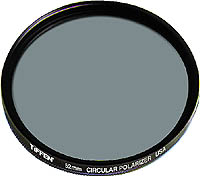 The Tiffen 52mm UV Protection Filter protects lenses from dust, moisture, scratches and other damages. The filter can be kept on the camera at all times. It not only protects your lens from accidental damage, but it also makes it easier to clean lenses.

Price: Rs 950

Tripod for the day trip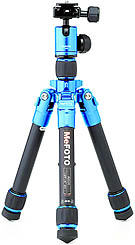 This MeFoto DayTrip Mini tripod is the perfect size for stabilising low-to-the-ground macro shots, portraits, and tabletop photography. It is just 9.4 inches tall but grows to more than twice that size. It can hold a camera weighing up to 4 kg and has a reversible centre column for super-low photography.


Price: Rs 2,100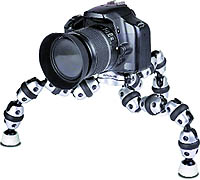 All for stability
It looks like those flying-squid robots that we saw in the film Matrix, but the Polaroid all-terrain tripod is a very useful accessory. The legs use locking ball-head joints and changeable thread-mounted feet for stability. Despite its being only 12 inches in size, it can support all the DSLRs and even zoom lenses.

Price: Rs 9,000
Balancing act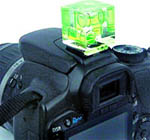 To click quality pictures, it is important to hold your camera straight. The level cube fits easily into your camera's hot shoe. It balances the camera and is especially useful when you are not using a tripod. The cube measures one inch on all sides and is very simple to carry in the kit.

Price: Rs 900

Loud and clear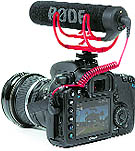 The Rode VideoMic Pro for DSLR cameras raises the bar by combining broadcast quality audio when the camera is used in the video mode. The lightweight microphone significantly reduces ambient noise and delivers professional video quality sounds. Best of all, it requires no dedicated battery.

Price: Rs 19,800

Easy to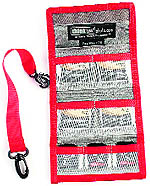 carry
The think tank pocket rocket memory card carrier is a handy, compact pouch that is used to carry the camera memory cards. Small enough to fit easily into your pocket, it can be attached to your clothes, belts or camera bags. It is a convenient and portable accessory for professional lensmen and photography enthusiasts.

Price: Rs 2,675

Light up your world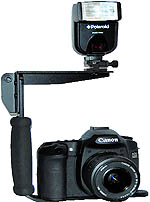 The Opteka FB 10 DSLR digital flash flick bracket is ideal for all levels of photography. It will let you turn your camera from horizontal to vertical mode with a flick of the wrist while still keeping the flash centred above the lens. As a result, your photos will receive optimum light regardless of the camera's placement.


Price: Rs 2,800