When dreams take flight
For those who learn to overcome their fears, freedom beckons. Bringing alive this emotion of freedom, Colors recently announced the launch of Udann—the tale of Chakor, which is about a free-spirited young girl whose existence is pawned by her helpless and poverty-stricken family when in her mother's womb, as collateral for money. Through Udann, Colors brings a heartwarming story addressing the social issue of bonded labour, which is widely prevalent in the world even in the 21st century. Conceptualised by ace director Mahesh Bhatt, Udann marks the journey of seven-year-old Chakor as she rises like a phoenix for her dreams and showcases a mind without fear. Produced by Dhaval Jayantilal Gada and Guroudev Bhalla Productions Pvt Ltd, the show has been written by award-winning writers Robin Bhatt and Javed Siddiqui.
Set against the rustic backdrop in the hinterland of Uttar Pradesh where bonded labour is dominant, Udann is an honest rendition of life and society. Bringing to light the innocence of a young but sharp-minded child, Chakor, whose unhindered zest for life strengthens when faced with challenges at the hands of the Rajvanshi family headed by the zamindar Kamalnarayan, her story celebrates the spirit of survival and hope.
Witness the zest for life of seven-year-old Chakor every Monday to Saturday at 8:30 pm on Colors.
Bebo dazzles at Tussauds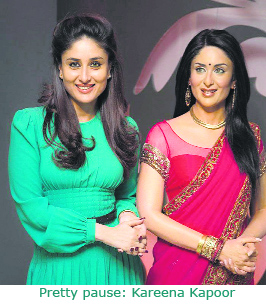 Actress Kareena Kapoor recently visited her wax figure at Madame Tussauds London and styled up her wax model in the beautiful red sizzling Ra.One saree. The statue now wears the red saree of Chammak Challo song from Ra.One, enhancing the beauty of the wax statue.
Kareena is delighted to see the outcome of the redress and she posed with the statue giving a satisfactory look. Fans can visit the statue for a limited time frame before this summer, before it returns to Madame Tussauds Blackpool in the Autumn. The statue was initially dressed in Mauja Hi Mauja style. "It was an honour to welcome Kareena Kapoor to Madame Tussauds London to visit her redressed wax figure, particularly as Kareena donated the new outfit herself. Seeing Kareena alongside her figure was a real treat, and I know that fans who saw her today were delighted," said Ben Sweet, Madame Tussauds London's general manager. Kareena said, "The sari looks really pretty, really spectacular, and I always think that the figure's eyes are just like mine. I wanted my fans to see my wax figure in an outfit that was known and loved from one of my films, and my favourite outfit to wear out is a sari, so I jumped at the chance to redress my Madame Tussauds figure in one. This is a moment I'll treasure forever."
Going on air
The new-age Indian woman is making a mark in stronghold male bastions. The finest example of this is the aviation industry where till recently, women were air hostesses and the coveted pilots of the aircraft were men. Breaking this stereotype, STAR Plus is all set to launch Airlines—Har Udaan Ek Toofan.
The story of Flight Officer Ananya Rawat forms the central theme of Airlines, as she personifies the aspirations and ambitions for most young Indian women. Set in Delhi, the show features the journey of First Officer Ananya Rawat who navigates through a world of gender discrimination and regressive attitudes embedded in the modern and glamorous aviation industry. The show marks the TV debut of Tulip Joshi who plays Ananya and VJ- turned-actor Yudishthir aka Yudi essaying the role of Captain Akash. It has been produced by Miditech and written by Advaita Kala, who has also authored the recent hit Kahaani.
(Airlines will begin on August 24, 2014, at 9 pm)
I live on my own terms: Aamir
Aamir Khan spoke about the Young Inspirator's seminar about life and success and here is what he had to share...
Mistakes of life
This has been a fascinating thing right through my life. While making every important decision of my life, all people who are important to me, close to me, had told me, 'You are making a mistake, don't do this'. I had always been told that.
No compromise
I always listened to them carefully, I never ignored them. But I finally did what I felt like doing and when I look back after 25 years of being a professional, I think that is the one thing that I feel happy about. I lived on my terms. Today, I am successful, but I may not have been successful as well. But I am happy that I never compromised. Whenever I was offered something I was not happy with, I didn't do it.
Standing by PK
PK is one of my favourite films in my entire career. I have other favourites like Sarfarosh and Taare Zameen Par. I stand by everything that I have done for this movie and by the movie itself. We are promoting it in a very unique way by releasing motion posters and each of them will tell a story.
Guetta returns
One of the world's biggest DJs, David Guetta will return to India this December to play two shows in the country. Universally accredited with being one of the first DJs to open up the world of electronic dance music to global audiences, David has established himself as a true, modern-day dance icon with a huge following in the subcontinent. The man behind tracks like Titanium and Play Hard will perform in Delhi on December 19 and Bengaluru on December 21 (venues will be announced soon). — TNS
Name game
Actor Manish Raisinghani has changed his name from Manish Raisighani to Manish Raisinghan and the reason behind this change is numerology. The actor was guided by a numerology expert to drop the letter 'I' from his last name for better prospects in the future. "I am a fan of science and my first personal encounter with a science called numerology made me drop the last 'I' from my surname. The advice came from an export," he shared.
History calling
After Ssharad Malhotra playing the grown-up Maharana Pratap's role in Contiloe Telefilms, now Rachana Parulkar, who did Ek Mutthi Aasmaan earlier, will be playing an important role in the show. She is in consideration for the role of Ajab De.
Defending love
Srishty Rode is angry about accusations made by her boyfriend's ex-girlfriend Muskaan Arora. After recent reports that her boyfriend Manish Naggdev two-timed Muskaan, Srishty has come out in defence of him saying that isn't true. Manish is seen as Shashank in Pavitra Rishta.
What a chance!
Hollywood-based Indian producer Ashok Amritraj will host a show on DD. Called Chance of a Lifetime, the eight-episode TV series is in collaboration with the United Nations.
Exciting jodi
After bringing Ram Kapoor and Sakshi Tanwar together, now Ekta Kapoor is planning a love story with Sakshi and Ronit Roy. Everything about the show is kept under wraps as of now. But knowing Ekta, it will be a smashing show. Ronit hasn't done a fiction show in a while, so this jodi will be exciting.
Weighty issue for Gauhar
Gauhar Khan, who is turning a host with Honey Singh's India's Raw Star wants to lose weight. Apparently, post Bigg Boss last year, she has been travelling a lot and wasn't able to devote much time to fitness, but now she is working hard to get the extra kilos off.
Mika likes Shahid
Mika Singh is all praise for actor Shahid Kapoor. Mika apparently loved his O2 Arena performance and complimented the energetic and handsome actor. They have had many hits together like Mauja Hi Mauja and Saj Dhaj Ke from Shahid's movies.
Bang on target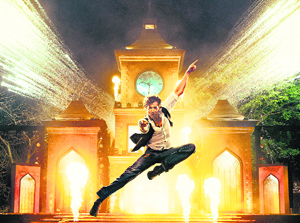 The still from the song Tu Meri

What happens when you put together scintillating good looks, sizzling chemistry, pulsating music along with breath-taking dance moves? The lethal combination of Hrithik Roshan and Katrina Kaif makes the first song of Bang Bang titled Tu Meri, an absolutely sensational dance number.
Here is an exclusive teaser picture for you from the high octane Tu Meri which was launched on August 22. Composed by Vishal-Shekar, we are told that this track is one of the most energetic songs in the film.
As Bang Bang gets ready to set the screen on fire on October 2, we can't wait to see what else awaits us!
In the top slot
Deepika Padukone is at the top of her game. She is topping many surveys and power lists because of her hit films, her high profile relationships, work ethic, brand endorsements, upcoming films, and more. God bless her, she is a complete package! She deserves all the success.