2 die as Pak shells 28 Jammu villages
Rangers target 22 posts along border

4 of family, BSF man injured

1,000 evacuated
Ravi Krishnan Khajuria
Tribune News Service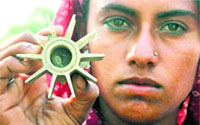 A woman holds a mortar shell. PTI
Jeora Farm/ Abdulian / Korotana Khurd, August 23
Two persons of a family, including a minor, were killed and four others injured as Pakistan Rangers shelled 22 forward posts and 28 villages along the International Border in the RS Pura sector of Jammu district on Friday night.
Heavy exchange of fire continued between the Rangers and the BSF continued till 7 am on Saturday. Over 1,000 people, mostly women and children, living in border hamlets have been evacuated to safe areas.
"The Rangers started unprovoked firing in the Arnia area around midnight. Later, they targeted a 20-km stretch in the RS Pura sector," said BSF's Jammu Frontier, IG, Rakesh Kumar.


Pak wants DGMO meet
DGMOs of both countries should meet immediately to discuss ways to stop the current spate of firing along the border
Sartaz Aziz, pak national security adviser

Truce violations up: Govt
Of late, ceasefire violations by Pakistan have increased. But let everybody be assured that both our Army and the BSF that are guarding the LoC and the International Border are fully vigilant. They effectively respond to each violation
Arun Jaitley, defence minister
"In Jeora Farm village, Akram Hussain (28) and his son Aslam (8) were killed while four other members, including two women and an infant, of their family were injured when a Pakistani shell exploded inside their house after tearing the roof," said RS Pura SHO, Deepak Jasrotia.
This was the heaviest unprovoked, indiscriminate firing and shelling by the Rangers this year along the IB in Jammu frontier in violation of the 2003 ceasefire agreement, said another official.
In Arnia, a BSF jawan, identified as Shrikrishan Kumar of Uttarakhand, sustained minor injuries at Pittal post, said BSF IG Sharma.
The officer said in retaliatory fire, two civilian casualties were reported in Sialkot. "They (Pakistani side) also suffered heavy damage to property, including some vehicles belonging to the Rangers," he said.
Sharma cautioned Pakistan that the BSF would continue to retaliate strongly to every single provocation on the border.
"They don't follow rules and we are paying them back in the same coin," he said.
The IG visited forward villages in Arnia and RS Pura and promised every possible help to residents.
Over 1,000 villagers have been shifted to three makeshift camps — the ITI college in RS Pura town and two government schools in Rangpur Maulanian. More people were expected to be shifted to these camps.
Saudagar Mal, a resident of Abdulian village, said, "Pakistan has got vacated all its forward villages and tonight we anticipate another round of intense shelling."