A story of unflinching determination
Reviewed by Seerat Toor Grewal
Unbreakable: An Autobiography
by M.C. Mary Kom.
Harper Collins.
Pages: 155. Rs 199

Mary Kom with her son
Unbreakable: An Autobiography is more than a book. It's an inspiration for all those who want to dream big despite the odds they face in their daily lives. Also, it is a must read for women who could not challenge the status quo imposed by their families or society at large, to pursue their higher goals.
Mangte Chungneijang Mary Kom, the most celebrated Indian woman boxer, narrates her awe-inspiring story in her own words. The book is divided into 17 chapters, each touching different notes of her life. The simplicity of expression and the depth of her feelings in the text grips you till the end. A girl, who came from a very humble background, sustained her iron will to be the champion of the ring. Her childhood, she writes comprised hardships and labour, which definitely made her physically so strong that she could bear any blow. The story takes you through her childhood troubles and social hurdles fought with her unwavering grit. Nothing could bow down her unflagging passion to achieve something unthought-of in her part of the world.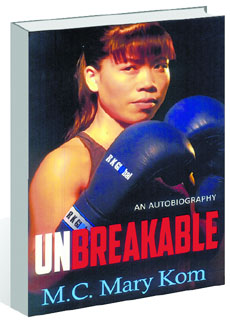 Kom mentions how in the insurgency-torn state of Manipur her family wasn't spared either. Her father-in-law was killed in the middle of one night, which left her husband shocked, aggrieved and revengeful. It all happened after she won an international medal in the US. She also recalls the hardships that she had to face to collect enough money to sponsor her trip.
This small book of 153 pages, gives enough food for thought, especially to those who think that life hasn't offered them many opportunities to achieve success. The mention of her arduous physical training and daily routine leaves one with goose flesh. She owes her success to several factors, most importantly to her passion, which kept her going against all odds. To put it simply, she just refused to give up. There can't be a better title to her story, Unbreakable. Kom in the book says that without the support of her husband her victory wouldn't have been possible. She is also a loving daughter, a caring daughter-in-law and a perfect mother.
Thus, this book which is definitely a gripping read, takes you through the various ups and downs of a journey to success and fame. It aims at motivating youngsters and conveys the message that determination makes you achieve even the impossible dreams. And that the people who achieved a lot in their lives never had it easy. The only thing that they had in abundance was their will power.
Mary Kom trains many students in her boxing school now without any formal equipment but definitely with her enriching experiences. She dared to create a niche for herself in a man's world and defied all conventions. And there is nothing in the world that tastes sweeter than success but it only comes to those who dare to chase it.