Complicated relationships
Reviewed by Balwinder Kaur
The Tiffin
by Mahtab Narsimhan.
Hot Key. Pages 169. Rs 299.
Overworked and underpaid, beaten and bullied Kunal is unwanted and unloved. Unable to bear his hellish existence any longer he is at a breaking point. Ready to burn all bridges, he tries to run away from enforced slavery at the dhaba and its abusive heartless owner. But things don't go as per the plan, the situation worsens and the 12-year-old is about to be sold-off to become a beggar.
However, the silver lining of this dark cloud is Kunal's discovery that he is not an orphan. Desperate to realize his cherished dream of a loving family, he hunts for his mother in overcrowded Bombay armed with a slim lead. Thus begins the search for Anahita Patel who works in the financial sector. An emotionally charged tale of love and loss that highlights the misery of many an unfortunate child, all alone in an uncaring world dependent upon the kindness of strangers.
This Place
by Amitabha Bagchi.
Fourth Estate. Pages 253. Rs 499.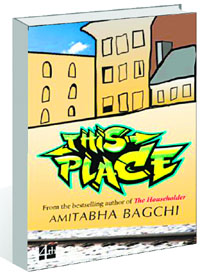 Demolition and reconstruction is on the cards for a rundown unsavoury part of Baltimore. Life as they know is about to change irrevocably for the close knit multi-racial community on 26th Street. Not everyone is as overjoyed as landlord Shabbir Ahmad who is busy calculating ways to get maximum compensation from the city.
Old Henry may have seen this coming but is still rattled. Jeevan Sharma wonders what this means for his hopes of happiness with the new tenant Sunita. Even greater are his fears for the old and infirm Ms Lucy who absolutely refuses to leave. But Kamran and Kay refuse to accept the inevitable as just that. They believe that their little niche in the world can be saved on a technicality.
This unexpected catalyst tests the strength and fragility of individuals, associations and relationships. In a character centric narrative, the author delves deep into the internal struggles of people who meander between regret and yearning.
Bambi, Chops and Wag
by Ranjit Lal.
Roli. Pages 181. Rs 195.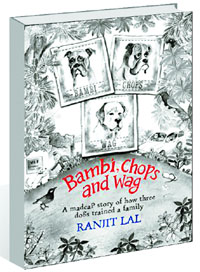 Highly exhausting, extremely aggravating and often embarrassing but always endearing antics of threepet dogs are cherished memories relived in this book. With woofs, wags and licks, each one of the three little puppies commanded a special place in the hearts and lives of the author's family. Each one with their own foibles, failings and idiosyncrasies enrich the lives of three generations.
These canine companions shared good times and bad with boundless enthusiasm, inexhaustible love and unflinching loyalty that only dogs can provide. Bambi, Chops and Wag played merry hell with time-tested training techniques. Lessons learned from mistakes made with one were of little help with the next one who needed a whole new bag of tricks.
The simple straightforward writing is charmingly realistic and will undoubtedly evoke the readers own recollections of their pets.