food talk
Sublime but subtle stew
Pushpesh Pant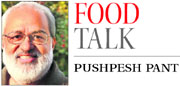 The Kerala delicacy that is usually paired with that sublime 'bread' appam is a stew, redolent with green cardamom and cinnamon and subtly flavourful. It is mild yet overpowering in the best sense of the word. For years it has been our favourite. But may the old flame forgive us our trespasses. Lately, we have found it impossible to resist the allures of kurma that isn't even distantly related to the North Indian korma. More often than not, what is served in eateries claiming to be inheritors of Malabar's culinary legacy is a melange of seasonal vegetables in coconut milk-based gravy tasting slightly sweet and lacking in character. What led us astray from our beloved stew was something different - dark in hue, strong of body with piquancy and tang to match. This is what we share with our readers now. It can be paired with chappati, parantha, even poori or steamed rice. Easy to prepare it is refreshingly different. Strongly recommended.
Shallot Mushroom Kurma
Ingredients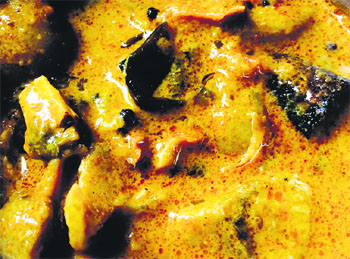 Shallots small 200 g
Madras onions (peeled)
Button mushrooms 200 g (wiped clean and halved)
Tomato 1 small (chopped, optional)
Onion (peeled and sliced) 1 small
Garlic ginger paste 1 tsp
Bay leaf 1
Cinnamon 1 inch piece
Peppercorns 1 tsp
Black cardamom 2
Tamarind extract 1 tsp
Brown sugar 1 tbsp (level)
Turmeric powder 1/2 tsp
Cumin powder 1/2 tsp
Coriander power 1 tsp
Coconut milk 1 cup
Red chillies 2 whole (soaked in water and ground coarsely)
Oil 3 tbsp
Method
Heat oil in a pan; when it reaches smoking point put in bay leaf and whole spices. When these change colour, add chopped onions and stir fry till translucent. Now add garlic-ginger paste and whole red chilli paste and tomatoes. Stir fry on medium flame for a minute; put in shallots and mushrooms along with tamarind extract, brown sugar, powdered spices and salt. Cook uncovered stirring regularly for two to three minutes. Reduce flame to low and slowly stir in coconut milk mixed with 1/2 cup of water to avoid curdling. Simmer for five minutes and remove from stove. Serve with what chapatti or rice.