Entertainment
A taste of Bollywood banquets
Food has featured in myriad ways in Hindi cinema but, of late, food movies have come of age with interesting experiments
Nirupama Dutt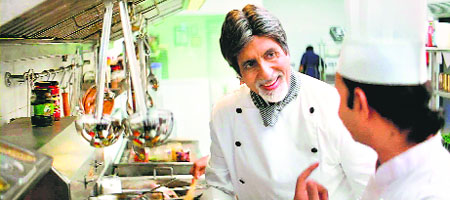 Food, food and more food has ever been at the heart of Indian films, and no surprise this for India's culture is essentially agrarian. The lead was taken as early as 1946 with Dharti ke Lal (Sons of the Soil), a poignant film on the Bengal famine. Many films in post-independent India negotiated the issue of hunger or the provision of the basic need. Since then food has featured in a myriad ways in Bollywood films other than just for survival. There is food for fun, food for courtship, food for love and food for the sheer pleasure of it. Indian sweets like laddo, rasgula, jalebi and halwa have featured in many films and film songs too. There is a sensuous song on the favourite Indian savory called a samosa: "Jab tak rahega samose meing aloo..." A yesteryear film song even had a guy asking a girl out on Sunday with the promise of feeding her eggs freshly laid by a hen!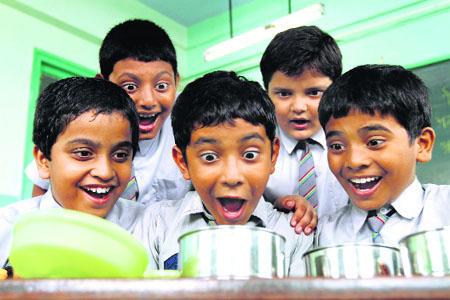 In all this, The Lunchbox marked the coming of age of food films a la Bollywood. The understated romance, warmth of Indian food spiced with love goes straight to the hearts. The Los Angeles Times describe it as 'a delectable tale on hunger for connection' and the New York Times praised it as 'You've got Meal (a Note too)'. The wife is cooped up with a child in a cubbyhole Mumbai flat while the husband is away for long hours at work and disinterested when he returns. Following the counsel of an elderly woman neighbour, she decides to reach his heart through his stomach. The food for love, caringly spiced Indian fare of vegetables and dal with soft rotis, is sent out in through Mumbai's famed super-efficient lunchbox service in which some 2,00,000 lunchboxes are delivered with a rare chance one in eight million mistake. But here the freak error occurs and the delivery at a wrong address triggers a subtle food romance with love notes travelling to and fro.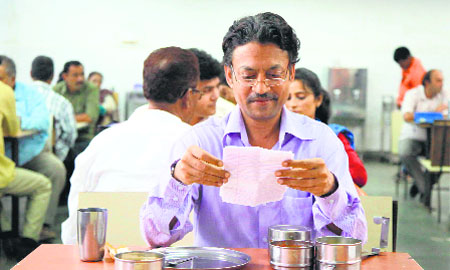 The turning point in food films came with Bawarchi in 1972 that had the first Indian superstar Rajesh Khanna playing the lead. An educated do-gooder fond of cooking moves from one querulous household playing the traditional cook and moves from one querulous household to another bringing peace as he cooks kache kele ka dum pukht, egg kachori and more.
Saffron biryani was the central motif of Cheeni Kum (2007), which makes a middle-aged London restaurant owner, played by Amitabh Bachhan, win a younger woman's heart. The restaurateur prides himself on his Indian gourmet and strongly believes that a perfect biryani is as great a work of art as Leonardo da Vinci's The Last Supper. The lady returns the biryani as it has an unexpected dash of sugar carelessly put by the cook as he is gazing at his wife's picture. The love drama begins and finds a happy ending and many ups and downs.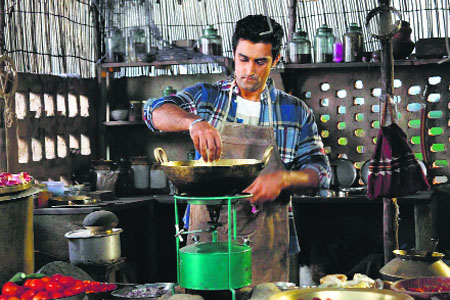 (From top) Films like Cheeni Kum, Stanley Ka Dabba and The Lunchbox; and Luv Shuv Tey Chicken Khurana (above) have food as the main theme
The Indian cook of the 1970s has been replaced by the western chef in films like Duplicate (1998), Salaam Namaste (2005) and Break ke Baad (2010).
A wayside eatery known as the Punjabi dhaba was at the heart of Luv Shuv Tey Chicken Khurana (2012). A hilarious plot in which fortune is to be made if the hero finds out what was the special spice that made his grandfather's Chicken Khurana so special?
The mystery ends in happiness when the secret ingredient lands in a pot of boiling chicken curry and soon everyone is licking their fingers.
Stanley ka Dabba (2011) was an interesting forerunner to The Lunchbox and it told a fun-filled yet moving story about a bright fourth grader called Stanley, who never brought his lunchbox unlike other children. The greedy Hindi teacher, who is always taking food from the lunchboxes of not only his colleagues but students, too, turns against Stanley for this. He forbids him entry to school unless he has a lunchbox. Stanley's schoolmates and teachers are alarmed for that may mean Stanley cannot participate in the inter-school concert. The ravenous teacher realises his mistake and apologises. The truth comes out that Stanley is an orphan sleeping in the restaurant of his cruel uncle, who often beats him up. The cook Akram, however, promises to pack the restaurant leftovers in the lunchbox.
With this tempting taste of Bollywood banquets, one wonders what next on food theme?