Entertainment
Unforgettable Robin
Robin Williams, who acted in more than 50 movies, was a great mimic, irreverent and inventive. Here's a tribute to the great actor
Ervell E. Menezes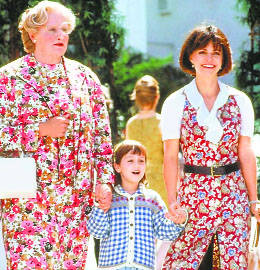 Disguised as a governess in Mrs Doubtfire, one could see Robin perform par excellence
The sad news of the death of a great actor Robin Williams and that too at a comparatively young age of 63 came as a surprise. Only a day later we read of the death of yesteryear icon Lauren Becall at the ripe age of 89, she who paired with Humphrey Bogart in a number of films, especially the unforgettable Casablanca.
Williams, who acted in more than 50 movies, was supposed to be a great mimic, irreverent and inventive, much to the delight on his close circle of friends. But he was also anti-Establishment. Greatly so.
We shall here deal with only two of his vast body of work, Dead Poet's Society (1989) and Mrs Doubtfire (1993) and for me Dead Poet's Society stands head and shoulders above the others.
As John Keating, rebel teacher at the elite Montgomery Bell Academy in Nashville, he was in the long line of unorthodox teachers like Maggie Smith in The Prime of Miss Jean Brodie and Sandy Dennis in Up the Down Staircase. Having around him a band of devoted students who asked them to call him "O Captain, my Captain" from the Walt Whitman poem.
Keating wanted his ward to think for themselves and not blindly follow the written word and hence asked them tear out the "Introduction" page which he thought was quite meaningless. They formed what was secretly known as the Dead Poet's Society. But this earned him the wrought of some of the parents. Neil Perry (Robert Sean Leonard) is one of them and his differences with his dad led him to commit suicide.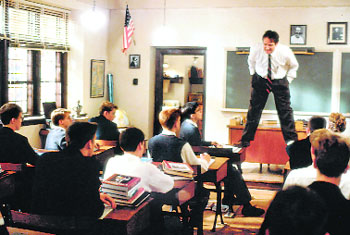 Dead Poet's Society saw one of the finest performances by Robin Williams
The authorities then step in and tension builds up. Will the students standby their rebel teacher? Todd (Ethan Hawke in one of his early roles) is another who stands by his teacher. Director Peter Weir of Picnic at Hanging Rock fame has his audience in a trance from start to finish. His dovetailing of ideas is immaculate and is ably supported by superb performances by Robin Williams, Robert Sean Leonard and Ethan Hawke. Dead Poet's Society is a real masterpiece.
Mrs Doubtfire pales in the background by comparison but its anti-Establishment mantra stands out loud and clear. As Daniel Hillard, Williams, a voice actor by profession, is rather lenient with his three children and this brings him in conflict with his more propah wife Miranda (Sally Field) and he is asked to keep away from them.
The only way out is to disguise himself as a governess, Mrs Euphegenia Doubtfire. Funny, even hilarious, but the proof of the pudding is in its eating. Not that it is truly scrumptious (not after Dead Poet's Society) but it has its moments with Williams enjoying himself in his new avatar but more important being with his children. All in all, a potboiler but the point one is trying to make is that it is his anti-Establishment mindset that eventually showed up in the end. Sad but true and none can doubt his par excellence as a performer. Adieu Robin Williams. Or is it au revoir?