Kathak is like life: Shovana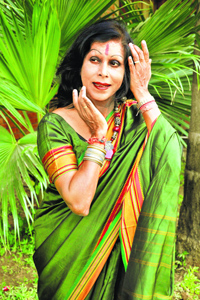 Acclaimed dancer Shovana Narayan left Bharatnatyam for Kathak as she was taken in by the dynamism this dance form represents, which makes it traditionally contained, but open to experimentation
Her ideological inspiration behind extending the boundaries of Kathak to literary territories and sensitive social issues has not been simply intellect driven, but it sprang from her understanding of the tradition. In conversation with Padma Shri Shovana Narayan, who is considered as one of the finest exponents of kathak, we stand acquainted with the sensibility that inspires her exquisite style of dancing, which is effortlessly intense and passionate, elegant yet vibrant. In Chandigarh to perform at the Chandigarh Dance Festival organised by Chandigarh Sangeet Natak Akademi, Shovana greets us with a pleasant smile while waxing eloquent on Kathak and its evolution.

Rhythm unlimited: Shovana Narayan. Photo: Parvesh Chauhan
Haule haule he conquers
The energy was palpable as Sukhwinder Singh, with his bright looks and mesmerising voice, fuelled youngsters' imagination at the Mind Rocks Youth Summit in Chandigarh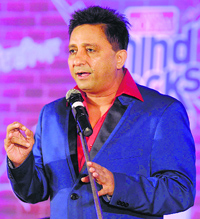 Sukhwinder Singh could be hitting the dais anytime soon. This information creates a buzz among the youngsters who have already started swaying with the mike check which is taking place on his numbers. Haule haule…the soft track plays in the background, as the technicians make some last minute check-ups on the stage of India Today, Mind Rocks Youth Summit. He walks in, brightly dressed for the occasion. The bright colours soon fade away into the background and what remains is the effect of his mesmerizing voice that lingers long after his performance is over.

Bright mood: Sukhwinder Singh Photo: S Chandan
Star track
A gutsy nani
Rekha is known for breaking rules. Her film Super Nani will take on Shah Rukh Khan's Happy New Year this Diwali. The film also stars Indra Kumar's daughter Shweta Kumar.
The ex-factor
Shahid Kapoor and Priyanka Chopra recently avoided each other at a reality dance show where they had gone to promote their respective films. We take a look at exes and their equations in Bollywood

Ranbir and I are professionals: Deepika
Deepika Padukone is going to get busy with Piku and other movies. She talks about Ranbir Kapoor, Ranveer Singh and more.
No personal issue: Ranbir Kapoor and I are professional actors. We don't come on the sets with any baggage.
Time will tell: Every relationship needs time, you need to nurture it. There's no point talking about something when you're not sure what you want from it.
The wait is not over
Ranbir Kapoor's Bombay Velvet will now release in May 2015. The film won't be ready by November 28, given the huge amount of VFX work that is still pending. Director Anurag Kashyap is recreating the Bombay of the 60s and the makers did not anticipate that the VFX would take so long to complete. The heavy post production will go on till January and the makers have decided to push the release to May. The romantic thriller is being presented by Fox Star Studios and has been produced by Phantom Films.
Astro turf
ARIES: Sacrifices made today can put you in a far better place in the future. A real estate transaction should not be started today. Sudden travel can disturb certain plans. A long-awaited issue finally gets settled.
The year ahead
If your birthday is August 24...
Chatter box
It's show time!
Star World Premier is all set to bring new shows to their channel. The British costume drama television series, Downton Abbey Season 5, set in the fictional Yorkshire country estate of Downton Abbey, depicting the lives of the aristocratic Crawley family and their servants in the post-Edwardian era — with the great events in history having an effect on their lives and on the British social hierarchy — will air soon.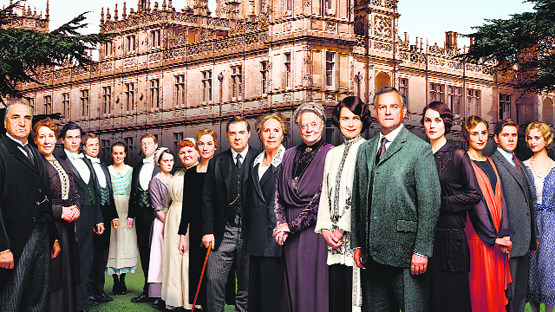 BRITISH DRAMA: The poster of Downtown Abbey.

Borders don't matter
Ahsan Khan, a Pakistani film and television actor, host and performer, began his acting career in 1998. He has appeared in Pakistani films like Nikah, Ishq Khuda and later moved on to television. On Zindagi channel, Ahsan can be seen in Mere Qatil Mere Dildaar, playing the role of protagonist Umer who is in love with Maham (played by Mehwish Hayat). We shares excerpts from his journey so far.

Water-tight resolve: Esha Gupta
Janant 2, the movie with which this pretty face was introduced into Bollywood, Esha Gupta has carved a niche for herself in no time. She is not pretentious and she finally would want to aim for the stars. "I owe a lot of my success to my mother, whatever I have achieved so far is because of her," she says. Has the Ice Bucket Challenge that drenched every celebrity gotten to her too? "I would rather not waste water like this and donate some money in charity or do something else,' adds the strong-headed actress.