M A I N N E W S
Assembly bypoll in four states

Jolt to BJP as Nitish-Lalu alliance ahead in Bihar

KV Prasad
Tribune News Service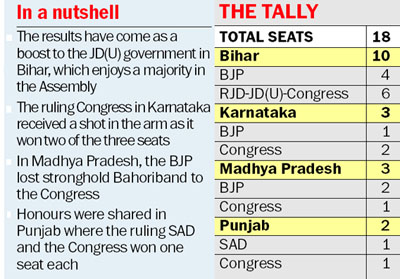 New Delhi, August 25
The BJP today suffered a jolt in the byelections held across four states by winning only seven of the 18 Assembly seats and its ally Shiromani Akali Dal pocketing one in Punjab.
It lost 4-6 to the RJD-JD(U)-Congress alliance in Bihar and yielded two strongholds to the Congress in Karnataka and Madhya Pradesh. The polling was held in 10 constituencies of Bihar, three each of Madhya Pradesh and Karnataka, and two of Punjab on August 21.
In Bihar, where the BJP won 31 of the 40 Lok Sabha seats, the party conceded ground to the new "secular" coalition woven by Lalu Prasad of the Rashtriya Janata Dal, Nitish Kumar of the Janata Dal (United) and the Congress. In Karnataka, the BJP managed to retain Shikaripura through BS Raghvendra, son of BJP MP BS Yeddyurappa, and the Congress wrested the Bellary (ST) seat with NY Gopalakrishnan, who defeated Obalesh of the BJP, and its traditional stronghold of Chikkodi-Sadalga, where its candidate Ganesh Prakash Hukkeri defeated BJP's Mahantesh Kavatagimath.
In Madhya Pradesh, the BJP won two seats through Gopal Parmar in Agar and Sanjay Pathak in Vijayraghogarh. Congress' Saurabh Singh wrested Bahoriband seat from BJP's Pranav Pandey whose late father Prabhat Pandey held the seat. Pathak had defected from the Congress to the BJP during the Lok Sabha polls.
In Bihar, Lalu's Rashtriya Janata Dal (RJD) emerged victorious in Rajnagar (SC), Chapra and Mohiuddinnagar, Nitish's Janata Dal (United) swept Jale and Parbatta, while the Congress wrested Bhagalpur from the BJP. The JD(U) defeated BJP ally Lok Janshakti Party (LJP) of Ram Vilas Paswan in Parbatta, which was won by the RJD in 2010. The BJP won Narkatiaganj, Hajipur, Banka and Mohania (SC) seats. In the 2010 Assembly polls, the BJP had won six of the 10 seats, while the RJD had won three and the JD(U) one.
The BJP was, however, quick to reject the bypoll results saying it was a reflection on the performance of the Modi government and it had nothing to do with the Centre.
BJP spokesperson Shahnawaz Hussain attributed the poor show to "prevailing" factors in Bihar and said the state leaders owned the responsibility.
Nitish said voters had expressed their "displeasure" with the Modi government and suggested the alliance would be broadened to include Left parties to check the BJP's "communal agenda".
The latest results for the BJP comes a month after it lost all three seats in Uttarakhand assembly by-polls to Congress despite bagging all five Lok Sabha seats in the state earlier.