SOCIETY
Spreading the light of knowledge
A group of IIT students and faculty members came together to teach under-privileged kids, changing their lives for the better
Kavita Kanan Chandra
Shiksha Sopan is an organisation of IIT-Kanpur community working for social uplift. Since 2001 it has been helping children from economically weak families living in the vicinity of the IIT-Kanpur campus and rural students from adjoining districts. Several children whose parents are vendors, drivers, daily-wage earner and labourers had immensely benefitted from it.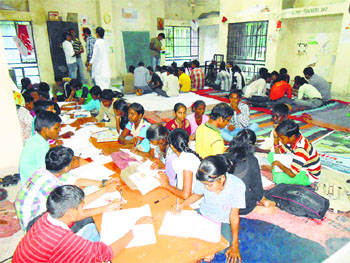 Around 300 poor children daily attend the evening classes at Shiksha Sopan
Three friends Hanuman, Dipu and Dharmendra were studying in a government school in 2003 in a rural area near the IIT Kanpur campus they heard about IIT students providing free tuitions to poor children in the vicinity. These three Class X students went there to check and got hooked to the two-hour evening classes. "The IIT students who taught us were not only teachers to us but mentors who changed our lives," says Hanuman.
Today all three are doing well. Hanuman works as Manager with HUAWEI Telecommunications, Gurgaon. "I passed my Class X and XII board exams in first division with distinction in physics," adds Hanuman. Later, a faculty member helped Hanuman to complete his computer courses. Hanuman, an MBA from Symbiosis, Pune, is proud of his friends, Dipu who runs a business and Dharmendra, who is an Engineer.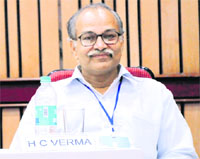 Prof H C Verma, one of the founder members of Shiksha Sopan
The story of this trio is one among many whose lives changed for better as a bunch of IIT students and faculty member lighted their lives with their knowledge and guidance.
Ragi, the daughter of a vendor who sold masala dosas in front of IIT-K hostels, now works in an IT firm in Bengaluru after Shiksha Sopan funded her education in MCA from Gorakhpur University. Vikas, who lived in servant quarters of IIT-K, benefited by Shiksha Sopan's 'Pratibha Poshan Yojna' (talent assisting scheme) and was provided free coaching. Today, he is pursuing B. Tech from NIT Hamirpur. The list of such children is endless.
Every evening most poor children from the vicinity of the IIT campus come for the regular evening campus in the premises. More than 500 families have benefitted by sending their children, studying in Class IV to Class XII for free tuitions. These children participate in several projects, workshops and classes. These includes inspiring stories, songs, and knowledge about Indian culture, games and personality development activities.
"It is a good platform for the IIT-K students to spend time with real society," said H C Verma, Department of Physics, IIT-K and the current secretary of Shiksha Sopan. He recalls how the seed of Shiksha Sopan was sown in students' hostel when they felt the urge to contribute something to the society.
"My friend Pranay Kumar and I used to teach children from IIT campus servant quarters. Many IIT students, who saw us, wanted to extend this on a larger scale," said Ranjan Upadhyaye, Shiksha Sopan committee member and a local social worker from Nankari nearby. Together with many IIT students, they started free evening classes for poor students living in nearby areas in 2001. "The idea was to use the intelligence of India's brightest students to spread knowledge among the poor section of the society," said Ranjan.
Later, some faculty members, too, joined and Shiksha Sopan blossomed. Today, the Shisha Sopan committee consists of nine members that comprise faculty members, students and local social workers. The locals are delighted that so many children of poor families are getting quality education from students of One of India's premier institutes.
With the joining of faculty members, the science cell has got strengthened. Several workshops in the campus and in government schools are being held regularly to educate students as well as teachers.
For the benefit of rural schools, they are also creating e-learning resources for underprivileged students. Children from other schools are also invited for workshops in IIT campus.
The results of children from Shiksha Sopan in 2014 board exams were very good as all students of Classes X and XII got good marks. Most of them secured first division and a few scored more than 80 per cent marks.
An annual scholarship, Dr V N Kulkarni Merit Scholarship, has helped many meritorious students. This year 16 students were selected for the scholarship after a test taken by over 3,000 students.
The teaching is not restricted to IIT campus only but extends to surrounding rural areas too. There is an informal educational centre (Anaupacharik Shikshan Kendra) in nearby Barasirohi village. Whenever time permits many IIT-K students, especially NSS members, go to Barasirohi to teach around 100 children there. With 300 children being taught in evening centre and having given away 150 scholarships till date, Shiksha Sopan is doing a great service in educational sector.
Programmed to educate
The Shiksha Sopan is working for the underprivileged children in and around IIT Kanpur through a number of regular programmes.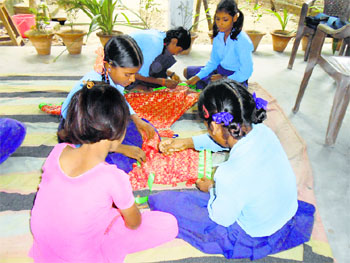 A workshop in progress
Pratibha Poshan Yojna (Junior)
A child is selected at the level of Class 6 and all his educational expenses up to Class 12 are met. The beneficiary mostly belongs to the family of the daily wage labourers working in IIT and is selected on the basis of his merit and economic criteria.
Pratibha Poshan Yojna (Senior)
The programme takes talented poor students of rural areas at class 8 level. Every year 20 children are selected through a competitive test. These children reside in rural areas in a radius of 40-160 km distance from IIT-K. Shiksha Sopan organizes 4-6 weeks summer camps at IITK campus. Some short term camps (2-4 days) are also organized during vacations.
Sopan Vidyalaya
Sopan Vidyalaya runs regular school up to Class 7. It caters to the needs of the poorest section of society providing them with nutritious breakfast, books and subsidised school uniforms.
Higher education cell
Higher Education cell of Shiksha Sopan helps economically weak children, who have passed Class 12 and want to pursue higher education. Meritorious children of poor parents are assisted.

soul talk
Donít miss meals with kids
New York: If you want your kids to grow up healthy, make it a point not to miss dinner time with them. Spending time at home, especially at breakfast and dinner, gives your adolescent kids healthier eating behaviour and even better exercise habits, says a new research from the Pennsylvania State University.
"The schedule of work that parents follow affects their adolescent children's eating habits, and could even be more important than the number of hours parents spend at work," said researcher Molly Martin. Meals at home helped to control portion sizes and kept a check on junk food snacking later in the day. "Regular meals at home can help children and adolescents avoid weight problems," said Martin.
Also fathers' availability significantly predicted whether or not children played sports or exercised. Martin said when fathers were at home; their children were more likely to eat fruit. For the study, researchers studied data of 16,991 adolescents from the US. The findings were recently shared at the annual meeting of the American Sociological Association. ó Agencies