M A I N N E W S
The Tribune Jammu and Kashmir Relief Fund
An Appeal to Readers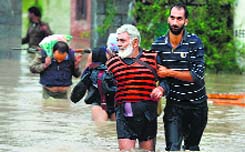 Jammu and Kashmir faces a massive natural and human calamity. Many lives have been lost and there has been widespread destruction of property following the floods in the state. The people of Jammu and Kashmir need help for relief and rehabilitation. The Tribune readers have shown their magnanimity during such calamities in the past, be it the landslides in Uttarakhand, the cloudburst in Ladakh, the Orissa cyclone, the Kargil war or the Gujarat earthquake.
The Tribune Trust, which has decided to contribute Rs 15 lakh, appeals to its readers to donate generously towards The Tribune Jammu and Kashmir Relief Fund. Your donation will make a difference to the families of those who have lost lives or homes.
The names of all readers donating Rs 500 and above will be published in the paper. All such donations are eligible for deduction under Section 80-G of the Income Tax Act.
Donations should be in the form of crossed cheques or demand drafts payable to the Prime Minister's National Relief Fund and sent to The Tribune Trust, Sector 29-C, Chandigarh - 160 030, or to The Tribune offices in various cities. These will be duly sent to the Prime Minister's National Relief Fund at the earliest.
— Editor-in-Chief