Dance like a man
There is so much that dance can be-a non-verbal body language, dynamic medium for social change, an alternative idiom of movement. Unfortunately, the pool of infinity that contemporary dance as a genre encapsulates has often been wrongly mistaken for abstraction. Haven't we just known it to be as spirited foot-tapping?
No moral policing please!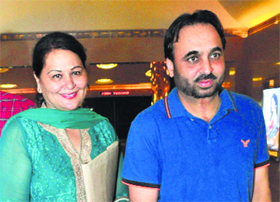 Comedy is a very serious business…and, we know its significance when we have seasoned satirist Bhagwant Maan saying the line. In Chandigarh, on Wednesday, at the launch of trailer of the film, Police in Pollywood Balle Balle, we got to know the comedian and politician a wee bit better and came out with full admiration. The film's plot itself is hilarious, add to it Bhawant Maan playing a significant role. Having lost a substantial amount of jewellery and cash to two young thieves, Punjab Police must do something to meet the loss and they come up with the trend we see in Punjab — to make a movie.
STAR TRACK
Figure it out with Jacqueline
Jacqueline Fernandez is known for her svelte figure. She had gained some extra weight after Murder 2 but she managed to lose it soon. She talks about how she lost the excess weight, her fitness regime and diet.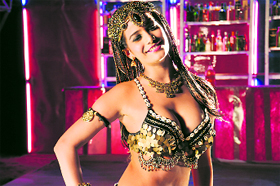 Second time lucky?
After a sensational debut in Nasha (2013), starlet Poonam Pandey is all set to begin shooting for her next. Interestingly, sources have it that Poonam wanted to be very careful whom she chose to associate with as producers and had no qualms waiting. Poonam wanted the right script and the right people backing the film.
Finding Miss Right
Arjun Kapoor will be seen this week in Finding Fanny alongside Deepika Padukone and other veteran actors. He talks about love and women.
In awe of Mary Kom
Shraddha Kapoor watched Mary Kom and she was in complete awe of Priyanka Chopra. Here is what she tweeted: "Saw #MaryKom last night & got to experience her legendary journey through @priyankachopra who has shattered any bench mark there ever was!" Priyanka is getting well-deserved praise from all quarters.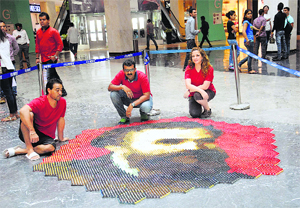 Beyond dimensions
Although the battle between art and science may have added several arguments to the colossal debate associated with contrasts, the unison of these two leaves many jaws dropped at the Elante Mall in Chandigarh. As you enter through a rather typical vestibule of the mall, anticipating an artistically aesthetic visual treat, you are, interestingly, greeted with an installation guarded by steal stands.
True Oriental experience
Imagine a gastronomical tour of the pan-Asian countries without moving out any where! At the Hyatt Regency's 'Kitchen at 95', the Pan-Asian Food Festival brings all the authentic flavours from that region for the Ludhianvis to savour. Besides well-made Sushis from Japan, one can enjoy the Khao suey soup from Mynamar or the famous Singapore chicken or the Balinese grilled fish.
get physical
Hip hop!
For many people, particularly women, hips and thighs are the trouble spots. Dedication to exercise, combined with good nutrition, will trim fat throughout the body and help you tone all over, including thighs. The foremost benefit of training for hips and thighs will make legs look as well as feel shapely. Give your legs a firm push in the right direction with these effective exercises. For best results, do them after a cardio session or work them into existing strength routine three or four times a week.
A wide canvas
The canvas of artists is always wide. Archana, who recently released her book Water Colour Landscapes, is no different. The book is a collection of water colour paintings by her that show different hues of nature.
Master Chef
Prawn pleasure
Prawns are the 'naughty ones' among non-vegetarian food items for they have to be bought carefully and then cooked just to the right softness to be relished. Even while eating, prawns have to be savoured slowly to enjoy the most. With the right condiments, they make a dish to be remembered.
CHATTER BOX
A long innings
Actress Roopal Tyagi, who is currently seen as Gunjan in Sapne Suhane Ladakpan Ke, talks about her role and more.
Bidding adieu to Ek Mutthi Aasman!
When Zee TV launched Ek Mutthi Aasmaan in August 2013, the show promised to give viewers a reality check and an insider's look into the world of Mumbai's unsung heroes … the domestic help! Produced by DJ's A Creative Unit, Ek Muthi Aasman beautifully captured the hopes and aspirations of a domestic worker alongside the trials of her daily life. It showcased how domestic workers throw themselves in to a life of tremendous toil, so that their children can grow up enjoying the fruits of education and amenities they could only dream of.
Love knows no bounds
An elephant from Jaipur will play the lead in upcoming TV show Bandhan...Saari Umar Humein Sang Rehna Hai on Zee, which will go on air from September 15. The show revolves around the bond between a little girl and an elephant.
A lesson to learn
Actress Kajol feels that Indian serials have a lot to learn from Pakistani shows. She loves to watch them with her mother-in-law, who follows them religiously. She feels that the Pakistani shows are much shorter and crisper in comparison, as they finish one story in 15 episodes, making it very interesting to watch.
The year ahead
If your birthday is September 11...
Astro Turf
ARIES: 'The Prince of Pentacles' infuses financial stability. You will find appreciation and applause for your culinary talents. Delays can be expected today.