Gold that doesn't glitter
The timeless appeal of antique jewellery never fades. Though genuine pieces may be hard to find, jewellers and designers are reviving vintage designs and bringing out retro lines
Sonali Seth
Besides wine, there are a few other things that get better with age. One of these is jewellery. There is a huge market for genuine antique jewellery and its demand has been continuously spiralling. Most of these vintage pieces cost far more than the inherent value of gemstones or precious metal they are made from as these mirror the trends and craftsmanship of bygone eras. Antique jewellery is usually passed on as an heirloom piece from one generation to another. For the same reason, what you find in jewellery stores might be just antique in design and not in make. Also referred to as estate jewellery, even if it is available in the market and is guaranteed to be genuine, it is so exorbitantly priced that it is beyond the reach of a common man. It is also one of the reasons why jewellers are reviving old designs and making jewellery, inspired from antique designs.
Such jewellery goes through a process of oxidising and is sometimes buried in mud to give it that antique, regal look. The demand for it increases manifold during the wedding and festival season.
Divine inspiration
One of the primary reasons behind the popularity of Indian ethnic jewellery is the variety it comes in and diversity of designs. For example, the designs of jewellery pieces created in Rajasthan greatly vary from those popular in Kashmir or Punjab. Every region developed its own styles and motifs that were different enough to render jewellery a unique appeal.
Take temple jewellery of South India for that matter. It is believed to be invented in the ninth century. It got its name when devotees began adorning deities with beautifully designed ornaments made of gold, silver and precious stones like diamonds, rubies, pearls, sapphires and emeralds. These timeless designs have never gone out of fashion. Even after centuries today, antique jewellery is still considered the finest handiwork of skilled craftsmen of southern states. Ranging from rings and necklaces to earrings and accessories for hair, feet and even plait, temple jewellery still makes for an elegant style statement as it did in ancient times.
The evergreen designs
Another fashion that has stood the test of time is ancient jewellery designed in the desert state of Rajasthan. Starkly different from temple jewellery, it reflects diverse culture of the state. There are stamps of different dynasties and epic battles that the state witnessed and the influence of the Mughals. A hallmark of antique Rajasthani jewellery was the fine polki and kundan work, which is as much in demand today, as it was centuries ago.
Stamp of the regions
Similarly, all other regions of the country have cast their influence on jewellery. In older times, Kashmiri jewellers got their inspiration of design from their beautiful surroundings and were mostly nature-inspired. Many had motifs of mynas, sparrows and bulbuls. Some were even designed in the shape of almonds, grapes and cherries, the fruits the beautiful state of Indian is known for.


Tips to buy
Buying genuine antique jewellery can be a tricky affair and if you are not taking the help of a professional, then it's important to keep in mind the following points:
Use a powerful magnifying glass to detect any cracks or corrosions, which can considerably reduce the value of an antique piece.
When buying jewellery that is studded with precious stones, make sure there is no cloudiness in diamonds, rubies, sapphires or gemstones.
Though scratches can be removed from gold, silver and platinum, it is very difficult to repair blisters, cracks or holes.
Remember that extremely worn plating, missing parts and chipped or scratched enamel will lower the value of the antique piece.
Make sure hinges, fasteners and clips on brooches, pendants, waistbelts and kadas are in a working condition and have not been soldered or repaired.
In case you are buying a vintage piece from a jeweller, you must insist on getting an authentication certificate verifying its make.
Antique jewellery pieces from other states too bear the local signature. Gujarat has been known for its intricate meenakari work, Hyderabad for its pearl-encrusted jewellery and Punjab for its jadau sets. Despite the diversity, ancient Indian jewellery has evolved as an art form and has a great historical appeal and significance. It has stood the test of time and the brilliant artistry and creations of yore are reflected in contemporary designs.
Leading jewellery brand, Tanishq recently created a special wedding collection with designs inspired from different regions of India including Bihar, Bengal, Rajasthan, Punjab and Gujarat to the coast of Maharashtra, Tamil Nadu, Kannada, Andhra and Kerala. It was all about the ancient jewellery designs, which are still preferred by brides-to-be because of their intricate patterns.
Check the price tag
Usually, antique designs brought out by leading jewellery brands and designers are slightly more expensive than their contemporary counterparts. The price variance could be ranging from a few hundred rupees to a few thousand per gram. However, genuine vintage jewellery is an altogether different proposition. Though there is no rule book for selling or buying vintage pieces, it can be an expensive affair and sometimes even priceless depending upon its origin. Antique jewellery can fetch a fortune at international auctions. Leading auction houses like Christie's, Sotheby's and Bonham's regularly put vintage jewels under the hammer. At a recent Christie's auction, a 1910 circular-shaped ruby and diamond ring weighing 9.20 carats was sold for a mind-boggling Rs 21.70 crore. In the same auction, an antique diamond necklace made in 1870 by Garrad & Co. of London fetched Rs 18.35 crore.
That explains why antique jewellery attracts some of the renowned collectors of the world who throng auction events. Antique jewellery prices can go up substantially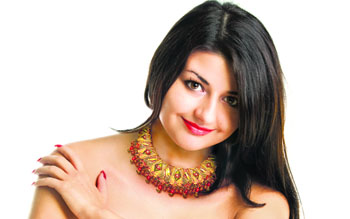 over a period of time and prove to be a sparkling investment for these collectors.
Secret wishlist
Flaunt your refined taste in fashion with this stunning royal-antique necklace. Embellished with exquisite polki crystals and ruby, this necklace is available at www. gemNjewelery.com. It surely has a timeless appeal.
price: Rs 2.55 lakh
A gift forever
For so many years now, gold necklace with engraving of Goddess Lakshmi has made for a popular and auspicious gift for women. Considered a part of the famous temple jewellery, it is supposed to bring prosperity to the house. This necklace by Vammudi Jewellers revives the timeless magic of the past.
price: Rs 1.50 lakh
Vintage appeal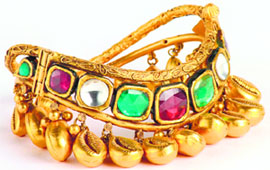 This classic, antique bangle is studded with kundan and polki stones to make it weigh 60 grams. Its vintage design takes you back in time when such designs were popular. The 22 carat bangle is studded with bright-coloured stones that add a different dimension to it. It also makes for a great statment jewellery, especially when you team it up with ethnic wear.
price: Rs 1.95 lakh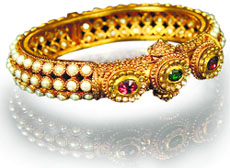 Dash of neon
Royal in design, traditional in craftsmanship, this kundan kada reflects the mystique and magic of a bygone era. The antique-finish kada is encrusted with rows of pearls. The eye-catching front of the kada is embellished with neon-pink tourmalines, green gemstones and sparkling kundan and weighs around 66.50 grams.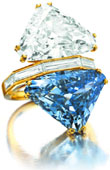 price: Rs 2.18 lakh
All that sparkles
This elegant, blue diamond ring was custom-designed by Bulgari for a European collector in the fifties. The owner gave the ring to his wife, who then sold it. Since then, it has been doing rounds of the auctions. It has a 9.87 carat colourless diamond perpendicular to the fancy vivid blue 10.95 carat diamond.
auctioned for: Rs 94.20 crore ($15.70 million)
Right for the bride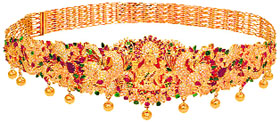 This 22 carat bridal, gold waist belt by GRT jewellers is embossed with the image of Goddess Lakshmi and peacocks motifs. It is studded with rubies, pearls, emerald stones and diamonds. The spectacularly designed waist belt weighs around 315 grams. It is worn as a traditional piece of jewellery in some regions and has of late inspired many fashion designers to come up with their versions of it.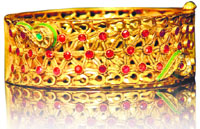 price: Rs 10.05 lakh
Colour coordinated
This classic, gold kada promises an antique finish and is embedded with blood-red tourmalines. Swirls of green-enamel work are complemented with white kundan. The timeless design can be coordinated with any ensemble. The gold screw ensures a perfect fit.
price: Rs 1.88 lakh

Rise & shine
Attractive, round in shape, made of 22 carat gold, set with many precious stones, the jadau forehead pendant available with the online store, www.ebay.com, has a silver loop to wear it on the forehead. A genuine antique piece, weighing around 51.5 grams, of the mid 20th century, it is truly a collector's delight.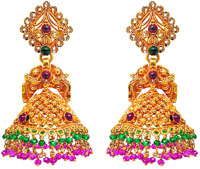 price: Rs 2.37 lakh
On the popularity charts
The design of these bell-shaped jhumkas was very popular about a century ago. This exquisite design has been revived by jewellery designers, making these once again an object of desire. A number of leading jewellery designers and jewellers admit that jhumkas have once again become very popular and are usually a part of bridal jewellery collection.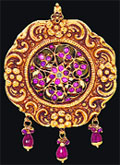 price: Rs 1.10 lakh
Dual purpose
Elaborate workmanship comes to the fore in this pendant, which has an important place in the history of Indian jewellery. Exquisitely and expertly crafted, this precious piece is available at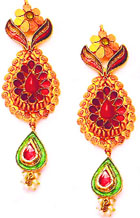 www.nathella.net. Though primarily a pendant, it can also be used as a hair accessory.
price: Rs 2.08 lakh
Style weds grace
These elegantly-designed royal, antique earrings in 22 carat gold with kundan and meena work help make a subtle style statement. The earrings have been studded with gemstones, which make these a genuinely classic pair. Coloured beads with gold caps add to the beauty of these earrings that weigh around 15 grams.
price: Rs 43,000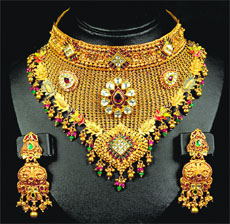 Old world charm
This antique-finish gold choker highlights the beauty of traditional gold-filigree work. The collar in gold is embellished with green and red stones in this bib-like necklace. The selling point of the choker necklace is kundan set in floral pattern with a tourmaline centre-piece. A pair of matching earrings completes this sparkling regal set.
price: Rs 5.90 lakh
Bling and beautiful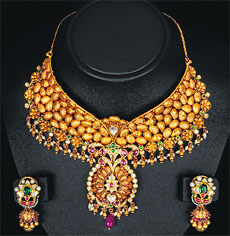 This vintage, bow-shaped necklace is an epitome of rich craftsmanship. Twenty two carat gold and precious gems have been used together to make this beautiful piece of jewellery. Along with matching earrings that weight 170 grams in gold, it is guaranteed to make the wearer win compliments with its stunning design.
price: Rs 5.40 lakh for necklace
Crafted by finesse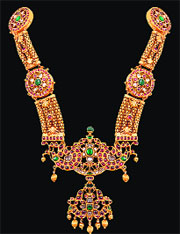 Beautifully handcrafted, this intricate antique-haram necklace has its design inspired from peacock motifs. Swirls of gold beads add elegance to this vintage necklace, which is studded with innumerable uncut rubies, uncut diamonds and emeralds. It was a staple bridal jewellery a few decades back.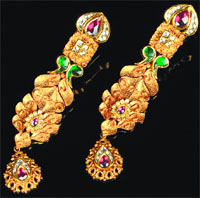 price: Rs 7.20 lakh
Modern in design
Swirls of gold appear in these long and elegant eardrops. The green and red tourmalines add twinkle to the kundan crowns, lending a magical charm to these eardrops. The retro-inspired long earrings with a contemporary twist by VBJ Jewellers have been very aesthetically crafted.
price: Rs 1.48 lakh