Mark his words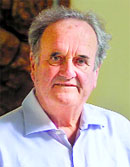 While his disposition exudes the aura of wisdom propounded by experience, Mark Tully's captivating reserve and easy-going charm sets the mood for a smooth-yet-engaging banter. Though the contents of most of the conversation rode steadily on his close proximity with India's socio-political cultures and traditions, it danced attendance to Mark's perception of India, which was backed by his career in journalism. Having authored several books on India, Mark opens the conversation while talking about the trends that define an era of a country and the need to question those trends while underlining the significance of having an open mind.
The ground beneath her feet
"Dance is my extension," says Purvadhanashree, considered as one of the most outstanding classical dancers of the younger generation. Accomplished in Bharatanatyam and Vilasini Natyam (a classical performing tradition practiced by the Telugu hereditary female dancer-singers who were associated with temples and royal courts), dance is akin to a spiritual journey for Purvadhanashree. In city, on Sunday for Chandigarh Arts and Heritage Festival, Purvadhanashree, accompanied by her mother, opens up on her journey so far…
STAR TRACK
Homi Adajania's 'casting' conversation...
Finding Fanny has an impressive cast, comprising Deepika Padukone, Arjun Kapoor, Dimple Kapadia, Naseeruddin Shah and Pankaj Kapur. While Homi Adajania is the maverick director. Here he talks about the unique ensemble.
My ex-boyfriends are spineless: Kelly Brook
Model Kelly Brook, while calling her ex-boyfriends stupid, said that she wasted her time with them. Brook, 34, said she needed to move on from her past as she realised that all her former beaus were spineless, reported a publication.
Aamir en route to Rajya Sabha?
Actor Aamir Khan said that if he is offered a nomination to the Rajya Sabha, he will "think" about it. Asked whether he would like to be nominated to the Rajya Sabha, like cricketer Sachin Tendulkar and actress Rekha, Aamir said, "I won't comment on what they are doing. They are my friends. But if such opportunity arises, I will think whether I can contribute to society at that point of time in a better way or not. If that happens, I will be there everyday." The 49-year-old Dhoom 3 star was speaking at a programme organized by a group of publication. — PTI
A man of many words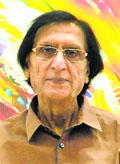 There is nothing wrong with random words put together to make a point. It's just that when they don't rhyme, there is something amiss. The missing soul that comes to the fore all the more, when in conversation with a poet, a philosopher. The Indian Urdu poet Waseem Barelvi, generously peppers any discussion with couplets. Partly because couplets come easy and partly because they put across the point beautifully. "Poetry is not for conquering the world. Very few people become poets anyway. They do so not for the love of commerce but for the love of expressing their heart," he shares before an attentive audience, on an invitation by Chandigarh Sahitya Akademi as a part of the 6th Chandigarh Arts and Heritage Festival. His affair with words dates back to childhood. "I must have been 10 years old when I started to take interest in words and poetry."
pet passion
The lucky mascot
The winsome looking "motu" fellow is quite a favourable sight for residents living on the college road, Ludhiana. "Messi" as he is named after the famous footballer has the distinction of converting a strict "no pets family" to a "diehard pet loving domestic household" right from the seniors to the young ones. A chartered accountant and businesswoman Meera Gupta calls Messi as her third surrogate child for her two kids only come home for vacations. "Even when they are here they do not come running to us as affectionately as he does. When we bought him as a small Labrador he was just a bundle of black fur. As he grew so did our love for him," say Meera.
The ripple effect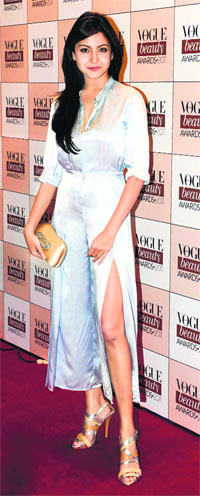 It is being said that Anushka Sharma rejected Tamasha which was earlier offered to her. That is surprising because people die to work with Imtiaz Ali. One of the speculated reasons is that Imtiaz Ali had turned her down for one of his earlier films. Only time will tell as to what is the real reason.


Getting even:

Anushka Sharma
Weight watch
Count your calories
After you set up the goal for shedding off your extra pounds, you have to go in for a healthy and a balanced diet. Planning your meals wisely is the foremost and the most important step in your weight loss diet programme. You might have cut down your favourite food and have successfully reached near your weight loss goal but sudden binging can wreak havoc with your weight control and bring you back at the point from where you started.
stress buster
Be positive
Can you imagine waking up each morning energetically feeling supercharged and enthusiastic about life, prepared to handle any challenge and feeling the flow of happiness through your entire being?
chatter box
Buddha to end on a high note
The much acclaimed television series, Buddha, produced by BK Modi on Zee TV, will begin nearing the mahaparinirvana of Gautam Buddha this Sunday. The story, which started from Asit Muni's prediction, that the child born in the Shakya Vansha of Maharaja Shudhodhan shall become ascetic and one day rule the world, but not as a king, but the as the 'King of Kings', turns out to be true and Siddharth attains enlightenment at the age of 34, is called Gautam Buddha and benefits the world with his preaching 2,500 years ago.
New twist in the tale
Popular show Ek Veer Ki Ardaas…Veera will see an interesting twist in its upcoming episodes. As of now, viewers have seen Ranvi (Shivin Narang) struggling in Mumbai to fulfill his dreams of becoming a singer. He has now entered the second round of competition.
Double dose of drama
Popular show, Har Mushkil Ka Hal Akbar Birbal, which recently completed 100 episodes, is all set to give its viewers a special treat. In upcoming episodes, the drama will double, as Chetan Hansraj enters the show.
Tackling caste issues
Guess what? Actress Sara Khan is all set to mark her return on television. She will be seen in an episodic of Yeh Hai Aashiqui, on Disney Bindass. She will play Mahalakshm, a South Indian girl. Sara's character will fall in love with a Punjabi guy. The story would later focus on the caste issues faced by these love-birds.
The year ahead
If your birthday is September 15...
Astro Turf
ARIES: Recognise your behavior and try to keep a check on your temper otherwise. Turn a blind eye to the unsavory suggestions of another and they will give up. A compulsion for romance can lead you astray.