The thinking jatt!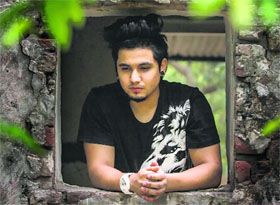 Oh the pride of being a jatt… that 12 bore flung over the crispy kurta…a gypsy plastered with stickers that read 'We dare to dare' (of wooing women, of picking up fights at the drop of their hat)-Punjabi singers have been crooning on these lines one time too many. And now, on a serious note, they have decided for the jatt do something better. The jatt is now talking about domestic violence, he's worried about youngsters migrating to foreign shores leaving their old parents behind, he is talking about his style and how he is not just a laughing stock.

STAR TRACK
Lisa picks up the pen
We all know actress Lisa Ray to be a multi-faceted personality. She has had a booming career in India and abroad. The actress was at the top of the ladder when tragedy struck and she was diagnosed with cancer. She had to take a break from a flourishing career to go in for treatment.
Tigers in India
Bollywood actor Emraan Hashmi-starrer Tigers, which premiered at the Toronto International Film Festival (TIFF) recently, will hit theatres in India in January 2015. The film, directed by the Oscar-winning Bosnian filmmaker Danis Tanovic, is based on the true story of a salesman, Syed Aamir Raza, with a multinational pharmaceutical firm in Pakistan.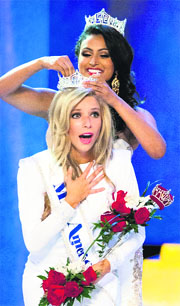 Oh, that's me!: Miss New York Kira Kazantsev reacts as she is crowned the winner of the 2015 Miss America competition by Miss America 2014 Nina Davuluri in Atlantic City, New Jersey September 14. New Yorker Kazantsev won the coveted 2015 Miss America Pageant crown on Sunday, a "three-peat" for contenders from the Big Apple. Reuters
Celebs support Deepika's stand
Bollywood star Deepika Padukone slammed India's leading news daily for creating a story and publishing a series of snaps of her cleavage. The 28-year-old actress took to Twitter and lashed at the publication, which had named the gallery "OMG: Deepika Padukone's Cleavage show," writing "YES!I am a Woman. I have breasts AND a cleavage! You got a problem!!??," a publication reported.
Zindagi Khoobsurat hai!
Pakistani actor Fawad Khan says as much as he is excited about his hit TV drama Humsafar premiering on Indian television, he is also nervous about audience's reaction to the show and hopes it lives up to the hype surrounding it.
Too much to handle
Richa Chadda is among the busiest actors in Bollwood right now. The star has four movie projects lined up and a touring play Trivial Disasters staring Kalki Koechlin, Purabh Kohli and Cyrus Sahukar. The actress is in Lucknow shooting for director Sudhir Mishra's latest adaptation of the classic Devdas.
Under cover
Troubled actress Lindsay Lohan claims her controversial stint on Oprah Winfrey's reality show left her little choice but to relocate overseas. Lohan talked about it in an interview with the Britain's Telegraph to promote her upcoming gig in a London production of drama Speed-the-Plow.
Baby boy wants babies
Singer Justin Bieber reportedly wants to start a family with on and off girlfriend Selena Gomez. The 20-year-old Baby hit-maker has been dating the 22-year-old pop star for four years, and he reportedly wouldn't be upset if she got pregnant soon.
Par Excellence
Chipping — keep the club face open
There are two kinds of shots played from around the green - one is from a good lie and the other from a bad one; could be a thick fringe or a bare lie. By definition, a chip is a shot from a bad lie, which requires a steeper angle of approach. The shot from a good lie around the green would be like a putting stroke with a lofted club. This would have a shallow angle of approach and get the ball to roll.
Play on
The Chandigarh Sangeet Natak Akademi, in association with Wings Theatre Academy, St Kabir School, will stage the famous play Death of a Salesman by well-known playwright Arthur Miller, on September 21 at the Tagore Theatre, Sector 18, Chandigarh, from 7 pm onwards. The play has been directed by Zubin Mehta and its duration is 2 hours and 30 minutes (with an interval).
Brush with the best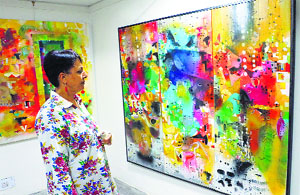 With the inauguration of an Art Gallery on its premises, Kalagram, Chandigarh, is all set to provide the city with an avenue that caters to local artists and that too free of cost! As we walk through the sparkling white swanky floors of the gallery, it looks somewhat like a tunnel with only a few twists and turns that extend into two-by-two feet boxes at regular intervals.
A visitor admires the artworks on display at Kalagram

Face of beauty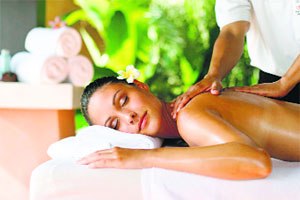 The Quan Spa at JW Marriott, known for its calming and rejuvenating spa therapies, has launched its new menu and brings to the city a refreshing range of spa treatments and facials. 'Quan' is the Chinese word for the 'source of pure water'. Water is the source of all life. It has the ability to cleanse physically and spiritually. 'Quan' draws on these restorative qualities to provide a haven of peace and relaxation.
Master Chef
Curry a favour!
Malaysian flavours of peanut, coconut, kaffir lime leaves, chilies and galangal create many a magical curry. Food from this sub-continent is infused with the delightful fragrance of lemongrass. One of the surprising elements of a Rendang curry is Madras curry powder. One would imagine this condiment would not cross our Southern borders ever, leave alone participate in Malaysia's favourite curry! Here is the recipe for Chicken Rendang Curry.
CHATTER BOX
Beauty & brains
From her dancing moves to her peppy songs, actress and singer Sophie Choudry has created a niche for herself in the industry. In an exclusive chat, the diva shares her beauty secret.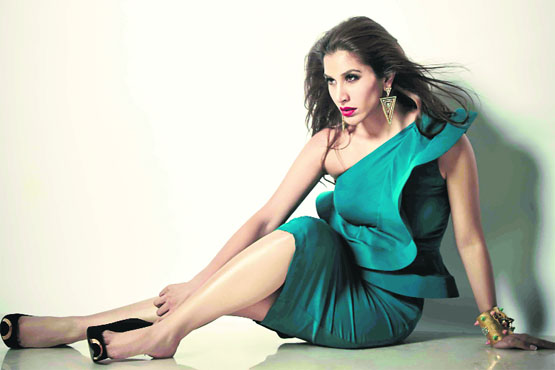 GETTING CANDID: Sophie Choudry
A world of notes
Young singer Swagata Sarkar is fast emerging as one of the brightest stars in the world of music. She wants to prove her talent in the music industry and is ready to strive hard for it. She talks about her journey so far and more.
Trip to remember
Actress Aishwarya Sakhuja, who recently wrapped up shooting for Main Na Bhoolungi, took some time off with her friends for a bachelorette trip to Bhutan. We hear that the actress, who is getting married this December, wanted to take a trip with her friends before her wedding.
Twitter tale
The third season of the popular television show Satyamev Jayate with Aamir Khan, on Star Plus, will be exclusively promoted on Twitter. This season the audience will be engaged in many unique ways on Twitter.
The year ahead
If your birthday is September 16...
Astro Turf
ARIES: Take proper care of your diet. Love life will be exciting. Financial matters will come under strain. There will be good potential for future growth. Singles can be on the look-out for a partner.