M A I N N E W S
In north Kashmir, floods displace 2.55 lakh
Ehsan Fazili
Tribune News Service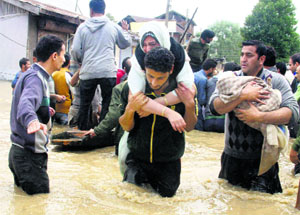 Flood victims being rescued in the Valley on Tuesday. PTI
Wular hit hard


Over 55,000 people have been evacuated from Bandipore, Kupwara and Baramulla districts


The worst-hit is Bandipore where over 2 lakh people have been displaced and at least 19 villages remain submerged
Srinagar, September 16
At least 150 villages with a population of nearly 2.55 lakh people have been hit hard by floods in Bandipore, Baramulla and Kupwara districts of north Kashmir.
While three persons have died in Kupwara, over 55,000 have been evacuated from these three districts. In the worst-affected Bandipore district, over two lakh people have been displaced and at least 19 villages remain submerged. "Of 123 villages, 54 have been hit by floods. The villages on the banks of the Jhelum have borne the maximum brunt," said Shah Faesal, Deputy Commissioner, Bandipore.
"We have set up 87 relief camps to shelter 41,000 people," he said. The DC said 100 boats have been hired. "We are supplying water, ration and medicines through motorboats in the submerged areas. One Pawan Hans helicopter was also conducting aerial surveillance," he said.
Relief commissioner Mohammad Shafi Rather was camping at Bandipore. "There is no immediate threat of starvation or an epidemic outbreak. To meet the shortage of ration and essential drugs, the government has pressed an MI-17 into service and the supplies are expected to reach us shortly", Faesal said.
One Habibullah Bajard of Kalaroos died in Machchil sector, said Kupwara Deputy Commissioner Itrat Hussain Rafiquee. The identity of the other two persons dead in floods could not be ascertained.
In Baramulla district, 85 villages near the Jhelum and Wular lake have been affected by the flood waters. As many as 99 villagers from Boniyar in Uri area have been rescued and shifted to a safer place. Baramulla DC Farooq Ahmed Lone said 45 relief camps have been set up.