M A I N N E W S


special to the tribune

UK keeps fingers crossed as Scots vote today
Shyam Bhatia in London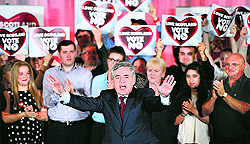 Former British Prime Minister Gordon Brown hosts a rally ahead of the referendum on Scotland's independence

British Prime Minister David Cameron's job is on the line as Scots decide on Thursday if they wish to remain part of the United Kingdom.
The outcome of the referendum will not be known until the early hours of Friday and the latest opinion polls suggest a wafer-thin majority for results that could go either way. A small majority are against Scottish independence, but a significant number have still not decided which way they intend to vote.
If the Scots do opt for partition the long-term results could be extremely serious for what remains of the United Kingdom. Apart from the economic implications, including the loss of revenue from North Sea oil revenues, questions will be asked about whether the UK should retain its seat as a permanent member of the United Nations Security Council and what happens to its membership of the European Union.
An equally significant issue is the future of the Trident nuclear deterrent, currently located in Scotland, which would cost billions of pounds to relocate south of the Scottish border.
"My head, heart and soul will tell me that it would be a tragedy for the UK to break apart", Cameron said in an interview with the British media. He added, "I've always tried, as PM of the UK, to show real respect to the prime ministers and the parliaments of our family of nations. But l also think that whatever the result, we are a democracy. You have to respect the expression of the people through the ballot box."
Latest polls indicate that 350,000 voters or eight per cent of the electorate are still undecided about which way they intend to vote.
Scotland's First Minister Alex Salmond who has been campaigning for independence has said in the event of a 'yes' vote, he would invite "people from across the political spectrum" to help negotiate Scotland's separation "in comradely friendship with our neighbours and the rest of the UK." He also rejected warnings that the UK would be vulnerable to attack if Scotland votes for independence.
"You can believe in democracy and independence for Scotland and be a loyal soldier", Salmond said.
Meanwhile, more than one member of Parliament has indicated that they would be in favour of Cameron resigning if the UK broke up. One MP has been quoted as saying, "If the referendum goes for independence, the PM will have to resign." On this, Cameron said, "The question about my future will be decided at the British general election."