Words are all he has...
To say that Prasoon Joshi has a way with words would not only be like stating the obvious but also undermining his multifaceted talent as well as his singular ability to touch hearts. The man who has made us smile, laugh and cry with the power of his words, nay his art of story telling, is not just an ad guru, poet, lyricist and film writer but an extraordinary communicator. Driven by an inherent need to express and share, everything in life for him is a narrative.
Foodies let loose
Getting into the skin of the character called for falling in love with food; right from the portrayal onscreen to interviews off screen. Promoting Daawat-e-Ishq has been one food outing for Parineeti, who plays the sales girl and a foodie.
STAR TRACK
Music comes first for Fawad
Pakistani actor-singer Fawad Khan is set to make his Bollywood debut with Khoobsurat opposite Sonam Kapoor. We catch up with him to talk about his role and more...
Finding success
Homi Adajania's quirky comedy, Finding Fanny, collected Rs 19.9 crore over the weekend in India and $ 1.6 million from the overseas market to record a thundering start at the box office. The film is being hailed as the break-out film of 2014!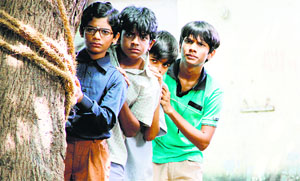 Welcome to Vartak Nagar
Kolkata's homegrown production house Adarsh Telemedia in association with Dione Entertainment have in the recent past teamed up with Kunal Kohli to produce their maiden Bollywood venture, Vartak NagaróThe Story Of Four Crows. Vartak Nagar, directed by the debutant Atul Taishete, stars Jimmy Sheirgill as a powerful underworld don and Raghu Ram a mill union leader.
A still from Vartak NagaróThe Story Of Four Crows

Alia is unassuming: Arjun Kapoor
Arjun Kapoor has been linked pretty strongly with Alia Bhatt, his co-star in 2 States. He talks about her and his other co-stars.
Holiday in Mauritius
Vivek Oberoi had earlier cancelled his birthday plans for the promotion of Mega Blood Donation Drive. Apparently, Vivek wants to spend some quality time with his wife and son since he was busy with blood donation campaign on his birthday.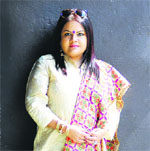 Taking Indian erotica forward
Much like her protagonist, Meera, Sreemoyee Piu Kundu is also not going to be denied her fair share under the sun. A feminist erotica, as her book Sita's Curse is touted to be, is no desi 50 Shades of Grey or just another chic lit, as Sreemoyee was offered by four hefty publishers to make it, but story of a (or every, to an extent) middle class housewife. Sita's Curse has made it to the bestsellers' list, but more than that, what appeals to its author is the reader's response, who could connect to and come out with the book.
CELEB POINT
Donít let age bog them down
I came back from Norway all rejuvenated, with some fond memories and some food for thought. We, in India, are spoilt with comforts of a support system and help all around. We have porters at airports and stations. The moment the train reaches a station, the porters are already inside, ready to pick your luggage. But, I did draw some parallels this time; everyone there is so self-sufficient!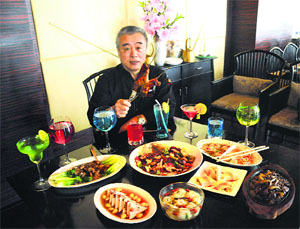 Beijing on platter!
What would make a successful chef leave the familiar lanes of his hometown and battle it out in a would-be big town of India? The answer, as Chef Yaun Hi Shi claims, in his heavily accented English, is, "For the love of food; for the experience. I miss home a lot, but I like India and I like the food here." Extending the love for his home cuisine further, Chef Shi and Executive Chef Sumant Dadhwal, Taj, Chandigarh, have brought forth a month-long Beijing Menu food festival at Black Lotus, Taj.
MOUTH-WATERING: Chef Yaun Hi Shi with a sumptuous spread Photo: Pradeep Tewari

Breath of fresh air
As one of the few books that are penned in the ink of intellect and experience, with its words assembled to bring out concerns of the environment, Trees in Urban Habitat establishes itself as a book that's one of a kind. Written by a renowned landscapist, Hardial Singh Johl, and compiled by architect Sarabjit Bahga, the book explores several dimensions of plantation planning in the urban landscape. In conversation with Hardial Singh, who took as many as three years to write the book, we are told he drew much motivation to write the book while serving the Indian government as a landscapist, whereby he revitalised the landscape plans of the city.
CHATTER BOX
Salman, being responsible
It's time for Bigg Boss to hit the TV screens once again and Bollywood star, Salman Khan, is back as the host for its eighth edition. He talks about what made him change his mind and more.
Nandish buys a cricket team
Actor Nandish Sandhu, who already owns a restaurant, has now taken a second step into the world of entrepreneurship by buying a cricket team along with Manik Soni, Mrunal Jain, and Ajay Choudhary.
Twists and turns
Get ready for some interesting twists in the up and coming episodes of Jamai Raja. After dealing with the initial problems that cropped up and almost spoilt Roshni's Mehendi ceremony, Sid hopes that the rest of the ceremony will run smoothly. Little does he know that DD has planned and plotted ways to disrupt the wedding. Will Sid be able to combat DD's schemes at every step? Stay tuned to the show, Jamai Raja, to find out.
The year ahead
If your birthday is September 18...
Astro Turf
ARIES: The card "Eight of Swords" bestows Saturine influence, because of which, problems are bound to arise. A disagreement with your partner will not be resolved for a few days.