M A I N N E W S
LAC stand-off on as fresh meet makes no headway


India, China stick to their guns


Backchannel negotiations continue
Ajay Banerjee
Tribune News Service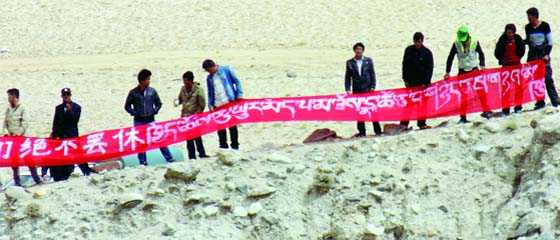 New Delhi, September 23
A meeting between India and China to end the 13-day-long stand-off at Chumar in southeastern Ladakh proved inconclusive today as both sides failed to agree on terms to de-escalate tension and pull back their respective soldiers from the area. Background diplomacy is, however, under way, sources said.
China has hardened its stance and is in no mood to climb down from its objective of building a road south of "30-R" post. The two sides had agreed not to allow construction in disputed sections of the Line of Actual Control (LAC). India is opposed to the construction of the road, which falls in the disputed areas. Both sides have made serious backchannel talks to defuse tension along the LAC. Sources said India's opinion was to have a gradual time-bound reduction in the number of troops to de-escalate the situation. But Beijing did not commit to the suggestion.
Background meetings were, however, taking place to end the impasse. Under a mechanism available, both sides can pull back from stated positions without ceding ground to the other. The two sides will have to agree to a formula that seems workable for both. The Indian Army and the Indo-Tibetan Border Police (ITBP) have been asked to hold ground till the People's Liberation Army of China withdraws.
Minister of State for Home Affairs Kiren Rijiju today said India was firm on its position. Prime Minister Narendra Modi was likely to be briefed tomorrow.
In New Delhi, Ministry of External Affairs spokesperson Syed Akbaruddin said the situation at the border was best handled by those positioned there.
He said since the meeting between Modi and Chinese President Xi Jinping in New Delhi, "we (MEA) have been following up the issue and engaged at different levels and at different places. Quiet diplomacy is at work and we are addressing it expeditiously".
Beijing hardens stand

A meeting between the two sides remained inconclusive on Tuesday. India wanted to have a gradual reduction in the number of troops, but Beijing did not commit to the suggestion, said sources

China has hardened its stance and is unwilling to climb down from its target of building a road south of "30-R" post. India is opposed to the construction of the road, which falls in the disputed areas of Chumar
Reports on Xi's remarks 'wild guess'
China on Tuesday termed as "wild guess" reports that President Xi Jinping's comments asking the PLA to improve its ability to win a 'regional war' were made in the context of the border stand-off with India. The leadership of the two countries had reached a consensus to solve the boundary dispute through friendly consultations, said Chinese Foreign Ministry Spokesperson Hua Chunying. PTI
We (MEA) have been following up the issue, and engaged at different levels and at different places. Quiet diplomacy is at work and we are addressing it expeditiously — Syed Akbaruddin, mea spokesperson