CENTRESPREAD
Fountains of your fantasy
The sight and sound of flowing water indoors not only add beauty to your home but also help relieve stress and soothe your nerves
Shobita Shivshankar
Waterfall hurtling down a mountain or gurgling from a fountain can be a remedy for sore eyes. It is an instant mood-lifter that banishes all tensions and anxieties. It's probably the reason why a growing number of people leading stressful lives in cities prefer to have water features in their houses, which are miniature replicas of springs and waterfalls.
Indoor water features can be categorised into three types - wall-mounted, free-standing or tabletop. All three create a soothing atmosphere by bringing elements of nature indoors.
Relief from tension
Tabletop waterfalls and fountains are believed to be stress relievers that aid meditation. Wall-mounted fountains instantly brighten up a room and create a pleasant atmosphere. Free-standing fountains and waterfalls make a style statement that instantly become the centrepiece of a room. Water features not only make for pretty decoration pieces in the drawing room or bedroom, are also ideal for calming tired nerves.
Even Vastu, the ancient Indian science of architecture and construction, gives a lot of importance to indoor water bodies. These engages the viewer through several of the five physical senses. According to the tenets of Vastu, miniature fountains and waterfalls symbolise running water which is known to have a positive effect on the finances of a house. These have a visually calming effect on each and every member of the family. Even practitioners of Ayurveda believe that the sound of gurgling water has the power to cure energy blockages and reduce stress from our daily lives.
For positive energy
According to Feng Shui, the ancient Chinese interior-design science, indoor fountains and replicas of other water bodies have become popular because they usher tranquillity indoors through the positive energy of water. According to the ancient Chinese theory, the slow moving water results in the accumulation of 'chi' that symbolises wealth, affluence, life, energy and success in professional and personal life.
Water features are a regular decor element at plush hotels and spas. These are the centrepiece of lobbies in hotels. These water features are added to the decor for the purpose of mesmerising guests with the play of water, sound and light.
Realising their popularity and calming effect, a number of manufacturers have started making decorative miniature water bodies over the last decade or so. Serving as beautiful showpieces, these water bodies look very classy in the living rooms.
Arty facts
The materials used in making indoor water features range from ceramic, plastic, fibreglass, stone, granite, slate and a variety of metals. These come in different sizes and styles and may also be used with other decorative materials like art glass and mosaic tiles. These are sometimes also referred to as living art.
In fact, water fountains featuring Indian Gods and Goddesses, especially during the festive season enjoy a great demand. Pricing of water features usually depend on the craftsmanship and the material these are made from. From free-standing ones to those that can be placed on the table or mounted on a wall, these water bodies can either be battery or power-operated. Price can range from a few hundred rupees for small plastic variants to a lakh or more for high-end wave fountains and cascading waterfalls.
However, there are varieties available in the market that are quite affordable. For example, a grey and black rock table fountain with a height of 16 centimetre can come for Rs 700 while a 25 centimetre meditating Buddha fountain would cost around Rs1,450. Though these are available at most gift shops, you can also get very good bargains from online stores like Flipkart, Snapdeal, Jabong, Amazon, ebay and others.
Healthy environs
Interestingly indoor water features are not just about adding a decoration piece to your home; these also promote a healthy environment. Negative ions are released into the air as water evaporates from the fountain, thereby purifying the air circulating in the room. Another health benefit of indoor water bodies is that these act as natural humidifiers. As water evaporates from the water body, it releases humidity into the air. Moisture in the air protects people from many skin problems and other dry air related allergies.
Since indoor water features come in a variety of sizes and materials, it would be prudent to consider the following points before buying one for your house.
Tabletop water features: These best serve the purpose if you do not intend to spend a big amount on a water body. These can vary in size from six inches to around 18 inches.
Wall-mounted water bodies: Consider these ones only if you have an adequate budget. Wall-mounted decorative water features can be expensive and these have a high-maintenance.
Free-standing fountains and waterfalls: Pricing of these water features depends on the space available and the materials used. However, their amazing decorative appeal will make up for the steep pricing.
Keep your budget in mind: Before finalising a decorative water feature, determine how much you want to spend on it. Your search would become more productive once you have decided on the budget.
Consider space availability: If you stay in a small apartment, it is recommended not to go in for large free-standing fountains and waterfalls. It would be best to select a small wall mount or a tabletop water feature.
Make a practical choice: A free standing fountain may not be practical if you have a baby or a dog.
Buy a low maintenance water feature: Make sure that the waterfall or fountain you are buying does not require high-maintenance or a mechanic every time something goes wrong. It should be easy to clean.
Sound factor is important: Consider the space you are going to install the water body in and the amount of noise the falling water will make. Make sure not to place a roaring waterfall near a bedroom.
Safety comes first: When buying a water feature with lights, make sure the wiring is of good quality and there are no leakages. Water and electricity can be a lethal combination, so safety is an important factor.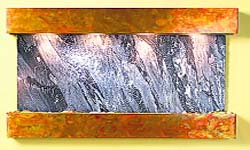 A classic piece
This classic wall-mounted slate fountain will instantly become the centrepiece of any room in the house. Your eye will be naturally drawn to the movement of the water over the black marble. You can buy this from houzz.com.
Price: Rs 84,000
High on design
This aesthetically designed waterfall can be operated with standard power outlet and can be installed in minutes. Made of ceramic, the dolphins add to the beauty of this tabletop water feature. Available at overstock.com, it can be used as a decorative piece in the drawing room and can even make for a great addition to any dining space.
Price: Rs 4,500
Promise of durability
Hand-crafted from durable fibreglass, this four-pitcher water fountain will brighten up indoor and outdoor area of the house. The soothing water sound is complemented with three halogen lights. It requires no plumbing as the water re-circulates through the fountain. It is available at hayneedle.com.
Price: Rs 24,000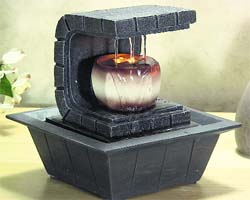 For a calmer you
The water fountain is a great way to lighten up even the simplest of indoor environments. A central LED light creates a great effect as water cascades around it. The gentle movement of water creates an atmosphere that is ideal for meditation. It is available at gardenaccessories.com.
Price: Rs 12,000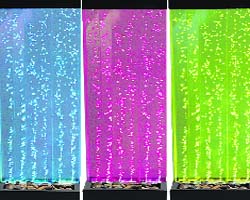 Sound-and-light effect
You can turn any room in the house into a kaleidoscope of sights and sounds with bubble waterfall that you can buy from alibaba.com. The water body produces bubbles that are lit by LED lights rising from the base and creates a mesmerising effect. These can also be used to create room partitions.
Price: Rs 12,000 per panel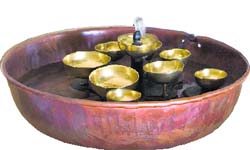 Right for your table
Give your environment a touch of spirituality with this tabletop water-bell feature. A combination of floating and stationary bells sits atop the water to create soothing chiming sounds. This decoration piece lends harmony to any room. Check this out at ebay.com.
Price: Rs 12,000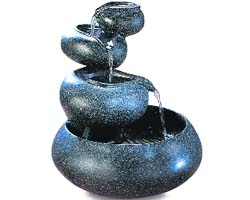 A thing of beauty
Four granite-finished pitchers cycle sparkling water creating a well-designed water feature. The 10 inch high-water body with a diameter of nine and a half inches makes for an excellent tabletop decoration piece. You can check this at amazon.com.
Price: Rs 2,400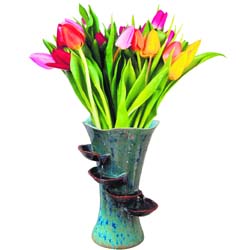 Do it with flowers
This unique indoor water body can also be used as a flower vase. Water trickles down the side of the ceramic vase fountain through four cascading pools emanating a soothing sound. Aroma of fresh flowers makes it apt for office as well as a home setting. Check this one at simplygoodstuff.com.
Price: Rs 6,600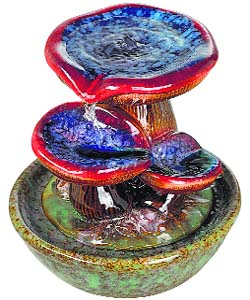 In your budget
The ceramic, tabletop fountain featuring three toadstools can be a visual treat for your home or office decor. Water trickles down the levels creating a soothing and relaxing sound. It makes for an ideal desktop accessory that uses very little electricity. Available at houzz.com.
Price: Rs 3,000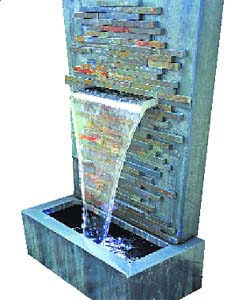 Strong and sturdy
This is a stylish water feature is available at amazon.com and makes an impressive decor statement. The LED light makes the slate fall water feature look spectacular. Made from stainless steel and powder-coated galvanised steel, it can make for a unique decoration piece.
Price: Rs 21,000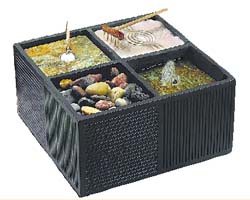 Portable and practical
This one is a Zen garden that you can take anywhere. The bronze square has a small fountain, sand pit, rock garden, and oil candle. The table fountain provides all the essentials of a home accessory. The table is 10 inches by 10 inches in width and five inches in height, making it ideal for any room. Available at waterfeaturesupply.com.
Price: Rs 6,600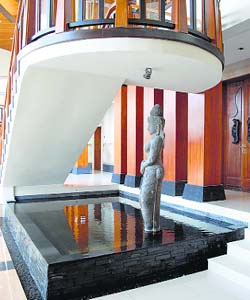 On a positive note
Made of fibreglass, this stunning indoor water body has a maid carrying a pitcher on her head in its design. Preferred for the space under the staircase, it can be installed anywhere inside the house. A halogen light adds to the elegance of the water body.
Price: Rs 40,000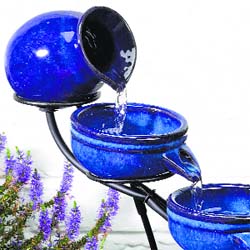 Eco-friendly affair
This cascading solar-water feature is sure to create a relaxing atmosphere in your drawing room or even in an outdoor settings. Inspired by the Roman God Neptune, the blue cascade water fountain is made from attractive glazed blue ceramic and is available at amazon.com. It is powered by a solar panel and thus requires no wiring for the cascading effect.
Price: Rs 6,500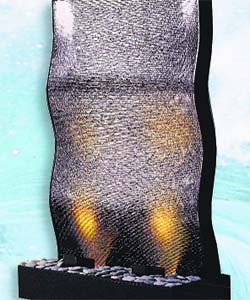 Magic of colour
Water glistens as it flows down the grooved surface of this Aquafall Wave fountain. It has colour changing LED lighting and polished river rocks at the basin. The wavy design of this seven foot black acrylic water structure renders peace and tranquillity to the entire environment. It is available at amazon.com.
Price: Rs 1.32 lakh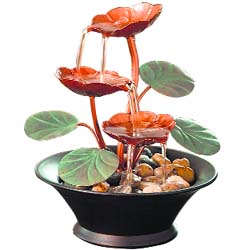 Natural connection
The attractive, indoor tabletop water feature is a great way to add a calming accent to your decor. The design of this water fountain on flower vase features metal begonia leaves and flowers. Water cascades into the basin below. Flowers and leaves made from copper add a touch of elegance to this water feature. You will find it at mikebara.com.
Price: Rs 3,600