ENTERTAINMENT
Elements of genius
Strokes of true cinematic brilliance made the greatest impact at the 39th Toronto International Film Festival, which also had its usual share of Hollywood stars and their films
Saibal Chatterjee
AT the 39th Toronto International Film Festival, the focus of the mainstream media and the mass audience was expectedly on star-studded Hollywood films and the much-awaited new works of world cinema's heavy hitters.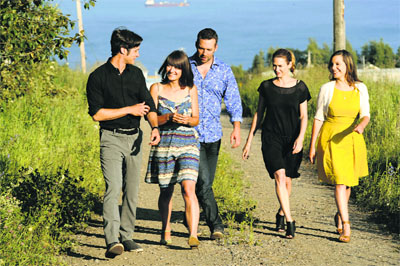 An Eye for Beauty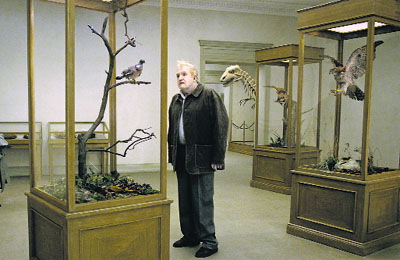 A Pigeon Sat on a Branch Reflecting on Existence
Most of the titles — such as The Equalizer, starring Denzel Washington; The Imitation Game, top-lined by Benedict Cumberbatch; and Nightcrawler, featuring Jake Gyllenhaal — had Gala screenings or played in the festival's Special Presentations section to an enthusiastic response all around.
But for film critics in quest of a more eccentric and enigmatic variety of cinema, true excitement was generated elsewhere — by the latest cinematic creations to emerge from the fecund imaginations of the world's most prodigiously adventurous film artists, influential art-house auteurs, and promising up-and-comers from around the world.
On the one hand were unique films from the likes of Sweden's inimitable Roy Andersson and Japan's phenomenally prolific Takashi Miike. On the other were intensely personal yet universal essays by first-timers such as Kurdish filmmaker Batin Ghobadi and Moroccan-Iraqi director Tala Hadid.
Andersson's A Pigeon Sat on a Branch Reflecting on Existence was by far the most quirky film of all at TIFF 2014. Only his fifth feature made in a span of nearly four decades, it is pitched as the final film of his trilogy "on being a human being". What it ironically does is lay bare contemporary man's utter inhumanity.
Wildly free-wheeling, the absurdist flight of fancy floats from episode to episode, moving from nightmare to reverie, from pitch-black comedy to deadpan humour, from bitter stridency to an air of sceptical bemusement.
In the end, the audience leaves the auditorium a trifle flummoxed but provoked and entertained in equal measure.
Speaking of masters, keeping Andersson company in Toronto this year were, besides Miike, Norway's Bent Hamer and Canada's very own Denys Arcand.
Miike, whose output on film, television and video is nearing the 100-mark in under a quarter of a century, weighed in with a characteristically confrontational Over Your Dead Body, a love story and a revenge saga rolled into one, which is tempered with a heavy dose of blood-soaked psychological drama.
Over Your Dead Body, set in the world kabuki theatre, a domain of creativity that Miike has been an active part of over the years, is both shocking and impressive as a piece of cinema.
In sharp contrast to Andersson and Miike's films, both of which reveal the less salutary aspects of mankind, Bent Hamer's 1001 Grams is a life-affirming tale of a woman who is obsessed with the inviolability of units of measurement but discovers that there is more to life than a weighted existence.
Arcand, the French-Canadian Oscar-winning director of The Barbarian Invasions, The Decline of the American Empire and Jesus of Montreal, was in Toronto with his first-ever love story, An Eye for Beauty. A simple tale of marital fealty and unfaithfulness, An Eye for Beauty unfolds within the framework of a stiff moral compass without bordering on the didactic. It is a deeply affecting story that bears testimony to a master's grasp over the medium.
Of particular interest to viewers of sub-continental extraction were two films made by women — one Indian, the other Pakistani.
Shonali Bose's second directorial venture, Margarita, With a Straw, was one of the most liked films of TIFF 2014. Brave, sensitive and uplifting, it tells the heart-warming story of a woman with cerebral palsy (played with stunning ease and efficacy by Kalki Koechlin), who goes the whole hog, and then some, in the pursuit of sexual fulfilment.
An especially difficult theme handled with awe-inspiring control and balance, Margarita, With a Straw must rank among the very best films ever made on the challenges of disability in a nation where awareness of the needs of the physically challenged is abysmally low.
Afia Nathaniel's first feature-length film, Dukhtar (Daughter), shot in Khyber Pakhtunkhwa, a part of Pakistan where no filming has ever happened before, homes in on a woman who risks her life to save her minor daughter from being given away to a much older tribal chieftain as part of a peace accord between two warring clans.
The film's powerful feminist statement is couched in a simple and understated tale that plays out as a riveting and often disturbing 'great escape' drama.
Historical and social realities of the past and the present similarly inform Batin Ghobadi's Mardan and Tala Hadid's The Narrow Frame of Midnight. Both centre on a search for a missing person, a metaphor for a land and a people struggling to come to terms with the shadow of continuing turmoil.
In Mardan, a police officer wracked by an unsettling childhood memory is called upon to investigate the disappearance of a worker in Iraqi Kurdistan.
The male protagonist of The Narrow Frame of Midnight, Zacaria, a Moroccan-Iraqi writer who lives in London, is in a similar situation. He sets out to locate a radicalised brother, who has gone missing since embracing the jihadist cause. His mission reveals much more than the persistent Zacaria can bargain for and none of it does anything to resolve his quandary. His deep personal dilemma mirrors that of the land he holds dear.


From Marathi theatre to Bollywood
Film and theatre actor Sandeep Kulkarni, who became co-producer with Dombivli Return, chats up about his film and more
Surekha Kadapa-Bose
Marathi actor Sandeep Kulkarni is best known for his roles in National Award-winning films like Shwaas (2004), India's official entry to the Oscars, Hazaaron Khwaishein Aisi and Traffic Signal. Excerpts from an interview: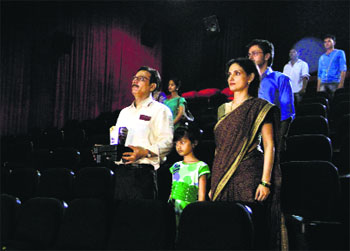 A still from Dombivli Return
Is Dombivli Return a sequel to your earlier film Dombivli Fast?
It's not a sequel. It's the story of a common man, who resides in downtown Dombivli. It's what we call a socio-psychological thriller. The word 'return' is not because this is a sequel but it means a return journey. In Mumbai when you buy a ticket for a local train, you either ask for a single or a return ticket. As a co-producer when I read the script, this title looked apt.
Why a twist of a socio-psycho thriller? Is that how you see Mumbai daily commuter?
I don't believe in choosing a title first and later weaving a story around it. I believe in the story and then come out with an appropriate title. Once you watch the film, you will not even ask why call it Dombivli Return. The title definitely raises curiosity but it has nothing to do with my earlier film, Dombivli Fast.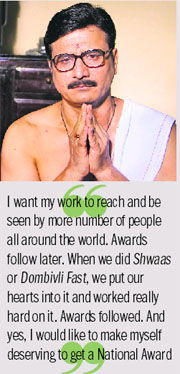 What made you turn a producer? With the kind of experience and success you have had, wouldn't you have enjoyed directing the film too?
I was in-line producing this film in the last phase and I had to step in as a co-producer for various reasons. I will be taking it ahead to get a proper release and publicise it too. When Mahendra Teredesai wrote the script, he insisted that he direct the film. Since both of us were in the process of developing the story, I thought he will do great justice because he could visualise the film much better. I will definitely direct a film in future provided I have a story which will make me restless and I have a strong urge to see it on the screen.
When Shwaas went to the Oscars in 2004, the makers had said, they didn't have Rs 1 crore to promote the film. Dombivli Return was made with a budget of Rs 3 crore. How did you manage to raise the funds?
When Shwaas was made, we were in the beginning stage of upsurge in the Marathi film industry. Over the years, we have proved our talent and success. Now raising funds is not a big task provided you have a script you believe in.
A product of J.J. School of Arts, Mumbai, you have had the privilege of being mentored by great artists like Prabhakar Kolte and Atul Dodiya. You also held a couple of exhibitions. Do you still paint? Any future plans of holding an exhibition of your works?
Well, this is a question that takes me to my past. I had to make a tough decision to focus more on cinema and acting and this has become my passion. Painting and acting requires two different concentrations. Since I chose acting, I couldn't paint constantly. I may hold an exhibition in future.
You have won several awards for acting and filmmaking. Do you think awards put pressure and raise expectations?
I don't believe in working for awards. I want my work to reach and be seen by more number of people all around the world. Awards follow later. When we did Shwaas or Dombivli Fast, we put our hearts into it and worked really hard on it. Awards followed. Yes, I would like to make myself deserving to get a National Award.