In US, Modi is new rockstar of politics
Wows 20,000 Indian-Americans, US lawmakers at packed Madison Square Garden in NY
raj chengappa in new york
America has not quite seen a Prime Minister like Narendra Modi in recent history. Nor has the million strong Indian diaspora. On a balmy Sunday morning they came in thousands to the Madison Square Garden stadium, standing patiently for hours to get in. By the time Modi arrived, the stadium was packed to its capacity of 20,000. Only Indian film stars command that kind of fan following.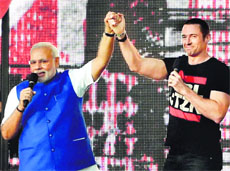 PM Narendra Modi with Hollywood actor Hugh Jackman at a concert at Central Park in New York. pti
As the crowds waited for the Prime Minister to arrive, chants of "Modi, Modi" resounded across the stadium and the MC had to remind the audience that "this is not a campaign event — Modi is already Prime Minister of India". The atmosphere turned carnival with Miss America Nina Davuluri as MC and famed singer Kavitha Krishnamurthy crooning patriotic numbers like "I love my India".
Modi entered the stadium to a thunderous welcome and then delivered something akin to an 'I have a dream' speech that made the audience laugh, clap and even cry with his play of words and vivid imagery. Much of what he said the diaspora had already heard — clean India, insurance cover for every Indian, skill development, efficient governance — but it was the manner and conviction which he spoke that wowed the audience. He also won their hearts when he made some long-sought-after visa concessions that made entry to India much easier for the diaspora. (see accompanying report )
US Congressman Ed Royce, who was among the 20-odd senior American politicians who came specially to listen to him, told The Tribune: "The speech was electrifying. The Indian Prime Minister has this admirable ability of articulating his vision and inspiring them (people) to be part of the great inclusive movement he outlined." Bansri Shah, a 20-year-old student of Rutgers University, said, "It was an amazing speech. It made me feel good and proud."
At the end of the event, it was apparent that Modi was well on his way of becoming the new rockstar among world politicians. Few Indian leaders have mastered the art of showmanship as Modi has done.
Everything was choreographed to perfection. There was the rotating podium so that every section got to see him in the circular stadium, the overhanging giant conical-shaped television screens that made him appear larger than life, the T-shirts with Modi's face etched over Indian and US flags that many in the audience wore and the playing of the national anthems of the two countries - all designed for maximum effect and impact. Some felt that Modi could even give US President Barack Obama a run for his money.
True, the audience was partisan. A sizeable number were Gujarati expats, who had come to fete Narendra 'Bhai' Modi as they call him. BS Patel, a 67-year-old who lives in Long Island, who came with his family of five, said: "We are all so proud of him and we have come to show our support." His sister Gaujengi flew from Florida to witness the event.
The event though was more than just a victory celebration or the triumphant entry of a leader whom America chose to deny entry for over a decade. Outside, there were protests over his alleged human rights violations as Gujarat Chief Minister. But inside, the audience had come from all parts of the US to hail an extraordinary Indian leader and listen to what he has to offer.
The reactions of the audience were mostly positive. Sukhdev Angras, a cellphone chain store owner in New York, said, "Modi symbolises hope of a vibrant India." B Aparna, a doctor who had come to the US a decade ago, added: "He motivated me to go back to India." But Meenu Gaid, an investment consultant, was more cautious and said, "I hope he represents the new India, the change agent. More than promises we are looking for outcomes and action."
The previous evening Modi was as impressive when he broke convention to address a 50,000 strong gathering of the Global Citizens Festival, a musical concert organised to create a movement to end extreme poverty by 2030. The Festival had over 30 celebrities perform including Grammy awardees such as Beyonce and Alicia Keyes.
Modi was introduced by Hollywood star Hugh Jackman as the Prime Minister who was focused on ridding India of poverty. Modi speaking in English was brief but sincere in outlining his clean India plan and inviting their support. He ended with "May the force be with you" and the crowd just loved him. As Ismaeli, an American student of Dominican origin, said: "He has crowd connect and nailed it with his speech."