Covering the distance
Usha Albuquerque
A computer and internet connection is the only essential to get yourself a degree nowadays. Distance learning courses have brought the world's teachers into your home. The freedom to learn at will, choosing the subjects of one's choice and taking examinations without the stress of severe competition make distance education programmes very attractive.
It is particularly suitable for students who are working and have missed the opportunities of attaining higher education due to social or economic constraints, or those who wish to supplement their educational qualifications later in life.
Today practically every university offers courses through correspondence. Open universities offer flexible course options that allow those who may not have a formal qualification but have reached a minimum age requirement, admission to any course, after a written entrance test. Distance learning programmes now cover a wide variety of subjects and careers from business management, economics and all the sciences to professional courses in teaching, law, library science, journalism, computers, biotechnology, agriculture and linguistics, hotel management and so on. There are even distance learning courses in poultry farming and bee-keeping! Online courses, and massive open online courses (MOOCs) in particular, are quickly moving from a novelty to the mainstream. So today you can as easily pick up a course in commerce and history as you can on Chinese architecture, War in the Middle East, Exo planets, Genomic medicine, a beginner's guide to Irrational Behaviour etc.
Many women, retired persons or first-time learners have also found distance education very valuable.
Here are five randomly selected job-oriented courses through distance learning:
1 Post-Graduate Diploma in Book Publishing (PGDBP) IGNOU www.ignou.ac.in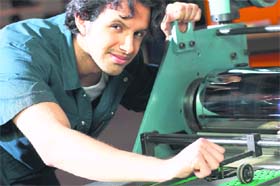 For those who love books and reading and are strong with language skills, here is an opportunity to turn your interest into a worthwhile career. In recent years there has been a renewed interest in books and reading. Book clubs have sprung up in several cities, the circulation of books has increased and with it has the growth of the publishing industry.
The PG Diploma in Book Publishing is meant to provide an opportunity to aspiring or practicing publishing professionals, to train or upgrade their skills in various aspects of publishing, including specialised editing, copyediting and online proof reading, marketing, distribution, sales etc.
The unique aspect of the programme is the month-long training/apprenticeship at a publishing house which carries a small stipend and the possibility of employment thereafter. The training is under the auspices of Federation of Indian Publishers (FIB) with whom IGNOU has a tie-up and trainees get a Joint Certificate both from IGNOU and FIB on successful completion of the training.
Eligibility: Bachelor's Degree + knowledge of English & Word Processing.
Minimum Duration: 1 Year
Course Fee: Rs 7,500
2 Diploma in Advance Cost Accounting (DACA) Dr.Babasaheb Ambedkar Open University (BAOU) www.baou.edu.in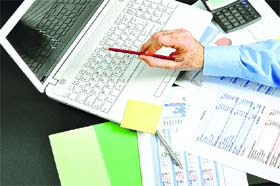 Cost accountants render valuable assistance to the management by collecting, collating, interpreting and condensing data relating to the business activities and converting it into money terms to enable non-financial executives to arrive at the right decisions or to select the right course of action at the right time.
All major industrial units take the assistance of a Cost Accountant at each phase of manufacturing of a unit and providing of services as cost estimation based on the selling price of each and every product and service has become essential. As the work often deals with making future projections and forecasts regarding the transactions, costs, pricing etc, cost accountants must have a broad knowledge of the commercial world and conditions in the global environment.
Many students study commerce without any idea of the career they wish to pursue further. With the current demand for specialist cost accountants in large and small towns, government bodies, industrial units, and other commercial organisations, this is one course that can lead to a worthwhile career for any commerce graduate with good numerical skills.
The course which covers fundamentals of basic accounting and management accounting is a good alternative to those unable to do the ICWA programme. They can also work in the absence of specialist Cost Accountant or work as assistant to a specialised Cost Accountant. Moreover such a course is helpful in expanding one's knowledge in the area of costing and can be helpful to get promotion in job, or in the future, with practical experience to start one's own consultancy.
Eligibility: Graduation, or Plus II
Fees: Rs 2200 (men), Rs 1600
3 MBA – Tourism Pondicherry University www.pondiuni.edu.in/ www.col.thomascook.in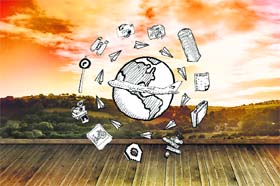 If you have a genuine interest in travel, some organising ability, good interpersonal skills, and a friendly and amicable temperament here is a programme that can certainly take you places. Travel and Tourism is probably the world's largest industry and growing at a phenomenal pace, covering not just pleasure but much more of business travel and programmed tours. Moreover, the travel industry covers a wide range of facilities, from planning and selling trips to individuals or group travelers to transport, stay, food, adventure, gifts and souvenirs and much more. At every level, the work involves dealing directly with people. You also need to stay in touch with airline, railway, road, shipping and transport company staff, passport and visa officials, suppliers, hotel personnel and various other agents.
A postgraduate course in travel management after graduation in any subject will provide you with managerial and administrative training for work in the industry. Most jobs in this industry are with travel agencies, tour operators, or travel departments of organisations, airlines, cruise ships and hotels in metros and large cities. Once you have gained experience and recognition in this field you can also look forward to establishing your own travel agency. As this is a highly competitive field, it is an advantage to have access to a wide range of information and data on transportation and destinations, be good at planning and time management, as well as resourceful and adaptable. Proficiency with the computer, and a willingness to work hard and on weekends and holidays is also required
The MBA Tourism is a Pondicherry University Distance Learning Twinning Programme offered by The Thomas Cook Centre of Learning and its other travel partners. It offers a unique combination of functional, managerial and theoretical study and equips students with a wide range of skills required in the travel industry. The learning partners which include veterans in the field of travel and tourism, rental services and training, such as Amadeus India, leaders in travel automation technology, IRCTC, Indian Railways catering and Tourism Corporation, IATA, the International Air Transport Association, Royal Caribbean International, the cruise holiday providers, Mariott hotels, Avis car Rentals and others also enable students get a wide industry perspective and future employment possibilities too.
Duration: 2 years (4 semesters)
Eligibility: Any degree from recognised university.
Admission procedure: The application form and information brochure with fee structure can be downloaded from www.pondiuni.edu.in
4 Post Graduate Diploma in IT Management (PGDITM) Symbiosis Centre for Distance Learning www.scdl.net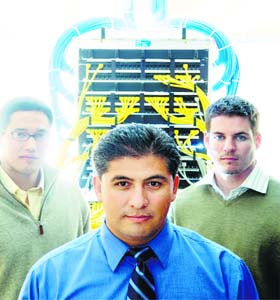 The growing demand for computer technology and its high usage in almost every field has seen the need for technically qualified professionals who can interact effectively with the management and develop business competitiveness. Successful new technology products and information systems always combine technical quality and smart business strategy. Developing these systems requires extensive communication between technical developers, business managers and users.
MBA in Information Technology is a specialisation in management which focuses on information technology and the use of management techniques to enhance the usage and applicability of information technology. While attempting to combine business areas with computer knowledge the MBA in IT helps to create well rounded IT managers who can conceptualise and execute organisational planning in terms of IT infrastructure and effectively integrate people, information and communication technologies, and business processes in support of organisational strategic goals.
The MBA IT is ideal for those who have a background in computer science and information technology, but is also open to graduates from all disciplines with an orientation towards IT. Such a programme will enable you to work in a management capacity in the IT sector, or with organisations requiring an understanding of the operational and strategic aspects of managing with Information Technology.
The duration of the Post Graduate Diploma in IT Management is two years.
Eligibility: Graduate in any discipline from a recognised university.
Note: Students appearing for the final year of the graduation examination can also apply (subject to graduation within the time-line specified by SCDL).
Registration fee: For Indian Residents (General or Civil/Defence Personnel / Paramilitary / Police / Symbiosis employee): Rs 1000 Programme fee: Rs 35,000
5 Master of Science in Dietetics and Food Service Management (M Sc (DFSM)) – IGNOU www.ignou.ac.in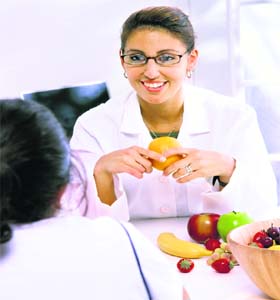 Awareness about health, nutrition, and the food industry is increasing at a tremendous rate. A number of multinational companies have entered the food services sector, there is a growing interest in health foods, diets and nutrition and an overall focus on the social and development sectors of the economy has led to the emergence of a number of health/nutrition and fitness clinics and programmes all over the country.
MSc in Dietetics and Food Service Management is an ideal programme for those interested in becoming dieticians /diet counselors and those involved in institution food administration and health/dietetic care in hospitals, clinics and community settings.
Those who qualify can work in schools, colleges and industrial or institutional canteens, with various government departments, or as programme consultants to non-governmental organisations like UNICEF, WHO, and NGOs. Other employment avenues include the home economics divisions of food, equipment and utility companies. This work usually involves promoting a product, developing recipes, providing nutrition related information regarding the company's product, and maintaining experimental kitchens. Self-employment also offers some scope to professionals as freelance consultants, fast food entrepreneurs and large scale catering services.
MSc (DFSM) is a multidisciplinary programme which draws knowledge from disciplines such as biochemistry, physiology, microbiology, sociology, biostatistics, food science, management, etc. and is open to all graduates from nutrition, science and health background, even if they have not studied nutrition at the graduate level.
Eligibility: B Sc Home Science with specialisation in Food and Nutrition, Dietetics and Clinical Nutrition
Or
PG Diploma in Dietetics and Public Health Nutrition or its equivalent
Or
Graduate (B Sc) or equivalent (MBBS, BHS etc.) from any of the following backgrounds: Home Science/ Food Science and Technology, Science, Health Care, Medical, Pharmaceutical Catering along with the DNHE or CNCC or CFN offered by IGNOU
Duration: 2 Years
Fee: Rs 27,000
There are these and thousands of other distance learning programmes and those looking at such an education need to be selective and focused. Check the credibility and recognition of the courses and institutes and choose courses that match your own career goals. It is comforting to know that the validity of the degree acquired through distance learning is the same as that of a regular degree, as long as the basic eligibility requirements are satisfied. Moreover, if the distance education is undertaken along with some practical work experience, you fill in the gap for the prospective employer.
Today distance education is a widely acceptable alternative to formal education. The demand for such courses is rapidly increasing, especially with the development and growth of information technology and the demand for quality education to greater number of people.
So, don't lose heart if you are unable to get into the college or institute of your choice, look for and find a similar course available through distance education.
— The writer is Director, Careers Smart Pvt Ltd., New Delhi