M A I N N E W S


India's haul: 57 on twin kabaddi win
Campaign ends, not much to celebrate as tally 8 less than Guangzhou's 65
Rohit Mahajan
Tribune News Service
Incheon, October 3
Kabaddi's two gold medals today brought smiles back into the Indian camp, which had been angered and upset by two unjust decisions in the boxing ring last Tuesday.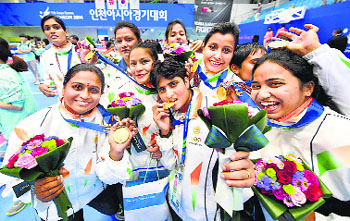 Women kabaddi players pose with their gold medals at the 17th Asian Games in Incheon on Friday. PTI
A day before the events of the Asian Games end, India's medal hunt is over as it has no athletes in action tomorrow. India, thus, end with 11 gold medals, 9 silver and 37 bronze – that's 57 medals; four years ago in the Guangzhou Asiad, the tally was 65 — 14, 17, and 34. Broadly speaking, this suggests that sport hasn't really progressed over the last four years. There are several factors behind this reduction, but the inference that Indian sport has had a fall isn't inaccurate.
One big reason is that the funds to prepare for this year's Commonwealth Games and the Asian Games were released just one month before the Glasgow CWG. Four years ago, to do well in their home CWG in New Delhi, the Indian government had pulled all stops, clearing funding and exposure trips for various Indian squads.
India had 5 gold, 2 silver and 5 bronze medals in athletics in Guangzhou; this time, the numbers are 2 gold, 4 silver and 7 bronze. The difference is significant, but the Indians should be relieved that they didn't do worse. The athletes had to face and overcome obstacles, like the Sports Authority of India not releasing funds for training or for contracting foreign coaches, without whom Indian athletics is significantly weakened.
Two gold medals in athletics – by Seema Punia in women's discus and the women's 4x400 relay team – are not what India must aspire for, but it's not as bad as it could have been.
"Overall, the results are satisfactory," Adille Sumeriwala, the Athletics Federation of India president, said. "The gold count could have been better if we had the same training as we had in 2010."
Shooting was a huge disappointment yet again, with just one gold, won by Jitu Rai in the men's 50m Pistol event. Abhinav Bindra moved into a mystical semi-retirement with a silver and a bronze, a very creditable feat, considering the fact that, as he himself admitted, he's become the "old man" of Indian shooting. Heena Sidhu, who became the world's No. 1 Pistol shooter earlier this year, was devastated by another failure here, after the Glasgow CWG.
There were a couple of certainties. Yogeshwar Dutt's gold medal in the 65kg freestyle event was expected; tennis got one gold, in the mixed doubles, one less than 2010 but still creditable; the men's compound archery team got gold, too, which was on the expected lines.
Mary Kom winning the 51kg isn't a surprise, but it wasn't a certainty, too; she'd had close bouts with Pinky Jangra, and she'd had close encounters with superstardom. To still work so hard, fight with such passion, was very creditable. There was one very pleasant surprise – the men's squash team winning the gold, beating Malaysia in the final.
There were unpleasant events around Indian sports official's mismanagement. The most galling of these goof-ups was the Indians shooters not getting their accreditation cards in time, and the equestrian team being stuck in Incheon because the freight charges for the horses had not been paid for. What took the cake, however, was the deputy chef-de-mission simply tip-toeing away from the boxing venue just when Sarita Devi, given a harsh and unfair decision, needed guidance and support from him.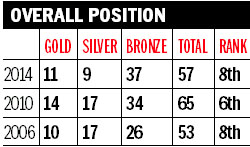 The final flourish
Staging a fantastic second-half recovery, Indian men defeated Iran 27-25 in a thrilling final on Friday. India thus completed a golden double on the kabaddi mat for the second successive edition after the women defeated the same nation 31-21 in their final held earlier in the day.