M A I N N E W S
Out on bail, ailing Chautala addresses 35 road shows
Naveen S Garewal and Parvesh Sharma
Tribune News Service
Uchana Kala (Jind), October 3
OP Chautala is ailing; he has a heart condition. That's why the Delhi High Court granted him bail in the teachers recruitment scam. On Friday, Chautala rode a souped up Tata Minibus with an inbuilt lift to launch his party's campaign from the Uchana Kalan constituency from where his grandson Dushyant is a contestant for the October 15 Assembly election.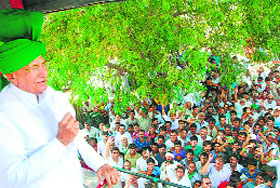 INLD chief Om Prakash Chautala addresses a rally at a village in Jind.

A team of doctors that remains inaccessible accompanies the former chief minister who represented this constituency in the outgoing Assembly.

The 79-year-old addressed his supporters in 35 villages today, and tomorrow he plans to travel through the remaining 31 in the 66 villages that form the constituency.

The INLD boss stands debarred from contesting polls following his conviction in the scam and is serving a 10-year sentence. But the feisty Jat leader has let it be known that he would take oath as chief minister even if it came to doing so from Tihar Jail. The High Court has asked Chautala to surrender on or before October 17.

His party has planned that Chautala campaigns in Uchana for two days. The INLD has taken a calculated risk in the face of a possible court reprimand for holding road shows despite citing medical condition for obtaining bail.

Addressing his supporters, the INLD chief said

opposition parties were spreading falsehood about his inability to become the Chief Minister. "An INLD wave has panicked other parties.

"I may not be able to contest the polls, but the vote you cast for the INLD will make me the chief minister and I will take the oath even if I have to do so from Tihar Jail. You make Dushyant an MLA with the biggest margin and I assure you that I will become the CM of Haryana".

"Aur CM banne ke baad mei thhari saat peeri ka jugaad bitha deonga. Tumhe koi chinta nahi karni padegi" (and after becoming CM, I would make arrangements for the better future of your coming seven generations, don't worry)," the INLD supremo told the crowd.

The INLD leader said, "Today is Desahra, a symbol of victory of good over evil. You must go back home after taking a pledge to end the misrule of the Congress."

At most places Chautala repeated himself: "I am a son of a farmer like you, you know that a farmer thrash anyone caught stealing their crop. In my absence thieves have been robbing the state. Use your vote to thrash them".