These are few of my favourite things….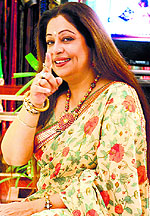 Carrying on the hot class debates to Stu C while enjoying cholle bhature with nimbu pani or sipping the nth cup of tea, repeated calling of your name when a friend came dropping at the hostel, late night paranthas and chai just outside the campus after marathon study hours at AC Joshi library, there are things peculiar to having lived and studied at Panjab University. Yet another study declaring Panjab University as one of the premier educational institutions of the country, some celebs go down the memory lane to relive their moments in the campus!


Kirron Kher
Blissfully happy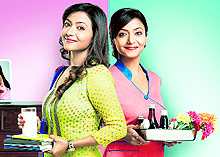 There is a reason why television actress Pariva Pranati has largely shuttled her way across several characters in daily soaps. It is a fancy for the idea of becoming someone else while the arc lights go on and the call for action comes. Currently, the protagonist of Hamari Sister Didi, aired on Sony Pal, she shares all things television.


A still from Hamari Sister Didi
WEIGHT WATCH
Healthy picks that help you relax…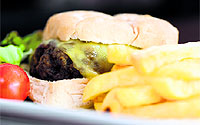 As everyone knows that stress is a part of life. Stress works in both ways, it may be good enough for better productivity but it may cause serious health hazards if it is not managed timely. There may be so many underlying causes behind stress. Stress may be caused by time limited events, such as the pressures of examinations or work deadlines. The most vulnerable group undergoing stress is executive class and students.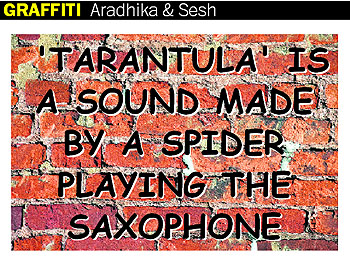 Master Chef
Crunchy chicken
Chicken can be made in a variety of ways, as it is a very versatile poultry produce. And with the doctors vetoing against the use of red meat, its table value has increased more. The trick is to keep the inherent juices and the tenderness of chicken intact.
Go, celebrate!
Charan padukan refers to places where Hindu Gods have walked on earth and where their footprints are now visible. Mirari Charan Padukan represents foot prints of the goddess Laxmi, the goddess of prosperity and fortune.
Wake up to a treat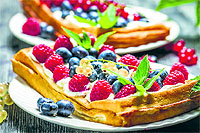 There's not much that can make you drag yourself out of bed to combat the monotony of yet another average day. But then, there's always breakfast! It was not very long ago when you would fumble around Chandigarh's sectors and end up with just Aloo Poori, Upma or Dhokla to start your day with.


Thinkstock
chatter box
Birds of the same feather
Buzz is that Roopal Tyagi (Gunjan from Sapne Suhane Ladakpan Ke) and Rishina Khandari (Malvika from Uttaran), get along like a house on fire. The two actresses have been great friends since a long time. "Friendship is a very important part of my life and spending time with a friend is like growing up together. With friends we can share ourselves," says Roopal. Meanwhile, Rishina Kandhari adds, "Life without friends is like food without salt. We are blessed to have each other as friends. One of the most beautiful qualities of true friendship is to understand and to be understood".
star track
Life with horror and Harman


Bipasha Basu seems to have found a niche with horror movies and she is comfortable juggling between fitness, fashion, and movies. She has finally found a life partner in Harman Baweja and the two are ready to tie the knot. She talks about her relationship with him.


Candid chat: Bipasha Basu
The year ahead
If your birthday is October 4...
first-day-first show
Deep & dark