Where mind is our majesty
Reviewed by Mehak Uppal
Obsession: Eternal stories of Life and Death
by Gurpartap Khairah, Bishwa Sigdel, Stormy Hazarika and Suraj Sinha.
Tara.
Pages 259. Rs 299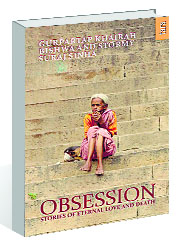 Aptly titled, Obsession, the book is a collection of short stories by multiple authors, and each of them shows how an idea or thought can capture a human being's fancy and end up controlling his world. Time and again, the stories convey the message that it does not matter what happens in an individual's life, but what counts is how one responds to the situation. Human beings are as good or bad as the psyche that governs them.
There are four authors who have come together to create this fascinating collection. Gurpartap Khairah has written six stories, which majorly deal with marriage and relationships. They talk about a husband's desire to wield his control over his wife, a husband's inability to express himself as he deals with the loss of his son, a gay's role in defining a couple's as well as his own life, an individual's belief about what affects a marriage, changing dynamic of a couple's live-in relationship, etc. In all these stories, Gurparatap manages to create wholesome characters by bringing out their insecurities, illusions and sometimes the underlying emotions which, perhaps, even the characters themselves are unaware of. By doing this, he involves his readers completely. He experiments with different styles of writing that suit different stories and settings with considerable success.
Another set of six stories have been written by Suraj Sinha. His stories bring out the dark psyche as he talks about the lives shorn between glorious and mundane, love and its many murky shades, perceived morality of society, and the irony of attracting what we fear the most. He brings out the morbid obsessions that lay covered yet are present in the sub-conscious mind.
He talks about the different shades of death and evokes a range of emotions in the process. Suraj's stories have the ability to suck us into their world and are so believable. The rest of the six stories have been written by Bishwa and Stormy. These talk about an old widow's attempts to suppress her aspirations, a woman committing an act to save her husband that would conventionally be considered a disloyalty towards him, the hopelessness of a mind, which is unable to see reality, etc. These are stories wherein individuals are trying to heal the wounds inflicted by the outer or inner demons. These are stories of love and betrayal and as you read these, you wonder that there could be a different ending to each of these.
All these stories together raise one question — if an individual controls his mind or whether it is the other way round. One realises how life and death are not all that different. The lines are blurred and one doesn't really know where life ends or begins. Sometime you die to live on and sometimes you live like you're already dead. It's a game played by the mind.
The authors have captured the modern day lives in unique, confident and distinct voices. They have woven a web of simplicity and complexity together to ensure that the reader's mind remains hooked. Many a times, they have not only understood the mind of their characters, but also that of the readers as well. Time spent on reading this book is worth it.