ENTERTAINMENT

MUSIC ZONE

FOOD TALK

CONSUMERS BEWARE!

GOOD MOTORING

WEBSIDE HUMOUR

CROSSWORD

WEEKLY HOROSCOPE
EARLIER FEATURE

LIFE'S LESSONS

FRUIT FACTS

CHANNEL SURFER

ULTA-PULTA

TELEVISION

GLOBOSCOPE

GARDEN LIFE

NATURE

FASHION

BRIDGE
Spare the child, hold back the rod
If a new Bill has its way, hitting a child will be a serious offence and may land a parent or a teacher in jail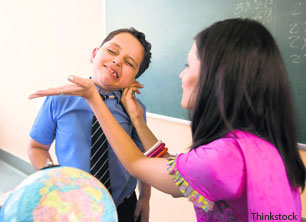 Priyanka Singh
There was a time, not so long ago, when whacking a child was no big deal. It was an accepted form of adult behaviour (not really 'violence') to discipline a child at home and school, with parents even requesting teachers to use force to make their child, especially boys, conform. There was an implicit understanding — the cane was the right tool to regiment "naughty" children. But times changed with the banning of corporal punishment.

The RTE Act has banned corporal punishment, but does not provide for any penalty.

---
'Art & Soul
Secret gardens of the mind
B.N.Goswamy
Danielle Porret's recently published catalogue of her collection A Secret Garden gives much inspiration and joy
Victor Hugo, the great French novelist and thinker, once wrote about the joys of "a little garden in which to walk about, and an immensity in which to recall and to dream." Something akin to this must have been in the mind of Geneva-based Danielle Porret, by profession an interpreter but at heart an avid collector of Indian paintings, for she titled the recently published catalogue of her collection as "A Secret Garden".

Broad brush
---
fitness
good health
Foods that boost memory
Dr Anjali Mukerjee
Your memory can effectively be improved and sharpened with the right lifestyle choices and a basic knowledge of concentration-enhancing techniques
Are you among those who tend to forget their specs, leave behind their wallets, fail to recall names or forget to pass on telephone messages? Or you open the refrigerator and stare blankly inside, just what was it that you wanted?
Her heart is more at risk
Dr Amar Singhal
Women experience different and milder symptoms of a heart attack. As women tend to ignore these, they end up going to the hospital much later after significant heart damage has occurred
When you think of someone having a heart attack or myocardial infarction (MI), the most common image that comes to mind is of a person clutching his chest. While chest pain or angina is the most common symptom of a heart attack, it may not be the most common one in young women.
---
SOCIETY
Adding years to your life
Aruti Nayar
These senior citizens are as young as they feel and are bubbling with energy, thanks to the regular vacations that they take. They bust many a myth about ageing
They are giggling like teenagers as they exuberantly plan their next international vacation to Australia. The youngest in the group is 69 and the eldest 76. Despite age-related ailments, they are determined to add more life to their years. And for the past decade or so they have planned their vacations, (two domestic and one international) with a gusto that is as contagious as it is admirable.
---
TRAVEL
Bond with Baden Baden
Beautiful casinos, museums, theatre, spas, thermal springs and landscaped parks make a visit to this town in Germany a treat Inder Raj Ahluwalia
You might say a town possessing the largest percentage of woodland in Germany has a fair claim to fame. But fame goes further for this famous town that nestles on the edge of the Black Forest, and is entirely embedded in parks and gardens with streams and fountains. But then Baden-Baden has always been considered to be somewhat special. With spas, casinos, five museums, several social events, car events, horse racing, and the Baden-Baden Philharmonic Orchestra — one of Germany's oldest — it is one busy town indeed. Stating that the town hoped to get a World Heritage tag because its 19th century life and antiquities are still intact.
---
ENTERTAINMENT
Back with a bang
Jasmine Singh
Hrithik Roshan is once again all geared up to set the big screen on fire as Rajveer in Bang Bang, a role he says he didn't have to work too hard for
A smouldering hot personality, a phenomenal dancer and a fitness freak — that's how Bollywood and his fans have known Hrithik Roshan for a long time now. Starting from his first film, Kaho Na Pyar Hai, followed by subsequent hits and flops — Yaadein, Koi…Mil Gaya, Agneepath, Krrish (series) — Hrithik has always tried to deliver something different through his acting. With the news of a recent turmoil in his personal life spreading like forest fire, Hrithik is all the over the news again.
A sprinkle of stardust for Amristar boy
Nonika Singh
Parwinder Singh's 18-minute debut film The Last Word won much acclaim at many recent international film festivals
Till the other day he was like any confused youngster, clueless and purposeless. A chance encounter with a motivational speaker and this student of engineering set on a new path. First stop en route the new journey saw him dropping out of the engineering college and into the school of the Multimedia Technologies in Bangalore, Karnataka.