Spare the child, hold back the rod
If a new Bill has its way, hitting a child will be a serious offence and may land a parent or a teacher in jail
Priyanka Singh
Photographs have been used for illustrative purpose. Persons shown in the photographs are not connected with the story

There was a time, not so long ago, when whacking a child was no big deal. It was an accepted form of adult behaviour (not really 'violence') to discipline a child at home and school, with parents even requesting teachers to use force to make their child, especially boys, conform. There was an implicit understanding — the cane was the right tool to regiment "naughty" children. But times changed with the banning of corporal punishment. Teachers had to employ more humane methods to "cultivate" children. Slaps will only land them in trouble, they were told.
But things at home remained much the same. A little thrashing was normal and usually made children do a parent's bidding. A blow could achieve what endless pleadings couldn't. The child had to be reminded of the power structure at home. The result was an instantly obedient child!
Now, this, too, may change with the new Juvenile Justice (Care and Protection of Children) Bill 2014, with provisions covering specific acts of violence against children at home and school. The term "violence" has been widened to include reprimand and could be punishable with a jail term.
Need for new law
Proposed punishment
Crime: Assaulting, abandoning, abusing, exposing or neglecting a child
Jail term: Three years
Fine: Rs 1 lakh, or both
Crime: Offence by any person employed by or managing an organisation entrusted with the care of a child
Jail term: RI up to five years
Fine: Rs 5 lakh, or both
Crime: Rendering a child physically incapacitated or causing development of mental illness and risk to life or limb
Jail term: RI from three to 10 years
Fine: Rs 5 lakh, or both

What is corporal punishment
The intentional subjecting of a child, by any person, for disciplinary purposes, to any physical penalty causing hurt and grievous hurt and persistent verbal abuse causing severe emotional distress or trauma. ("Hurt" and "grievous hurt" as defined under the IPC).
Fundamental principles of Bill
All humans are to be treated as equal in dignity, rights

Every child has a right to be heard and to participate in decisions affecting his/her interest

All measures will be taken to ensure that a child is not subjected to any maltreatment

Use of adversarial or accusatory words should not be made with regard to a child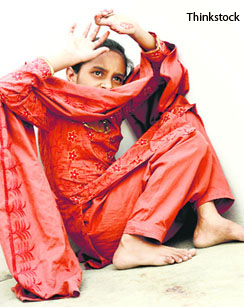 Discipline a child in a way that doesn't
leave him/her emotionally scarred

Most Indian parents would have hit their child at some point. Is the threat real enough to warrant a new law?
"The Government of India conducted a study on child abuse in 2007. It revealed 50 per cent children were victims of physical abuse and 65 per cent of corporal punishment. About 88.6 per cent of those physically abused were abused by parents and 50 per cent children faced emotional abuse. In 83 per cent cases, parents were responsible," says Dr Manmohan Kaur, Chairperson, Child Welfare Council Punjab and convener India Alliance for Child Rights (north zone). "As per the 2011 the NCRB figures, crime against children reported a 24 per cent increase from 2010, with 33,098 cases. Corporal punishment is not the only form of disciplining. It can permanently affect a child's personality, health and interpersonal relationships. Alternative methods must be found," she says.
However, sending parents or teachers to jail doesn't find favour. "We hardly have any institution where protection of children can be ensured. Who will look after the children in the absence of parents?" she asks. "CHILDLINE 1098 has received 4,689 cases of physical abuse by family and 782 by teachers in the past two years. The RTE Act has banned corporal punishment, but does not provide for any penalty. However, the jail term is harsh since any severe act of violence is covered under the IPC. Teachers come from the same stock as parents and their attitude is a reflection of the general parental behaviour towards children," says Nishit Kumar, Head, Communication and Strategic Initiatives, CHILDLINE India Foundation.
Is there a flipside?
Free from the fear of any punishment, will a child not be emboldened to misbehave? "This is why there is a need to clearly define corporal punishment and what it means to commit such an offence. The purpose of law is to create a deterrent. It is best achieved through simplicity in definition," says Bhuwan Ribhu of Bachpan Bachao Andolan, New Delhi. "We receive five to seven such cases in a year, mostly against schools. Hitting a child mercilessly can't be condoned," he adds.
Dr Simmi Waraich, consultant psychiatrist, says some children with conduct problems may misuse the law, so close coordination is needed between the police, child helpline and mental health practitioners. "Child abuse is common in our society. Corporal punishment does not help. Children grow up to be aggressive and may even be violent towards parents. Parents must identify conduct problems early so these can be treated."
Parenting skills
Hemant Kumar Uppal of KABERI, a Delhi-based NGO working towards transforming education in India, feels the Bill makes sense but may have lacunae, making it complex for law enforcers. "Most problems regarding children start at home. In most cases we find parents are incapable of handling their children in the absence of any understanding of child psychology, human rights and lack of other behavioural techniques. There is no training in our curriculum on applied psychology governing the behaviour of an individual. Corporal punishment makes a child revengeful and stubborn. Some may even slip into depression," he says. Teachers are not trained in scientific and psychological skills to deal with children, he adds.
Abuse, a no no
A large section of parents and teachers are against violence. Bhavna Ramakrishnan, a teacher of English at APS, Bolarum, Secunderabad, feels corporal punishment is the last resort of a teacher who cannot inspire by words or deeds. "An adult wielding power should not misuse it and drag humanity down to primitive times. Spare the child, break the rod," she says. Anvita Singh, a senior executive with an international NGO, says, "I have never hit my 10-year-old son as he has usually been receptive to reason. But I think an occasional whack on the bum is fine for a more stubborn kid."
"Hitting is not a solution; it means the battle is lost. For early resolution of problems, iron out issues regularly and keep communication going," says Dimpy Khanna Wahi, a homemaker based in Gurgaon. The instances of violence against children seem to be more common in government schools. Sheeba Pillai, a teacher at DPS, Noida, believes corporal punishment demoralises a child. Punishment can be given in the form of no games for a day, she says.
What's the fuss?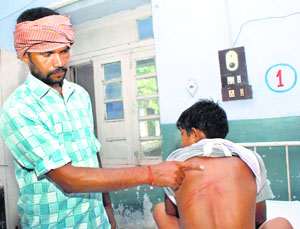 Gurjinder Singh, a Class VIII student of a government high school in Punjab, had to undergo treatment at the Civil Hospital Rajpura after he was beaten up by his teacher Tribune photo: J. S Virdi

Then there are some who can't comprehend the concern over a one-off smack. "It would be simplistic to take any one view. Sometimes cajoling may work, while at other times stricter measures may be adopted. I remember being hit as a child. A few hours later I would be asked 'beta, kuch khaya' (son, have you eaten?)'. It works as a deterrent. I am not scarred in any way. The western pattern can't be a model for everything," says Maj Gen SK Sanan (AVSM), who retired as the Judge Advocate General, Army.
"Parents hit their children, sometimes, but not with the intention of inflicting pain. For this, they can't be jailed. But if it is proved that the act was whimsical, law must step in. Corporal punishment is unacceptable, but a teacher can't be blamed for trying to discipline a bullying child by asking him/her stand on a chair," says Dr Bishnu Charan Patro, former PRO, NCERT, Delhi.
The message is clear. It's time to hone skills and discipline a child in a way that doesn't leave him/her battered, and not just physically.