Adding years to your life
Aruti Nayar
These senior citizens are as young as they feel and are bubbling with energy, thanks to the regular vacations that they take. They bust many a myth about ageing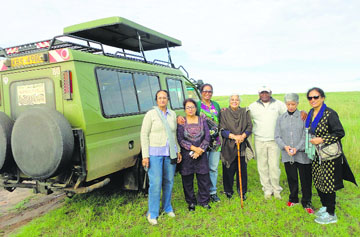 Harbir Singh (second from left) and her friends savour the adventurous Kenyan experience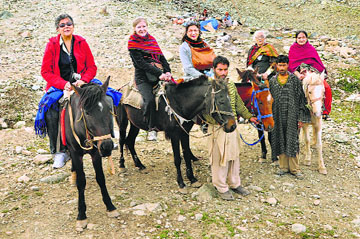 From left: Shashi Kapoor, Boza Singh, Zarina, Neena Singh and Sindoor Virick on a trip to Tangmarg

They are giggling like teenagers as they exuberantly plan their next international vacation to Australia. The youngest in the group is 69 and the eldest 76. Despite age-related ailments, they are determined to add more life to their years. And for the past decade or so they have planned their vacations, (two domestic and one international) with a gusto that is as contagious as it is admirable.
Meet the gang: Seventy-five-year-old Harbir Singh, who retired as a warden of a girls college in Chandigarh. Barjinder Ranu (69), a national-level basket ball player and coach who went as far as Kerala to train sportswomen. Usha Sharma (76), a homemaker who discovered her talent for dancing late in life. Surjeet Kaur (74), an Army wife and a committed social worker devoted to working for senior citizens. The "baby" of the group is 64-year-old Promila Mahna, who runs a paying guest accommodation in addition to doing social work.
They are always there for each other and their companionship is a cushion against the ups and downs of life. Throughout their working life, they were bogged down by domestic chores and the need to be caregivers and nurturers. Their multiple roles as wives and mothers or career demands kept them on their toes, leaving little time for themselves. It was only after they retired and children had grown up and moved out and away did they think of living for themselves. Destiny brought them all together as they met while working for the senior citizens. Then began a partnership as they undertook package tours to different countries.
They enjoyed themselves so much that it became an annual fixture. As Harbir puts it, "I have a contract with God, before you call me, please do let me see the world!"
So they have enjoyed the sights and picturesque ambience of the Pyramids in Egypt, the pristine charm of Switzerland, the majesty of the Great Wall of China and the Kenyan safari. In fact, while on a cruise, two of them were adventurous enough to try out the Titanic pose.
Closer home it is the Andaman Islands, the idyllic North-East, the remote Siachen and the backwaters of Kerala. As Surjeet puts it, "When we travel with our children, we are the oldies, more responsible ones but when we go out together we are like a bunch of teenagers. You can say we are all sweet 16!"
Another group of old friends who believe in living it up is headed by 74-year-old Neena Singh, who has set up an NGO Disha Foundation to facilitate education of less privileged children in Kolkata. A revered teacher who has not only taught but also mentored scores of students, Neena's school trips were looked forward to when not many parents allowed girls to travel alone. After being bitten by the travel bug, she makes it a point to plan holidays to see each and every part of the country with buddies Rekha Seth, Rashmi Suri, Shashi Kapoor, Zarina, Boza Singh, Sindoor Virick and Manjulika Sen. "It is like travelling with your khaandan." The group has been to many exotic locations and had memorable vacations from Kashmir to Kanyakumari! Interestingly, unlike Harbir's Chandigarh-based group, two of Neena's friends are in Delhi, one in Chandigarh, four in Kolkata and one in Chennai, yet they manage to coordinate and have a swinging time. The average age of the group is 75. The recent trip to Leh was a super success because they followed the precautions for acclimatisation and were armed with their homeopathic medicines. Neena's niece plans the nitty gritty of the trip online and ensures that the senior citizens are taken care of. They stagger their stay from a five-star to a homestay to a heritage property or a budget hotel. There are no hard- and-fast rules. If one of them does not want to see the sand dunes, she can relax and be by herself and read a book. A young woman came up to Neena in Leh and said, "Can I photograph you? I want to show your photograph to my mother so that she, too, can travel the way you are doing!"
Do not postpone the desire to see new places. Age is no bar to exploring the unknown terrain, in fact with age, like good wine, the experiences get better.