Back with a bang
Jasmine Singh
Hrithik Roshan is once again all geared up to set the big screen on fire as Rajveer in Bang Bang, a role he says he didnít have to work too hard for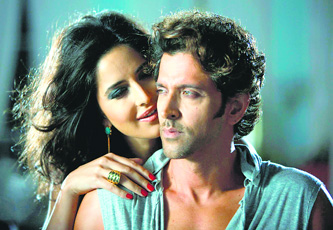 Hrithik Roshan and Katrina Kaif in a still from Bang Bang

A smouldering hot personality, a phenomenal dancer and a fitness freak ó thatís how Bollywood and his fans have known Hrithik Roshan for a long time now. Starting from his first film, Kaho Na Pyar Hai, followed by subsequent hits and flops ó Yaadein, KoiÖMil Gaya, Agneepath, Krrish (series) ó Hrithik has always tried to deliver something different through his acting. With the news of a recent turmoil in his personal life spreading like forest fire, Hrithik is all the over the news again. This, however, isnít the only reason he is being talked about, his recent film Bang Bang, directed by Siddharth Anand, which has brought the good-looking actor back on the radar. Exerpts from an interview:
In one of your interviews, you said Bang Bang has been the easiest film for you. How?
It might sound amusing but for me Bang Bang actually is a journey in discovering myself. For the first time in my career, I did not shut myself in a room. I realised I am quite close to the reel-life character, Rajveer. Bang Bang in this sense has been the easiest film. Also, when one goes through the worst in life, other things look pretty comfortable.
How did you prepare for your role in Bang Bang?
I didnít prepare for it at all. It was on the sets of the film that I realised I did not have to do any preparation. I did not sit in the corner to rehearse or try to get under the skin of the character. I just went ahead and played my part, which is what I am in real life.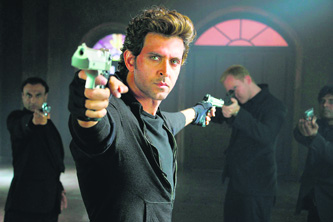 As an actor, do you only work on your strengths?
It is important to realise my gifts of dance and acting and turn them into skills. People say I am an incredible dancer but this is because I worked hard on it. It didnít come easy.
Do you still invest a lot of time on practising your dance moves?
Dance is an expression of joy and celebration for me. Thatís probably why I think I am known as a fabulous dancer. I want to share this passion with others as well. It is a way of life, something that is not taught in schools. In fact, spreading joy through dance or acting is more important than a geography or history lesson. I would love to teach this to the kids and everyone alike.
You have done dare-devil stunts in films like Krrish and now Bang Bang, arenít ever scared for a minute?
There comes a time in life when you let your instincts take over everything else. I think each time I have faced a challenge, I have ended up discovering myself a little more. So, going beyond fear is always beautiful and that answers the question ó I donít feel scared while doing my stunts.
Being a fitness freak, how much exercise has helped you maintain a balance in life?
Before I answer this, I would like to ask everyone, which have been the best moments of their life? I bet the answer would be, many. And you could only enjoy those moments because you were healthy. Yes, healthy body plays a very important part in everyoneís life. If you are healthy, you can handle any situation and this is how I have dealt with the ups and downs in my life.
How do you relax on a stressful day?
I take a relaxing shower, eat healthy food, wear something nice and get out of my house to do something constructive.
What fitness regime do you follow?
I exercise daily. Along with this, I always advocate the need for healthy food. It is not important to get six-pack abs or look stunning. What is important is that we should be healthy. A balanced diet plays an important role in blood circulation and keeps the muscles and veins functioning smoothly.
We heard you want to pen a book on fitness
I realised spreading joy is the best way to keep happy. Over the years, I have gained a lot through fitness and I would want to share it with those who donít have the means to hit a gymnasium everyday. I want to reach out to people and share the secrets of fitness.
Do you ever think of an alternate career?
Of course, it is great to have variety in life, to discover my potential and do something new. I can say, I could do something different with my film Bang Bang. As for alternate work, I want to spread joy by sharing knowledge that I have on fitness and dance.