A sprinkle of stardust for Amritsar boy
Nonika Singh
Parwinder Singh's 18-minute debut film The Last Word won much acclaim at many recent international film festivals
Till the other day he was like any confused youngster, clueless and purposeless. A chance encounter with a motivational speaker and this student of engineering set on a new path. First stop en route the new journey saw him dropping out of the engineering college and into the school of the Multimedia Technologies in Bangalore, Karnataka.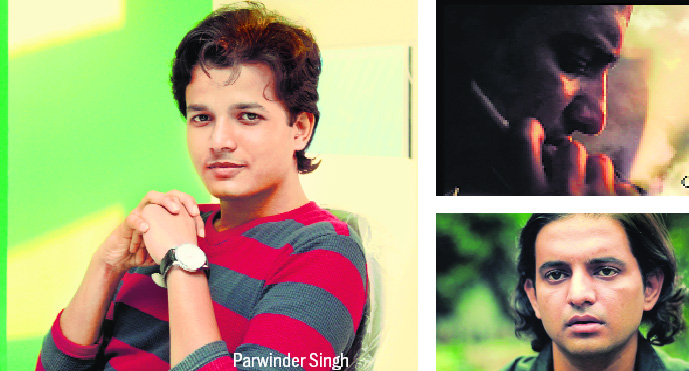 Today Parwinder Singh, whose debut short film The Last Word has gone on to win many accolades, knows exactly what he wants to do, with his life and talent.
Talking of dreams of making it big in Bollywood might sound pompous considering he is just a 23-year-old fellow with just one film to his credit. But Parwinder whose film has been inspired by the words of Steve Jobs understands fully well life is full of challenges. But the trick, he believes, lies in surmounting the obstacles. Like his motivational film that teaches the significance of innovation as well as the need to accept dismal truths of life, he, too, has learnt to take life head on. The film, which he hopes will be a ready-reckoner for the youth, particularly those who have given up on life has helped him cope with vicissitudes, his father's death, for instance. Never mind that the tragic incident means that he can't fulfil his dream of training at the FTII.
But with or without a degree at India's premier institute of filmmaking, he is confident of contributing his mite to the film industry. He says, "If Hollywood can make films on its superheroes of Marvel comics, why can't India?" He already has roles cut out for Hrithik Roshan and Vidyut Jamwal, who he asserts can be used in a far better fashion than they have been till date.
Actually one day he hopes to raise the bar of technical excellence in Indian films. If you think all this is empty talk, let you be reminded that at the film festival in Delhi, his 18-minute film picked up the Best VFX at 2nd Mumbai Shorts International Film Festival-13, even though films from all over the world were in competition. Among the honours he's got, the one he cherishes the most is Best Cinematography Award at the Noida International Film Festival. It was a tough competition since films like Jolly LLB and Goa Goa Gone were vying for the same award.
As his film has been shown at several film festivals where does he think Indian films stand vis-a-vis their international counterparts? Well, he is candid enough to admit that we lag behind not only in technical excellence but also in direction and storytelling.
One day this boy from Amritsar would like to tell stories as best as possible and create our own superheroes. But for now, it's editing for two films down south. Not an easy task, he insists. You and me may believe editing is all about letting the scissor do the talking or at best a cut and paste job, he says, "Editing requires you to get into the mind of the editor, get clued into what he wants as well as be well-versed in cinematic techniques too."
Besides editing, he feels, is an ideal start to his dream journey which he hopes will help him find his place under the sun. To his compatriots who think differently and want to act accordingly, he advises, "Follow your heart and aptitude." And what if aptitude is not in sync with what your heart says? He smiles, "Listen to your heart." He was demotivated after he was accused of lifting scenes from other films. The balm, too, came soon thereafter when his film sealed many awards.
Parwinder, however, is not resting on his laurels. Seeking inspiration from stalwarts such as New Zealand filmmaker Sir Peter Jackson and Alfonso Cuarón who directed and edited Gravity, Parwinder is already gazing into the future — dreamy-eyed but backed by affirmative action.