M A I N N E W S
Border flares up again: Five civilians killed in Pak firing


35 injured as Rangers shell villages in RS Pura


Rajnath warns Pak
Tribune News Service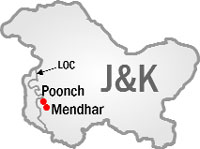 3 ultras killed in Valley
The Army foiled an intrusion bid in frontier district of Kupwara in Kashmir killing three unidentified militants close to the LoC in Tangdhar sector.
Arnia/Jammu/New Delhi, October 6
Pakistan Rangers today opened indiscriminate fire along the International Border in Jammu and Kashmir, killing five civilians, including four of a family, and injuring 35 others in one of the worst truce violations, triggering a strong reaction from New Delhi.
Along the Line of Control, the Pakistani Army flared up a 40-km stretch comprising Mankote-cum-Balnoi, Mendhar and Balakote sectors in Poonch district.
"Pakistani troops indulged in heavy and unprovoked firing on 15 border outposts (BoPs) and half-a-dozen forward villages along the International Border in Arnia in RS Pura sector of Jammu," said a BSF spokesman said. "Our troops retaliated strongly and gave a befitting reply to the Rangers," said BSF DG, DK Pathak.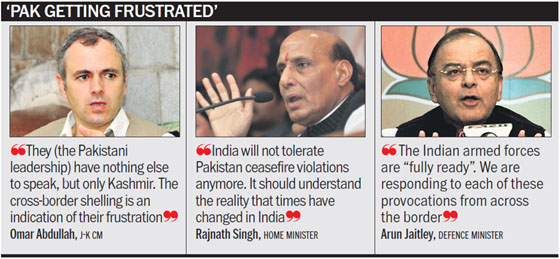 In New Delhi, Union Home Minister Rajnath Singh warned Pakistan against ceasefire violations. "Pakistan should stop truce violations now and understand the reality that times have changed in India," said Rajnath Singh.
Defence Minister Arun Jaitley deplored the ceasefire violations from across the border and said the Indian armed forces were "fully ready" and are responding to each of these provocations from across the border. "Pakistan must realise that the kind of environment it is generating between the two countries is not going to help in normalising relations. The onus of creating a positive environment is on Pakistan which is failing to do so," said Jaitley. J-K Chief Minister Omar Abdullah strongly condemned the shelling on civilians, saying targeting them exposed the frustration of the Pakistani Government after its failure to gain international attention on the Kashmir issue.
In RS Pura sector, four members of a family were killed as Rangers pounded border hamlets. The deceased have been identified as Parshottam Lal alias Pappu, his daughter Kajal, sister-in-law Satya, nephew Rajesh Kumar — all from Mahashe-De-Kothe village. Parshottam's uncle Khazan Chand said: "Three shells landed around 1.30 am and we lost everything. We have been left shattered."
Ram Lal (60) of Mahashe-Di-Bohri village was also killed in the shelling. Among the injured are mostly relatives and friends of Arnia resident Babu Ram who had invited over 100 guests to celebrate his grand-daughter first birthday. "Nearly 25 people were sleeping on the roof when a mortar shell exploded, injuring many. My brother Prakash has been seriously injured while my neighbour Ram Lal died," said Babu Ram.
BSF's Jammu Frontier IG, RK Sharma said 82 mm mortars were fired by the Rangers, "We always try to de-escalate the situation, but such unprovoked firing needs strong reply. We will retaliate to protect our people."
Jammu DC, AK Sahu, said, "The administration has announced Rs one lakh each for the next kin of the deceased. The injured will be given Rs 5,000 to Rs 10,000 for their treatment." The administration has identified schools in Salehar, Deoli, Rehal and Bishnah to house people till situation normalises."Food and transportation will be provided to them," said Sahu.
In Poonch, Pakistani troops opened heavy fire on Indian posts in Mankote-cum-Balnoi, Mendhar and Balakote sectors. From 9 am to 10 am, Pakistani troops opened heavy fire, including mortars, and then switched over to automatic weapons and small arms, said a defence spokesperson.
"Around 5.30 pm, Pakistani troops opened mortar fire in Kerni sector of Poonch. At 9 pm, they again resorted to heavy mortar shells in Mankote sector of Poonch," the spokesman said. The firing was on till the reports last came in.
(With agency inputs)