Fly high with feet on the ground
The 82nd Air Force Day is not only an occasion to recognise the contribution of the magnificent 'Men in Blue' who guard our skies, but also to take stock of the brilliant career that this premier force offers to youngsters from different fields and specialisations
Today, we stand on a curious cusp — a cusp of tradition and modernity; a cusp of timeless ethos and cutting-edge technology. Can you dream of a career that will help you fly with your feet firmly rooted on the ground? One such option is the Indian Air Force — a career that helps you strategise, lead and manage.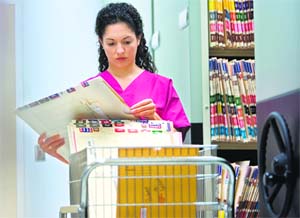 Career Hotline
MBA in healthcare management
Pervin Malhotra email your queries to careers@tribunemail.com...
Q. I am pursuing final year of my BPharm. I want to do MBA in healthcare management after graduation. I'll take an education loan for post graduation. Can you suggest institutes / universities that offer courses in the range of Rs 2-3 lakh that can help me get a placement in good hospital? — Rakesh Manchanda
scholarship roundup
NAMASTE in Europe
NAMASTE India-EU Mobility Project offers scholarships for Indian students and scientists to spend a mobility period in Europe on a wide variety of academic fields at different levels of study (undergraduate, master's, PhD, Post-Doc, and Staff).
newsboard
ISB alumni team wins HULT prize
A group of five alumni from the Indian School of Business (ISB) has won the prestigious Hult Prize and a $ 1 million funding support from the Clinton Global Initiative (CGI). The prize was given away by Bill Clinton, former president of the USA and Muhammad Yunus, founder of the Grameen Bank, at a high profile event held in New York last week.
will a low score hamper MBA prospects ?
Don't fret over poor score
Low score in graduation generally gives sleepless nights to several B-school aspirants. The general perception is that poor percentage in graduation will mar their chances of getting into a good B-school. But there is a different perspective on it.
in conversation
Transforming innovations into business models
Taking it upon itself to revitalise the entrepreneurial spirit of Punjab and its neighbouring states, Thapar University in collaboration with Venture Lab-International, University of Twente, Netherlands, is all set to launch a venture lab with focus on developing a holistic entrepreneurial ecosystem by providing technological, financial, infrastructural and strategic support to budding entrepreneurs from within and outside Thapar University.
cat '14
Plan for the last 30 days
Countless months of toil and sweat, excruciating effort, heart-breaking moments of despair and the highs of success will reach a culmination in November 2014. This year the competition is expected to be quite tough with close to two lakh students fighting it out for an estimated 3,000 seats at the coveted IIMs. In this intense competition, every mark counts and one should make all efforts to improve on one's current standing.
course cruising
Museum Material Care course
Conservation Laboratory, National Museum, New Delhi, has invited applications for admission to three-month Intensive Training Course on Care of Museum Material scheduled to be conducted from November 3, 2014 to February 2, 2015. Scholarship of Rs 1800 per month will be available for selected candidates.
smart strategy
Make decisions that count
Nothing tests your leadership skills more than your ability to make decisions. Getting better at it is an art that needs to be honed
In your life and through the course of your career, one thing is for sure that you will make quite a few decisions. Good decisions will bear fruit for some time and the bad ones will haunt you for a longer time, a really bad decision can even cut short your career. Most of the times reactions are instinctive whereas decisions have to be well thought out to save a situation from blowing out of proportion or to avoid a relationship from going sour.
CAREERCATURE
SANDEEP JOSHI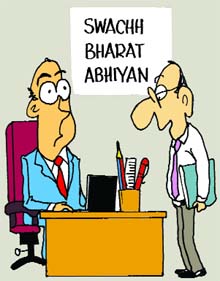 Sir, will you please clean my ACR under the new 'clean office' campaign?
golden rules for choosing a company after mba
The crucial first step
The choice of the first job is very crucial for MBA students as it paves the way for their career growth. After a two-year rigorous stint with a B-school, students may find it very difficult to decide which companies to look for and what job profile they should opt for. No doubt the compensation package is one of the most important criteria while selecting a job, students should not forget that there are various other criteria which need to be taken into account so that they are on the right path towards professional growth and personal development.
Career sweetener
How to swing negotiations
Smooth dealsUsually in negotiations, both the parties yearn to maximize their share of pie by smartly outwitting each other. Negotiation is like a roller coaster ride, with highs and lows. When you are at the ebb, the traditional approaches may not work; you may follow these simple tips if you hit a deadend during negotiations.
Indians to see 10.8 pc salary hike
Employees in India are expected to see a 10.8 per cent salary hike in 2015, even as pay increases across Asia Pacific region are set to rise by an average 7 per cent in the coming year, says a report.