The season of gifting is here
From boxes of mithai, dry fruits and chocolates to the more exotic porcelain vases and electronic devices like smartphones and tablets, Diwali is the time to gift a box of joy
Vaishali Singh Chadha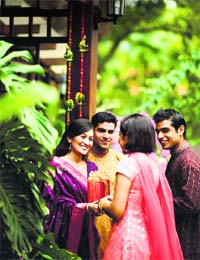 The festival of lights is just around the corner and celebrations have already begun in several parts of the country. Despite the diversity, it is perhaps the only festival that is celebrated throughout the country in one form or the other. It is also one of the most important traditional events that unite cultural, religious and regional diversities. The word Diwali is a derivation of the Sanskrit word Deepavali (deep means light and avali means a row of lights) and thus illuminating surroundings is an important part of the celebrations. Homes are lit with the orange glow of diyas and candles and people pray for happiness, wealth and prosperity.

Sparkle of silver

Like all festivals, Diwali also fosters a sense of togetherness among people. At the same time, it is an excuse to socialise, spread joyfulness and exchange gifts. There is cheer in the markets as shops come alive with an array of gifting choices that range from the basic boxes of mithai, dry fruits and chocolates to silver idols of deities, expensive decoration options for the home and even electronic devices like smart phones and tablets.

In fact, over the years, gifts with heavier price tags have replaced the modest alternatives in the market. The up-market stores have on display an array of gifting items, ranging from porcelain artifacts and vases to expensive pens, watches, cameras and gaming consoles. Especially, silver has become very popular as a gifting option. Besides the usual, traditional coins embossed with images of deities, other silver artifacts are gaining popularity as well. These include photo frames, cocktail stirrers, coasters and decorative bowls and trays. Silver candle stands and diyas remain two of the most in-demand collectibles. These make for excellent gifts and have a timeless appeal.

Porcelain & crystal

Other than silver, these candle stands also come in wood, brass, copper, cast iron, crystal and even porcelain. The prices of the latter two can range from a few hundred to lakhs of rupees in cases where these are embellished with precious stones. For example, porcelain Lord Ganesha diya by Spanish luxury figurines company Lladro, which has an outlet in Delhi, can cost around an astonishing ~ 14,000. If you are in the mood to be extravagant, you can feast your eyes on imported candle-stands from Austria, Spain or Italy in gold and silver that are enchanting. The prices can range between $200 to around $ 2,000 (~ 12,000 to ~ 1.20 lakh) for those made of precious metal and studded with stones.

Decorative fancy candles and tealights too are in great demand as gifts during Diwali. Stores offer a variety of candles that not just illuminate the home, but add a new dimension to the festive season.

Aroma candles are the new fragrance of the season. During the Diwali puja, these fill your home with their alluring bouquet of perfumes. Though one can get a good quality Indian aromatic candle for ~ 5,000, the imported ones especially from luxury brands like Ralph Lauren and Tom Ford can sometimes cost ten times that amount!

Out of the box

Apart from the conventional gifts, the market today offers a variety of unusual choices that appeal to the young. For those who have liberal budgets, there is an array of options ranging from hi-tech toys like robot kits and ultra-vision goggles to branded headphones from companies like Sennheiser, Bose , Dr. Dre and Skull Candy. However, the ones that are expected to enjoy maximum demand this season are smart phones, tablets and cameras. These make for thoughtful gifts. Several companies bring out special Diwali editions. The list of Diwali gifts also includes electronic gadgets.

High on this list are gaming devices that provide hours of fun to the young and old but the price can be as steep as ~ 40,000 or above. Digital readers from companies like Kindle and Kobo Touch are also the new rage and prices start at around ~ 5,500 and can go up to ~ 15,000. Besides these, new technological marvels like Google glasses, Apple Smart Watches and wearable fitness devices have entered the list of potential Diwali gift items. So, this season, don't limit your gifting ambition to a mithai or a chocolate hamper. Give free rein to your imagination and think out of the box.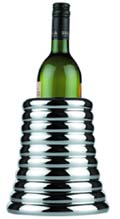 Raise your bar
This stainless steel-ribbed wine chiller will perk up even the most boring home bar. The cooler offered on www.roomstory.com has a stylish design which will ideally complement barware. Great for picnics or home dinners, it will keep your wine or even soft drinks chilled for longer hours.
price: Rs 2,800

Magical aroma
Bring beauty to your home with Stone Reed diffusers with candles available on www.neimanmarcus.com. These will fill your home with the spirit of Diwali with crisp fragrant oil. The candle with hand-poured wax further enhances the beauty of these diffusers.
price: From Rs 5,575 to Rs 9,835

Art meets elegance
The Partridge Nest is a striking tealight and candle holder available on www.amazon.com that blends nature's beauty and modern art and captures the spirit of the festival of lights. Warm Earth tones lend a sophisticated touch to this bird's nest made of iron, glass, poly-resin, acrylic and bronze.
price: Rs 750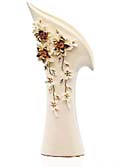 Vase to go for
Gift someone a vase from Fab Furnish in cream or ivory. Alternatively, you can also give your home a heavenly look with this vase, which will blend with all colour schemes and metals, making it a highlight of any room. Its floral designs and embellishments add an interesting character to the vase.
price: Rs 2,745

As you like it
The Diwali hampers of Foodhall will pamper your mood and tastebuds. Lifestyle stores have tied up with various brands to offer a bevy of gift hampers that include chocolates, chees, nuts, tea and coffee, spices and fruits. You can also customise these to suit your palette and create your own unique hamper.
price: Rs 6,100 for the Grand Celebration Hamper

Body basics
You can also find some imaginative gift options from the Body Shop. One of these is the Indian Night Jasmine Gift Hamper, which will make a delightful gift for any lady. It contains three bottles- one each of eau de toilette, body lotion and bath lily shower gel.
price: Rs 3,995
All about chocolates
Delight your loved ones with gourmet chocolates from Royce, the famous Japanese confectionary store in Delhi, Mumbai and Bangalore. It offers some of the company's unique products including Nama chocolates, potato chips dipped in chocolate and also a range of unique confectionary items.
price: Ranging between Rs 755 and Rs 1,000 per 100 grams

The right choice
Make writing an experience for someone this Diwali. The iconic MontBlanc Meisterstuck is a black stainless steel rollerball with carbon casing, platinum-plated clip and stainless-steel rings. It is inlaid with the emblem of MontBlanc widely considered the marquis brand of fine pens.
price: Rs 1.10 lakh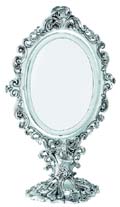 Mirror-mirror on the wall
Whether as an accent or as an accessory, a mirror can brighten up any design in the house and become the star attraction of a room. An example is the Baroque style mirror, with a silver-plated designer frame, available at D'Mart decor store. It can surely become a conversation starter.
price: Rs 1,33,500

Click on happiness
Samsung's latest addition in its smart camera range is the NX Mini, which can be an excellent Diwali gift. It is one of the slimmest and lightest interchangeable-lens cameras in the world. It comes with a 16 GB memory card. As a launch offer, customers will also get a Samsung backpack free.
price: Rs 27,490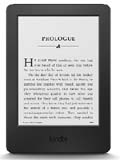 To relax and read
The new Kindle Reader by Amazon that has been launched in the Indian market during the festive season is small and light with a long battery life. It has whisper-sync technology, built-in dictionary and new exclusive features like vocabulary builder, Kindle Freetime and Good Reads integration.
price: Rs 5,999

A hi-tech gift
Google Glass will make for a great surprise gift to someone special this festive season. The wearable smart device gives you the power of hands-free technology. You can seamlessly sync it with your smart phone to make calls, browse the Internet, access emails and even take pictures, shoot videos and also listen to music.
price: Around Rs 75,000

Glittering effect
The image of a lake full of lotus flowers is the inspiration of Good Earth's set of Sarovar Jewel glasses. These are decorated with gold-base lustre colour. These glasses come in sets of six and can be optimally put to use to serve cool sherbets, fruit juices, wines or even plain water.
price: Rs 4,200 for a set of six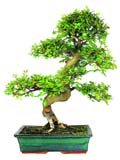 Gift a bonsai
This Diwali, choose a different gift. Go natural and gift a bonsai plant from www.flaberry.com. This miniature tree is an elegant ornamental plant and gives a classic touch to home décor. It has a winsome aura that will enliven any space in the house and also helps release stress.
price: Rs 1400 onwards