Man, an island unto himself
Reviewed by Priyanka Singh
Islands
by Keki N Daruwala.
Tranquebar. Pages 208. Rs 325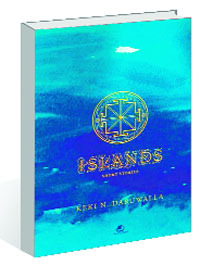 An island captivates, conjuring images of solitude; of a lonely landmass holding on its own amid the stretching expanse of a water sheet; of hope; of challenges; of anchor and moorings. Presenting an evocative collection of short stories revolving around islands, Keki Daruwalla transports the reader to the realm of magic, where the breeze smells of sea and salt. The islands are disconcerting, uplifting, liberating and prod a soul-search. These are every man's stories of frailties and vulnerabilities; stories that inspire and cause despair.
While a holy man, around whom people of faith gather for peace, finds nirvana in a flooded river in Island Sermon, Grotto exposes pseudo religious beliefs, born of ominous manifestation of miracles and apparent lack of conviction that is easily swayed and as easily awakened among "bystanders, the twiddlers of thumbs and scratchers of backsides, a class to which a major part of humanity belong". The sarcasm is not lost in the observation of the bureaucracy, which is good at "making you fill forms and sign in forty places". Belief is discarded and regained with impressive alacrity.
"Island at the edge of the current" becomes a symbol of finding one's true self in the quiet of nature, in sync with the spirit world. The broken heart of a grieving young mother comes to terms with her loss. The president of an island in Amphibious Train is firm on bringing a rail track to the island amid opposition from the natives. Rumours — "the most dangerous underground thing apart from earthquake tremors" — abound about the motive, splitting protesters into two groups, which is a "mainland sickness". What is true, what is false; what is real and what perceived? The ambiguity of human nature, the inconsistencies and the emotional and communication void makes this tale one of the best.
The loneliness of a soul, condemned to hide, makes The Yeti a compulsive read. The Yeti must never be seen, warns his mother, or he would be hunted. But he has no reason to fear an Indian journalist, for "a half-bottle of booze is good enough to ambush the bugger". The silence around him has been older than permafrost. His last cry is a reaffirmation that the unknown can never become extinct, as a blizzard obliterates him in the real world. The desperate search for the fountain of virility will take man to distant islands, even if ephemeral, in "The Meditation Cave and Amnesia Yoga".
Daruwalla is a gifted writer. He has in his kitty the Sahitya Akademi Award for poetry and the Commonwealth Poetry Prize for Asia. His latest poetical endeavour is, Fire Altar. His short stories, too, flow like poetry.