A gripping tale of fear
Reviewed by Vikrant Parmar
S.T.A.L.K.E.D
by Girvani Dhyani.
Harper Collins. Pages 181. Rs 250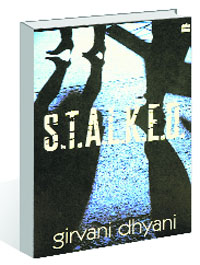 Every human has a story inside, itching to find form in printable words. Debutant author Girvani Dhyani, an attorney based in New York City, has a rather interesting one. In her novel S.T.A.L.K.E.D, she explores the dark alleys of fear and machinations of the human mind to share an absorbing tale.
Taking a leaf out of her profession, she narrates the story of a young girl, Tara Bakshi, mortally afraid of Aditya Kapoor aka AK — with "unrelenting meticulousness" and "incredible memory" — who owns the law firm she is employed in. A circumspect personality, Tara has a constant hunch of being stalked especially after she takes over a sensitive assignment — Project Emerald. Her fears are not ill-founded as papers go missing from her office drawers, important files are photocopied and secrets unveiled. Soon, she gets sucked into a whirlpool of gory incidents that lead to the twin murders of the "five-feet-nothing" office guard Bahadur and his girlfriend Anita Rana, who is "run over" just when she is about to reveal a crucial secret to Tara.
The novel, neatly divided into two parts, You Are Not Alone and Leave Me Alone, moves from the bylanes of New Delhi to the skyscrapers of New York where Tara goes for official work concerning Project Emerald. The cold-blooded stalker, who loves poisonous snakes, remains on her tail; "any discomfort caused to Tara eased his pain" as "she was the only one standing in the way of his happiness".
A psychopath, who derived "perverse pleasure every time he inflicted pain on himself", makes life a living hell for Tara till she becomes emboldened by fear and sets out to nail the culprits. In the grip of extreme panic, her only clue to solving the mystery is a Zippo lighter "initialed with a serpent". But the more she closes in on vital links, the more the stalker sticks to her like a shadow. In the melee, she is witness to another murder in New York, something which leaves her totally hopeless, until she once again gathers courage to reach to the bottom of the mystery.
The author does not weave literary threads; her language is simple and imagery limited but what she achieves dexterously is the element of suspense, which is able to hold the reader's attention. A globe-trotting author, she has no dearth of minute details and the tempo of the plot adds to the wholesome mix. She sure ignites a sense of fear, which is palpable and all-pervading.
Girvani has a story to tell and a good one, to say the least.