Food talk
Veg extravaganza
Pushpesh Pant

EVER since childhood the word sookhi, for us, has had connotations of deprivation. But then the house of food is full of surprises. Sookhi subzi or for that matter sookha gosht hold many hidden joys. Lest you think we have been led astray by the dry stuff allow us to add a complication. What about bakes? Does the word sekana translate it adequately? But let that pass. What is more to the point in our story today is the refreshingly different desi, baked veggies we enjoyed recently at a friend's place. Absolutely free from the artery-choking white sauce topped with cheese and full of crispy delight of a stir fry, what more can you want? Do try it out at the earliest. It can be rustled up without a fancy oven. Just place the baking dish in a large deg on a preheated tawa, cover seal the lid tightly and place something hot on top.
Sookhi siki subziyan
Ingredients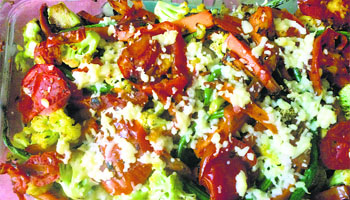 Tomatoes (washed eyelets removed and sliced thin) 100g
Onions (peeled and sliced coarsely) 100g
Cauliflower florets 100g
(blanched in boiling water for 30 seconds)
Carrots (washed, scraped and cut into batons boiled for 3-4 minutes) 100g
Beans (stringed and cut in halves, boiled or steamed for a couple of minutes if not very tender) 100g
Round brinjal 1
(medium-sized, sliced in discs 1 cm thick)
Capsicum (quartered and cored then cut in bite sized pieces) 1
Paneer (grated or crumbled) 100g
Olive oil/refined oil 45 ml
Garam masala (Increase the quantity if a spicier dish is preferred) 1 tsp
Salt to taste
Method
Heat oil in a pan. Put in the onions, stir-fry till are translucent. Add the brinjal and cauliflower florets. Follow up with carrots and capsicum, finally add the tomatoes. Sprinkle salt. Cook for two minutes on low, medium heat stirring gently, sprinkle the masala, transfer to a baking dish and top with paneer. Put in preheated oven (150 degrees and bake for 20 minutes). Adjust seasoning and devour to your heartís content the sookhi-siki subzee.