Arts
Making the twain meet
Paris-based artist Sujata Bajaj remains true to her Indian roots while soaking the best from the world of art
Nonika Singh
IN India, her vibrant works sell like hot cakes, the French Ambassador to India speaks highly of her. No wonder, for Paris-based artist Sujata Bajaj, the world is an oyster. Married to a Norwegian, exhibiting all over the world, she is in a way a classic sangam of eastern and western sensibilities and a perfect example of how East meets West in harmony and balance. Like a perfectly attuned instrument, her paintings speak melodiously and with spiritual resonance.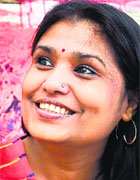 Sujata Bajaj uses intense reds and ochre yellows in her works while Sanskrit texts find their way into her canvas. She has dabbled in different mediums. From canvas to fibre glass sculptures inspired from Ganesha whom she calls her friend and guide, Sujata's works display a varied range
Rooted to the Indian soil, she strongly believes, "If your basics are strong, you go anywhere you are not confused." For her inimitable style, India is undeniably the inspiration but her techniques are largely western. Certainly, she found her language in Paris but finding your signature, she states "is a starting point from where your journey truly begins."
Living in Paris, "where artists are like Brahmins, treated with great deference and put on a pedestal," she agrees, no doubt, is a big plus. Not merely because it propels you on the world stage and exposes you to the very best in art. But more importantly, she adds, "It allows you the freedom to do what you want to." Interestingly, it was not only a scholarship that took her to France where she studied at Ecole Nationale Superieur Des Beaux-Arts. The real impetus had come from none other than India's illustrious artist S.H. Raza, who was then living in France. With Raza, she shared an amazing rapport for two decades. The two would discuss art, and also critique each other's works. However, she dismisses the suggestion that he has been her mentor or in any way impacted her idiom.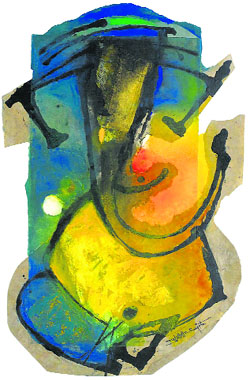 Dhumravarna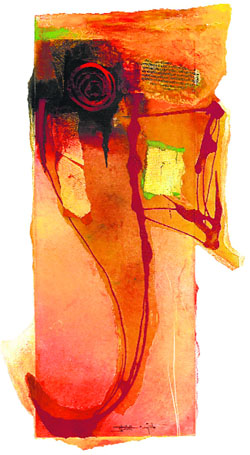 Lambakarna
There are no direct influences in her works. Be it the manner in which she uses intense reds and ochre yellows or how Sanskrit texts find way into her canvas.
Yes she reads a lot of spiritual literature but how and when bits of sholakas intermingle with her brush strokes she can't put a finger to. Painting, she asserts, is an unconscious process, something that first and foremost you do for your own pleasure. She observes, "When you stand in front of the canvas, it's you and your muse that strike a dialogue and rest all cease to exist."
Hence, new fads, market trends or gallery compulsions do not dictate or dilute her creativity. Though she is represented by galleries around the world, she neither lets the boom in the Indian market jack up her prices nor dropped the same when art market in India went into a comatose state. Indeed, she is fortunate to have buyers who value and cherish her art works and do not use it as an investment.
Incidentally, one of her first buyers was none other than her other half who bought two of her paintings at her very first exhibition in Europe. She laughs and recalls, "Today he tells me I paid for the artworks and got the artist for free".
While she gladly shares her love story as well the achievements of her 18-year-old daughter, a designer in the making, she wouldn't care to tell tales through her art. She says, "I am not a storyteller."
While different artists respond to different stimuli — some paint out of agony, others out of ecstasy — for her art is a drop in the well of positivity. Thus even blazing reds come laced with positive emotions in her canvas. But she wouldn't say that painting alone is real art. She avers, "Who can define pure art...it is your experience of it that makes it pure." Hence, she doesn't dismiss experimentation in the realm of conceptual art. She herself has dabbled in different mediums and created fibre glass sculptures inspired from Ganesha whom she calls her friend and guide.
"All artistic expressions are valid as long as these are honest and heartfelt and not a borrowed lexicon," she remarks. Just as she has remained true to her inner self as well as her Indianness. Unmindful of the winds blowing around her, she has not only ensured that she doesn't become a tourist in her motherland which she visits thrice a year, but also that she carries its fragrance wherever she goes. In person, as well as in her robust yet meditative creations.
French passion
Galleries in different parts of the world, Sujata Bajaj feels, are like human beings and can't be compared. Yet she admits that sensibilities do vary from nation to nation. While Norwegians will stand in the queue to buy works of art, French will visit the gallery again and again before clinching the deal. And she swears by the passionate French who make you feel extra special. She says, "If they like your work, they will admire you like no one else does."